Reviews
The Eye of the Storm | Review
Tempest Trap: Schepisi's Latest Feature Never Quite Elevates Beyond Mild Blip on the Radar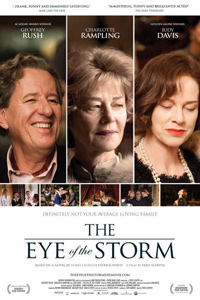 With his first film project since 2005 (and first theatrical release since 2003), Australian auteur Fred Schepisi has returned with an oddly unassured but worthwhile vehicle,
The Eye of the Storm
, featuring some top notch thespians, including the iconic Charlotte Rampling (her headlining presence more than reason enough to seek it out). But whereas there's a bizarre heterogeneous triptych going on between its three main characters that never quite manages to congeal itself comfortably in the proposed narrative, the end result somehow manages to be a fascinating creature, one that perhaps will be remembered lovingly as an under seen title from Schepisi's later filmography.
Based on a 1973 novel lauded as a literary classic by Patrick White, it's 1972 in Australia and Charlotte Rampling stars as Elizabeth Hunter, an aged socialite on her death bed. Once she was a ravishing creature known for her sexual appetite, feared like a force of nature causing all others to circle round her orbit or be banished. Needless to say, she was not a loving mother, and her children are quite estranged from her, including her son, Basil (Geoffrey Rush), a noted stage actor who has achieved knighthood in Britain, and Dorothy (Jusy Davis), infamous for her marriage into French nobility, now divorced, allowed only to keep her title as Princess de Lascabanes, and nothing else. The ailing Elizabeth has called her absent children to her as she has decided that it's just about that time to kick the bucket (a major life event which she also insists on having control over). But upon arriving at their mother's estate, they are more at odds with her than ever, especially Dorothy, a frigid, mousy woman that becomes vitriolic in the presence of her mother. Left with her staff of a night and day nurse, and a maid, Lotte (Helen Morse), Elizabeth has begun to give away money and jewels quite indiscreetly. Lotte cooks enormous amounts of food only to throw it away, while performing Weimar cabaret for Elizabeth in her employer's bedchamber. Her decrepit decadence causes conflict with her children, and it's not long before Elizabeth sends them off to their country home, where Basil and Dorothy are forced to face the sad, empty memories of their childhood. And as Elizabeth slowly fades away from the presence, her mind returns to one specific instance on the eve of a major storm, where an argument with Dorothy over a man may have sealed their dislike for one another. This a ruinous storm supposedly revitalizes Elizabeth to such an extent that it's the only memory she keeps getting lost in.
The biggest problem with The Eye of the Storm is how Schepisi presents this life changing meteorological disturbance that Elizabeth keeps returning to in her mind. Besides destroying her home, this continually referenced and foreboding event is finally unleashed on us to no great effect at all. Indeed, it is Elizabeth Hunter that is the eye of the storm in her own daily life, but we fail to glean any meaningful significance from what happened in one particular moment. As good as Rampling is as a bitchy old crone, it's Judy Davis that steals the show as her bitter, acidic daughter. If one could point to any moments in the film that make this narrative noteworthy, it's their screen time together. The always enjoyable Rush, on the other hand, feels like he's been given short shrift here, fluctuating beyond being a pompous ass and chasing skirt, including one of his mother's nurses (played by Schepisi's daughter, Alexandra). But even in old lady makeup, Rampling can't be made to look old enough to be mother to either, only five years Rush's senior, and nine to Davis.
Schepisi has littered his film with the notion of decay and decomposition. While Elizabeth is our foremost example of this, there are shots of worms in the soil of the rose bushes, worms in the decadent fruit of a fancy party, and flies struggling inside a jar of preserves. Additionally, much note is made of fur, like the throw on a bed made of platypus, or the kangaroo jacket worn by Flora the nurse. Elizabeth describes the lawyer of her estate, once her lover, to his wife as charmingly "hairless," and she's not talking about his head. Each of these instances is an example of the decadence used to cover naked, human flesh, all ripped away by angry nature during one defining moment for Elizabeth. Sumptuously photographed, and darkly comic, The Eye of the Storm is definitely a title worth seeking out, though all of its grand parts don't work together to blow us over.