Reviews
The Land of Hope | TIFF 2012 Review
The Japan Syndrome: Sono Puts Human Face to Tsunami Tragedy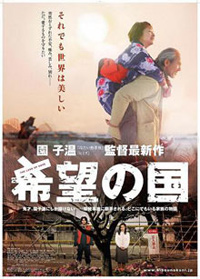 The prolific and insanely busy Sion Sono returns with another tale centered on the aftermath of Japan's devastating tsunami, The Land of Hope. While his last film, Himizu focused on two teenagers eking out a dystopic existence in their post-tsunami world, this latest is based on a family's true story of survival in the aftermath of the nuclear reactor explosion. At times a tad overly sentimental, especially in the context of Sono's own dark and challenging oeuvre, this is a mostly winning experience, perhaps best as a document of the ravaged landscape that still has yet to be revitalized even a year later, when this was filmed.
Sono gives us a fictional location, the Nagashima prefecture, a small town butted up against a nuclear power plant. Yoichi Ono (Jun Murakami) and his wife Izumi (Megumi Kagurazaka) lead a peaceful existence tending to the farm run by Yoichi's parents, Yasuhiko (Isao Natsuyagi) and Chieko (Naoko Otani). One day, an earthquake disrupts the reactor at the nearby nuclear power plant and their lives are suddenly forever changed. The government forces the population within a 20km radius to evacuate, and the Ono farms falls right outside the quarantine zone. Yasuhiko is well aware of what happened to many people in another recent nuclear disaster in Fukushima, and with his wife Chieko suffering from a degenerative illness, he decides to stay on the farm. However, Yoichi and Izumi have just become aware that Izumi is pregnant, and so they are forced to leave behind Yoichi's parents for the sake of the baby. But even farther away, the threat of radiation looms, and Izumi develops a severe case of radiophobia, insisting on going everywhere in a hazmat suit, which frightens their new neighbors. Meanwhile, back on the farm, Yasuhiko is being pestered by authorities to relocate. We also get to know the Ono's neighbors, the Suzuki family, evacuated to a shelter and briefly flashed back to intermittently.
Filmed in the deserted Fukushima, there's a striking documentary vibe to The Land of Hope, which feels both compelling and realistic. At times, the film does tend to dip into some forced melodrama concerning the unnamed illness of Chieko, though Naoko Otani does give a fine performance, often used as comic relief in many a scene. Another standout performance comes from Megumi Kagurazaka as the pregnant and paranoid Izumi. Sono's film never feels exploitative or preachy, but simply relates the circumstances of an unfortunate tragedy that fell upon communities affected by the catastrophic devastation. Clocking in at a little over two hours, which is slim considering Sono, the film feels like it could have been trimmed for better effect.
The subplot involving the plight of the Suzuki clan gets neglected, and, as time goes by, cutting to their own predicament feels like a distraction rather than a necessary thread. At times, Sono gets flashy with some overt symbolism, such as the sound of stakes being driven into the ground, signifying separation and isolation from family or others. But the lack of subtlety with these flourishes feels like we're also being hammered into the ground with it. All in all, a worthwhile and satisfying film about one family's struggle to stay together in extraordinary circumstances.
Reviewed on September 09 at the 2012 Toronto International Film Festival – CONTEMPORARY WORLD CINEMA Programme.
133 Min