Reviews
The Look of Love | Sundance 2013 Review
Love Hurts: Winterbottom's Biopic a By-the-Numbers Look at London's Infamous King of Soho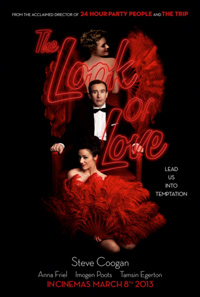 Michael Winterbottom continues on with his whirlwind filmography, unleashing one of his most standard projects in years, The Look of Love, a biopic on the rise of Paul Raymond, coined the King of Soho for his elevation of adult entertainment out of the gutter and into the public imagination. A trailblazer in Britain's history as far as censorship and heterosexual nudity goes, there's no doubt that Raymond is indeed a prolific figure and his personal life has just enough tragedy to make for a doable life and times treatment. However, once we're given a few telling details about Raymond, his profession, and the three most important women in his personal life, it's not hard to predict how Raymond and his ladies all eventually end up. Neither an exercise about the downside of fame or a treatise on the nature of parenting, Winterbottom creates a likeable enough film that fails to make a lasting impression.
Liverpool born Paul Raymond (Steve Coogan) begins his journey in Britain's entertainment industry as a mind reading variety act in the 1950s. Seeing the adult entertainment industry as a smutty and salacious arena, he decides that bringing some class and artistic integrity to the pornographic world might be a profitable venture. His unprecedented success quickly ends his marriage to Jean (Anna Friel), who he has two children with. Quickly he begins an open relationship with his muse and model Fiona Richmond (Tamsin Egerton), who also eventually tires of the neverending circus of other women and drugs. When his oldest daughter Debbie (Imogen Poots) comes of age, Raymond takes her under his wing and promises to hand his business over to her control one day as well as developing an ill received burlesque show vehicle around her. As she becomes increasingly unstable, Debbie develops an insatiable addiction to cocaine. From his early career in the late 50's to when he establishes his first "gentlemen's club" in 1958,
Winterbottom first utilizes cinematographer Hubert Taczanowski's grainy black and white footage, giving the film a sort of John Schlesinger type feel. This quickly disappears when the narrative starts taking off and we switch intermittently back and forth between the rise of Paul Raymond and then watch him recalling certain memories as an older man. It seems that playing Raymond was a passion project for Coogan, who came to Winterbottom with the idea not long after the impresario's death. And it's certainly Coogan's film from the first frame to the last, showing us a rare serious side as a highly controlling man with some ideas that were ahead of his time.
While The Look of Love explores Raymond's relationship with his wife, mistress, and daughter, the film feels surprisingly flat until the grown Debbie makes an appearance. Imogen Poots, whose looks are often distractingly unrealistic in certain vehicles (Centurion is a prominent example) is quite good here, her coke addled portrayal of an emotionally unstable daddy's girl is spot on. The film's crowning scene is shared by Coogan and Poots, when Debbie's about to give birth at the hospital begging her father to snort a line of coke, who reluctantly grants her request. It's also unfortunate that Matt Greenhalgh's by-the-books screenplay blatantly avoids most of Raymond's legal woes, not to mention that one gets the sense that Raymond was more of a monstrous control freak than we're led to believe here. While slightly underwhelming, The Look of Love is deserving of a look, but don't be surprised if there aren't more than a few similarities between other tales told before.
Reviewed on January 20 at the 2013 Sundance Film Festival — PREMIERES Programme.
105 Min