Love Paunch: Hopkins' Latest a Predictable Bore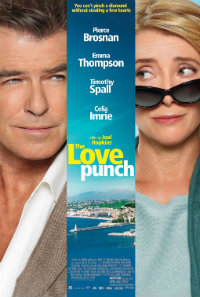 Though its cast members seem to game for a good, silly romp, Joel Hopkins' latest film, The Love Punch, sadly, is not such a treat. Reuniting with star Emma Thompson from his last outing, 2008's Last Chance Harvey, this discordant rom-com caper has all the charm of a lobotomized poodle; fluffy and without all the necessary faculties to function. To use the phrase 'by-the-numbers' would be a generous euphemism for when their charm can't seem to pick up the slack, the addlepated antics being performed by such talented performers is often off-putting. It's a film of the ilk that people make comments such as, "Oh wasn't it great to see so and so in a lead performance?"
Richard (Pierce Brosnan) and Kate Jones (Emma Thompson) are a divorced couple of eight years that seem to everyone else like they still have strong feelings for one another. Just as their youngest child (Tuppence Middleston) flies out of the shared sphere, the increasingly lonely duo is brought back together sharply when Richard's company is bought out by an unscrupulous CEO, causing their pension funds to go up in smoke. Disgruntled, they head off to Paris to confront Victor Kruger (Laurent Lafitte), who basically laughs in their face because it was a legal business move. His crass reaction motivates Kate to cook up a plan to con their way into the life of Kruger's fiancée, a lovely French gamine (Louise Bourgoin), who recently received a ten million dollar diamond as a gift.
After posing as a distant relative, Kate learns the whereabouts of the impending wedding. The plan? Hold captive a group of four wedding guests from Texas, requiring the couple to invite friends Jerry (Timothy Spall) and Penelope (Celia Imrie) along, steal their wedding invites (which still forces the quartet to rent scuba gear to avoid the finger print scans at the entrance), huddle in the bride's chamber during a costume change, switch out the diamond for a fake, and skedaddle. Best laid plans, as they say, go oft awry, and hijinks ensue.
It's immediately apparent from the opening sequence that The Love Punch is going for rather broad humor and that the divorced, bickering couple will most likely be reunited in coupled bliss by the end credits. But between those irrevocable moments, the film stumbles over and over again through cliché or ribald improbability. In a wasted role, the generally charming Laurent Lafitte gets saddled with playing a snobby cliché while Ms. Bourgoin has played the daffy ingénue a few too many times already.
Hopkins' greatest crime is utterly wasting Spall and Imrie in a pair of broad stroke supporting roles. Brosnan, and, particularly, Thompson, appear to be overcompensating in many a scene, especially as they're forced to muddle through the mushy parts of the screenplay where we're forced to watch them rediscover one another. How exactly these two were planning on selling a hot diamond worth ten million isn't ever really discussed, and then, it doesn't have to be, for the film pulls one of those 'all's well that ends well' routines at every considerable turn into reality.
There's nary a moment in The Love Punch that doesn't seem calibrated to appeal to convention, from the sometimes obnoxious score, to a soundtrack that seems desperate to make events seem 'really cool,' whether that be using The Clash, Young Money, or Free, mentioned as Kate's favorite band, which scores a diegetic reference. In the end, how nice it would be to have enjoyed a light, frothy rom-com with the wonderful Emma Thompson and dependable Pierce Brosnan. However, The Love Punch is not well written enough to be the effervescent vehicle you'd expect to see considering the talent involved.
★/☆☆☆☆☆