Reviews
They Came Together | Review
Come Undone: Wain's Cliché Buster Episodically Funny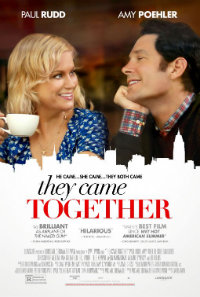 Every now and then, director David Wain delivers a great film with his certain brand of offbeat humor darkly shining, particularly with Role Models (2008) and Wet Hot American Summer (2001). At the very least, his less successful ventures feature standout performances from someone in his regular crew of comedic comrades (Michaela Watkins in Wanderlust, for instance). But arriving with the Amy Poehler and Paul Rudd headlined They Came Together (yeah, it's supposed to mean that, too), finds Wain at his most strained since the episodically structured The Ten. Except, this film might have actually benefitted from a string of vignettes harpooning ridiculous rom-com tropes rather than the befuddling exercise at hand centered on two people that we're watching solely as performers engaging in sketches rather than actual characters, utilizing a variety of broad comedic styles that feel lifted from the likes of The Naked Gun.
Enjoying a cozy dinner with another couple (Bill Hader, Ellie Kemper) they're close friends with, Joel (Paul Rudd) and Molly (Amy Poehler) decide to relate the rather complicated history that brought them together against all odds. While chronically single Molly was running her own independent candy shop, Upper Sweet Side, Joel was working for a candy conglomerate eager to take down any competition, no matter how small. Just getting out of a loveless relationship with his girlfriend (Cobie Smulders), they meet awkwardly at a friend's Halloween party, at first intensely feigning dislike for one another over petty misunderstandings. Things get more complicated when Molly discovers where Joel works.
When it's operating at its best, They Came Together feels like a laboriously structured SNL Digital short, utilizing the comic chops of Amy Poehler, whose zany energy is generally distracting enough to overcompensate for the general lack of narrative. While the spoofy silliness of Wet Hot American Summer worked as a frivolous send up of an already half-baked genre and an oddly nostalgic ode to the silly drive-in theater films it's so lovingly skewering, similar tactics don't work so well this time around.
Had Wain and screenwriter Michael Showalter bothered to write actual characters rather than a slew of gimmicks strung together, perhaps They Came Together would have had a little heft. Instead, their send-up of clichés becomes equally routine and formulaic in execution. You'll be able to predict the upcoming gags moments before they arrive. A host of Wain's usual cadre and several others (Melanie Lynskey, Ed Helms, Michael Ian Black) show up in supporting bits that are neither notable nor straight up tepid, such as Christopher Meloni soiling his super hero costume and leaving it laying around for all to see.
We're probably meant to sympathize with the couple played by Bill Hader and Ellie Kemper, forced to listen to the endless and rather dull ordeal right up to the bitter present before being allowed to leave. And, perhaps this is the intentional irony, but it doesn't make for a very fun or invested 80 minutes frittered away on an inspired cast trying too hard to be funny in a scenario that's a sitting duck for target practice.
★★/☆☆☆☆☆