Milk of Sorrow: Motherhood and Metaphors Structure Vitkova's Somber Debut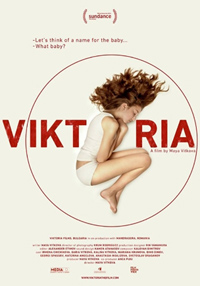 Using intergenerational familial dilemmas to convey significant historical upheaval is certainly nothing new to fiction or cinema, but a growing global trend of female perspective offerings finds a new forerunner with Maya Vitkova's directorial debut, Viktoria, credited as the second Bulgarian feature in the past thirty years to receive US distribution (the first being Kristina Grozeva and Petar Valchanov's The Lesson, which opened in New York City a year ago). Recounting the last ten years of communism in the country, this historically defined period piece juxtaposes the markedly estranged experiences of generational rifts, brought to a sort of grand pinnacle at the birth of its titular character, a girl born without a belly button. Rife with rich metaphors concerning nurture, nature, and plenty of bodily fluids, it's a grim, and notably austere rendering of three women sublimated and suffocated by time and circumstance.
Boryana (Irmena Chichikova) and her husband Ivan (Dimo Dimov), a physician, reside with her mother, Dima (Mariana Krumova) in less than satisfactory circumstances. The couple wishes to flee their muted surroundings in early 80s communist Bulgaria, a fantasy made more difficult by Dima, a staunch Party member who is mute but holds considerable contempt for her daughter. When Boryana becomes pregnant, their hopes of leaving are dashed, and when their daughter Viktoria is born, her lack of a belly button courts the attentions of President Zhikov (Georgi Spasov), who names the child Baby of the Decade, a symbol of a hopeful Communist future where children aren't linked to the problems of the past. But as Viktoria grows (Daria Vitkova as a child, Kalina Vitkova as a young woman), so does the contempt of her mother. And when the last throes of Communism have been exhausted, mother and daughter find themselves forced to navigate a dormant relationship.
Although it premiered on the festival circuit a year prior (bowing at Sundance in 2014), Vitkova's film has the misfortune of arriving in art-house theaters following Sebastian Schipper's single take extravaganza Victoria, which may cause a bit of confusion. One wishes Vitkova had attempted a title more befitting its abstract edges, which includes a handful of moments capturing the eponymous child's fetus adrift in amniotic fluid.
The feminine body, specifically, becomes an area of particular interest, beginning with Boryana's voiceless mother, a hardened creature her daughter refers to as more of a Commie party member than a maternal figure. Bloody noses during her unwanted pregnancy, which she repeatedly attempts to abort, could be read as her body's continual response to flush (i.e. menstruation) or reject the fetus, an early indicator of her daughter's lack of an umbilical cord. While such deliberations sound farfetched, a complex pattern of parallels would indicate otherwise. Boryana's inability to generate milk leads to a perverse consumption of the substance her body can't supply to nurture her child, the first in a series of estrangements. Rather, Viktoria is the tether which has doomed Boryana to a country she has no wish to stay in, a veritable symbol of state whose manufactured umbilical cord is actually a phone line to the Bulgarian president.
As the decline of Communism provides the backbone for the film and aging of Viktoria, Vitkova's film bears thematic similarities to items like Volker Schlondorff's 1979 The Tin Drum (though not as perverse or idiosyncratic), which has a comparably fantastical element regarding its child protagonist, or Claudia Llosa's 2009 film The Milk of Sorrow, which similarly examines the poison of anxiety passed between mother and child thanks to pre or post natal abuse/conflict. More interestingly is how Vitkova's Viktoria could be examined in conjunction with Tomasz Wasilewski's recent Berlin award winner United States of Love, which examines the lives of four Polish women in 1990 after the dissolution of the Soviet Union, all struggling to overcome conditions of repression so they may express their dreams or desires. Vitkova laces her film, particularly the first half, with moments of bitter humor, but never in doses high enough to elicit laughter.
Performances are routinely thwarted by their stifled environments, a constant heaviness hanging on their faces (no one seems capable of smiling, especially the women), but Irmena Chichikova is a striking screen presence as the troubled Boryana. DP Krum Rodriguez (who also lensed The Lesson) favors expressive and dreamy frames, sometimes lost in sequences which seem laboriously contemplative (which pads the running time to two and a half hours plus). Bird's eye shots indicate an omniscient presence, perhaps fate, lording over these trapped characters such as a playful shot of a giant finger poking young Viktoria to the ground. Later, as a young woman, she leans over the balcony of her high rise, now privileged to the same view, but despite some muted reconciliations, without the agency she desires as she's enveloped in a white, thick fog.
★★★/☆☆☆☆☆