Mill on the Doss: Thurber's Arbitrary Comedy Rests on Laurels of Cast Charm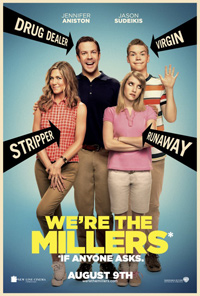 Filmmaker Rawson Marshall Thurber, whose directorial debut was the Ben Stiller goof-fest Dodgeball: A True Underdog Story (2004) returns to the broad humor of star studded formulaic mainstream comedy with We're the Millers, which, to be fair, has more funny moments than it's unappealing marketing campaign would lead you to believe. But even with a handful of chuckles, Thurber, who swerved into indie territory with a stagnant 2008 adaptation of Michael Chabon's The Mysteries of Pittsburgh, along with his four screenwriters, creates yet another strained, contrived cinematic entry, with an ever increasingly ludicrous premise bludgeoned mercilessly into the requisite formula of Hollywood comedy.
Small time Denver drug dealer David Clark (Jason Sudeikis) lives the carefree life of a bachelor until an unlucky scenario outside his apartment complex sees him getting robbed of all his goods and hard cash. This causes his powerful drug lord boss, Brad Gurdlinger (Ed Helms) to force David to travel to Mexico to transport a "smidge and a half" of marijuana over the border or else face certain death. At a loss, David stumbles on the brilliant idea to hire two of his neighbors, an abandoned virginal teen named Kenny (Will Poulter), and an about to be evicted stripper, Rose (Jennifer Aniston) as his family so as to seem less suspicious crossing the border.
Upon convincing local homeless teen Casey (Emma Roberts) to come along, they're off to Mexico in a monstrous RV that gets stuffed to the gills with pot. But little do any of them know, David's boss hasn't been entirely truthful. Attempting to make their way back to Denver, the "Miller" family is forced to depend on the kindness of another RV traveling family, the Fitzgeralds (Kathryn Hahn and Nick Offerman), which is further complicated when they learn that Mr. Fitzgerald works for the DEA.
There's a messy, cobbled together quality about We're the Millers, apparent from its opening moments where a string of popular viral youtube videos introduce us to Sudeikis, who is watching these randomly, instead of listening to his mother on the phone. It's one of many ill thought instances of grabbing our attention without any requisite rhyme or reason. It's poorly realized details like this that relegate the film as yet another forgettable, if pleasantly entertaining R rated comedy, which has its adult moments but strays from the scatological to reveal more of cornball, mushy mush core. With that in mind, the Millers often plays like the bastard offspring of vintage familial screwball fare like Mr. Hobbs Takes a Vacation (1962), in which Jimmy Stewart and Maureen O'Hara star as the progenitors of a wacky family cooped up uncomfortably in one vacation home. Or even a filthy minded The Long, Long Trailer (1953). Of course, the situation has been moderately redressed, but formulaic intentions aren't dissimilar.
Depending on your affinity for the affable Sudeikis, he's in winning form here, though the script certainly does him a disservice by making him a self-serving charlatan with few redeeming qualities. Aniston, an undeniably charming presence, gets more mileage out of her scenario, less manic and over the top than her foul mouthed dentist in Horrible Bosses. She's an enjoyable performer outside the rom-com realm, but one wishes she would dip her toes into indie cinema more often as she has yet to top her work in 2002's The Good Girl. But as appealing as she is, Aniston is hardly believable as an aging stripper, and a requisite strip tease is unalluring, uncomfortable, and worse, unbelievable.
As far as chemistry with Sudeikis, there really isn't any. Emma Roberts appears to be doing another variation on her troubled teen variation, while Will Poulter is oddly charming as an awkward innocent. That said, the scene stealers here are foils Nick Offerman and Kathryn Hahn, clearly written as catalysts for the third act, but as imbued by these two performers, this sexually repressed, Mid-western couple completely saves the soggy middle of the film. They aren't strong enough to make the film entirely memorable (though the two funniest scenes revolve around more sexually risqué matters while both families are forced to camp together one evening), and both actors often seem to be relegated to comic support in similar variations of their roles here (so for those of you that have yet to see Hahn take the lead by storm, be sure to see her awesome turn in the soon to be released Afternoon Delight).
Illogical, predictable, and sometimes inane, We're the Millers hardly pushes the envelope. But even with the usual limitations, there are enough factors that make the film pleasant enough to sit through, even if it outstays its welcome at a running time of nearly two hours.