Black Christmas: Clark's Nostalgia Tinged Nightmare of Christmas Tradition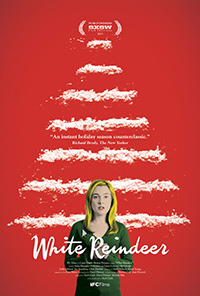 Even those unfamiliar with previous films directed by Zach Clark (Modern Love is Automatic; Vacation!) will be on high alert in the opening credits of his latest slice of indie fresh, White Reindeer, as we languidly witness our protagonist embark on a zany shopping spree of unnecessary Christmas items in an unremarkable mall amidst all the earmarks of the season. And soon after the tattered opening credits, a running self-destruct mechanism begins with the announcement that it's currently 24 days before Christmas. Deliberately dark in its examination of the reinforcing power of traditions such as nationally observed holidays and other socially sanctioned existences (i.e. marriage), Clark's biggest surprise is how warmly humanistic it is despite its framing as a sometimes grotesque parody of Midwestern milquetoast ideals.
Suzanne Barrington (Anna Margaret Hollyman) is a real estate agent in a suburban sanctuary of Northern Virginia. Her husband, Jeff (Nathan Williams), is the local meteorologist and he's just been offered a lucrative new position in Hawaii. But before they can celebrate their good fortune, tragedy strikes when Jeff is shot dead during what appears to be a burglary, apparently committed by a perpetrator that's done this several times before in surrounding areas. Shell-shocked, a numbed Suzanne tries to navigate through the next several days, quickly rejecting the help of her supportive parents by going back home where she wallows at the kitchen table suckling candy canes and gurgling gallons of eggnog in an effort to escape in the calm of the escapist Christmas ideal that's been so bitterly ripped away from her.
After the funeral, amidst her random and extravagant shopping sprees for Christmas decorations and festive clothes, one of Jeff's co-workers breaks down to divulge that Jeff had recently extricated himself from a torrid affair with a local stripper named Autumn (Laura Lemar-Goldsborough). After a half-hearted glance through her husband's Mac, Suzanne's desolation is now complete as she contemplates that maybe the man she loved was as paltry a mirage as the spirit of Christmas. Without other friends or acquaintances to speak with, Suzanne seeks out the attentions of Autumn.
There are plenty of moments where White Reindeer could have easily veered off the rails into schmaltz or manipulative melodrama, but Clark avoids doing either, plucking all the right strings in this offbeat symphony of one woman's newfound realizations about herself and the world around her. A smattering of supporting characters enhance the torrid tableau of contrasting realities to the polite veneer of acceptable society, including Suzanne's swinging neighbors (played charismatically in underdeveloped roles by Joe Swanberg and Lydia Hyslop) in a delightful Christmas orgy sequence, and a host of strippers that get coked up and dance their little hearts out with Suzanne in a superbly edited visual sequence that could easily be at home in any number of horror films. But at its center is an intriguingly developed relationship between Suzanne and Autumn, actually named Fantasia, two women that, for their own reasons, build a makeshift friendship that feels neither forced nor false.
Newcomer Laura Lemar-Goldsborough is a breezy presence as stripper Autumn who also holds down a daytime job at Macy's. But the real discovery is Anna Margaret Hollyman as Suzanne, an actress that's popped up in several indie features, most notably as the acerbic sister of Jenn Harris in Gayby (2012). Here, she emerges from a frazzled and dazed cocoon through various experimental proclivities with a performance that's funny and touching, grounding the film's more sensational tendencies with a characterization that's surprisingly moving during the most unexpected moments. Her insistent candy cane fixation seems at first to be a convenient tic for a scene that calls for her to use one as a box cutter, until her absent younger brothers shows up toward the finale, exhibiting the same habit (developed like traditions through how we were nurtured). "Sometimes it feels good to feel bad," Fantasia tells her during a candid exchange, which seems to spur Suzanne into a frenzy of experimentation, resulting in a moment of offbeat poignancy with her neighbor Patti, who offers the film's best piece of advice in that "Christmas is what you want it to be." As is life and its vast, intricate realities, something that the sheltered escape of the suburban sprawl can't abscond from forever.
3.5/5 Stars