Reviews
Who's Afraid of Vagina Wolf? | 2013 Outfest Review
What a Dump! – Albelo's Feature Witty Debut Anything But a Flop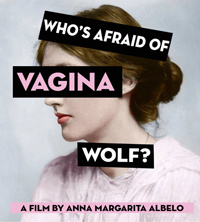 Already amassing an impressive reputation with her short films and a pair of documentaries about gay life in Havana, you can add the adjective 'charming' to a long list of descriptors for Cuban-American director Anna Margarita Albelo with her feature film debut, Who's Afraid of Vagina Wolf? Basically, a film about filmmaking, Albelo deftly transcends the possibly pretentious trappings of that behemoth Edward Albee/Mike Nichols production it's so seriously in conversation with and blossoms into a witty, if sometimes formulaic narrative all its own. Apparently utilizing some autobiographical elements for inspiration, Albelo is clearly an exciting, endearing, and comic talent, and her delightful homage would make Eve Ensler and Virginia Woolf proud.
Opening with a Woolf quote, "For beyond the difficulty of communicating oneself there is the supreme difficulty of being oneself," we meet Anna (Anna Margarita Albelo) at her 40th birthday bash dressed as a life size plush vagina. A struggling filmmaker currently living in her friend Charlie's (Celeste Pechous) garage, Anna's omniscient narration informs us that she used to be an independent filmmaker in France and even had a short film premiere at Cannes. But for the past decade, she's been unable to get a feature film off the ground, citing her unending search for love and companionship as the criminal distractor.
Her vagina costume is actually for a musical gig she sometimes performs with two back up dancers (called the Vaginettes), and her short films are often screened at certain venues, one of which brings her into contact with a sexy young admirer named Katia Amour (Janina Gavankar), with whom she is instantly smitten. A late night conversation inspires Anna to announce she has plans to shoot a post-feminist, all female cast remake of Edward Albee's Who's Afraid of Virginia Woolf? and asks Katia to star in it.
Clearly, this is an overly complicated plan to ensure that Anna has an excuse to spend more time with Katia. Off to pen a frenzied screenplay, Anna quickly recruits friends and past lovers to populate her cast list. The part of The Stud was fashioned for Katia, while Anna had written the part of Martha for herself, which she quickly is forced to relinquish to Penelope (Guinevere Turner), the fabulous diva of the troupe, leaving Anna to play Georgie. An online ad requesting free labor for behind the scenes cast and crew grants Anna access to the beautiful DP Julia (Agnes Olech), who has an extensive background shooting pornography. Agnes quickly develops a crush on her lively director, and as shooting begins (much to Charlie's chagrin, as her home is requisitioned for filming) passions and emotions quickly complicate the project.
Clearly, Albelo understands that the making of such a project is a vastly more entertaining endeavor than the project her character is creating in the film, which one of her castmates describes as "so far up its own ass it actually works." Co-written with Michael Urban (who also penned the 2004 film, Saved!), Albelo shows a particular flair for comic scenarios, even if the omniscient narration jumpstarting the proceedings feels a bit too trite. Albelo, whose 2008 short film The Turkey actually did premiere at Cannes, is an engaging and melancholic presence, and one gets the sense that, just as we learn explicit details about her Anna character as Vagina Wolf gets filmed, she's sharing her own personal fears and foibles as well.
Who's Afraid of Vagina Wolf? (the difference in the spelling of Wolf from Woolf isn't clear) works best with its witty playfulness, and sports a variety of hilarious sequences, including cameos from Joel Michaely and Drew Droege as potential producers, informing Anna that "gays and lesbians love the same shit as everyone else." Even better are some fiercely fantastic supporting turns from the luminous Guinevere Turner, Carrie Preston as an amusing simpleton, and a sweetly believable Agnes Olech.
Unfortunately, when called upon to do anything more than being nebbishly sultry, Janina Gavankar comes up a bit short. You'll predict the outcome from a mile off, and while it's generally welcome experiencing the empowering nature of a talented person like Albelo's Anna pursuing her dreams and finding her voice, there's not much that transcends that traditional narrative at work here, thus concluding on the haunches of cliché. However, there are plenty of comic treats in between, including, besides sendups of George and Martha, some lovely Suddenly, Last Summer and Eyes Without a Face nods.
Reviewed July 19 at the 2013 Outfest Film Festival.