Good Neighbors: Levine's Indie Murder Mystery a Passing Homage to Classic Comedy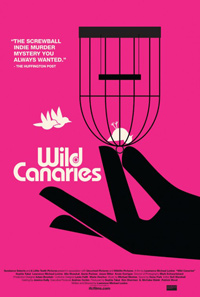 Actor/writer/director Lawrence Michael Levine reunites with director/actress wife Sophia Takal for his third feature, the harmlessly charming Brooklyn set murder mystery Wild Canaries, which tends to favor a bygone tradition of slapstick, noir tinged comedy. Several have compared Levine and Takal's spousal chemistry to the likes of Myrna Loy of William Powell in their famed Thin Man series of classic films—but such an association is a tad hyperbolic. They make a charming duo, certainly, but the ragtag charm melts away in the face of the narrative's eventual flaccid inability to remain energetically inventive, seemingly tired of its own formula by the final frames. Witty writing and effortless performances magically keep familiarity at bay, but at the end of the day, the film's more provocative characterizations fade into a safe peripheral zone, and while juggling comedy and pseudo-suspense, it eventually becomes lukewarm on both fronts.
Barri (Takal) and Noah (Levin) are a mostly contented Brooklyn couple, though something has prevented them from elevating their engagement into actual marriage. Barri seems apprehensive about commitment, and currently Noah is fully supporting both of them economically, which also has caused some tension. Currently, they have a third roommate, Jean (Alia Shawkat), a lesbian that seems to have an obvious crush on Barri, and the two have been haphazardly assembling a business plan that doesn't seem to have room for Noah's input. Things get heavy when Barri discovers the dead body of their 84 year old neighbor, Sylvia (Marylouise Burke), who seems to have died of natural causes. But Sylvia lived in the only rent controlled apartment in the building and Barri is suspicious, especially when her son Anthony (Kevin Corrigan) immediately sells off all her belongings. Apparently influenced by the recent Hitchcock retrospective she's immersed her unemployed self in, Barri begins her own investigation, even breaking into Anthony's apartment. But as she digs, she also begins to suspect the building landlord, Damien (Jason Ritter).
Wild Canaries has as much in common with Nick and Nora Charles as it does with Danny DeVito's failed 2003 black comedy, Duplex. Levine's charming indie-flavoring also recalls Aaron Katz's 2010 Cold Weather, wherein a brother and sister detective duo take on a slight mystery in Seattle. Since this predicament is so familiar, with Takal portraying the neurotically insistent female who believes, without a doubt, that a murder has occurred (think Barbara Stanwyck in Witness to Murder), we're left to depend on Levine's more original aspects, namely the lesbian characters played by Alia Shawkat (in love with Takal's Barri) and Noah's ex-girlfriend played by Annie Parisse, who seems to still have eyes for her Noah. This creates awkwardly funny moments, particularly between the usually top rate Shawkat and Takal. For those familiar with Levine and Takal, a real life couple, there's some additional weight to this scenario, as their directorial efforts seem to simultaneously exorcize relationship demons. Takal's own 2011 directorial debut, Green, explores a severe, obsessive case of jealousy from the perspective of its female protagonist (Levine also stars).
This scenario feels a bit more comfortable and playful, opening with Takal's Cheshire grin as she observes the eponymous winged creatures in a pet shop. But this off kilter energy gets reigned in as we melt into the finale, and other familiar male players like Kevin Corrigan and Jason Ritter end up being mere pawns, their thunder stolen by more erratic smaller roles from Eleanore Hendricks and Lindsay Burdge. Lightly entertaining as it is enjoyable, Wild Canaries still misses that special something to elevate its charm into more memorable territory.
★★★/☆☆☆☆☆