Oh, Youth and Beauty!: Sorrentino's Shows Softer Side in Switzerland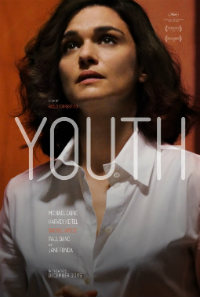 Following the success of the snide yet undeniably eloquent 2013 title The Great Beauty, which ended up snatching the Best Foreign Language statue at the Academy Awards, Paolo Sorrentino takes a second dip in English following 2011's This Must Be the Place with Youth. Tender, sweet, and more emotional than his last film, Sorrentino is once again pontificating on the last chapter of life, this time through the vessels of a retired composer and aged film director, as portrayed by Michael Caine and Harvey Keitel. Threaded with the auteur's usual flashes of visual inspiration, this time around he seems less bombastic and potentially meditative with characters contemplating a last hurrah as they remember highs and lows.
At an isolated hotel in the foothills of the Alps, two old friends return to spend another vacation period. Retired composer Fred Ballinger (Michael Caine) has been approached to leave his retirement by none other than the Queen of England to conduct his most famous piece, Simple Songs, for her son's celebration. Ballinger refuses, for personal reasons. Meanwhile his daughter and assistant, Lena (Rachel Weisz), has just been devastated to learn her husband will be leaving her for another woman, a pop star (Paloma Faith, playing herself). But Lena's husband is the son of Fred's best friend, Mick (Harvey Keitel), in the midst of writing his screenplay for what he means to be his 'testament,' along with a group of younger scribes. Both friends realize they have limited time left, unsure if what either of them have committed their time has been the best choice.
Sorrentino's DoP from The Great Beauty, Luca Bigazzi, returns for another round of visual splendor, here in the surprisingly sumptuous Swiss Alps. Various mini-interludes combining Sorrentino's furious blending of music are splashed throughout, from more serene fantasies such as when Caine conducts the cows of the field as an orchestra or the parade of circus-like acts displayed for the nightly entertainment of the hotel guests, opening with a chanteuse and her band plopped on whirling disc as she sings a cover of Florence and the Machine. The disparity between the two friends is though both are besotted with their enriching memories from what they recall as a more enlightened era, Fred seems resigned to the inevitable end. But small instances lead him to realize the modern youthful generation living may not be as vacuous as they seem, and are perhaps more appreciative of him than he assumes.
Caine's Fred Ballinger seems to be styled in the fashion of Toni Servillo from The Great Beauty, but whereas Servillo's Jep struggled with disillusionment and bitterness, Caine's Fred is simply apathetic, as his daughter is wont to point out. Caine's foil is Keitel, furiously writing a script for a new film with a team of youths, funding dependent on whether or not he can secure an aging Hollywood star played by Jane Fonda. Caine and Keitel share a number of warm, enjoyable commiserations, and so it seems Youth may be more easily dismissed as a lesser work from Sorrentino. It's replete with the filmmaker's characteristic energy, but there's a carefully drawn lightness, much like the 'Simple Songs' composition Fred's most famed for.
Less successful are a couple of scenes involving the screenwriters employed by Keitel, their dialogue often feeling forced, particularly one scene where it sounds like they're rehearsing their screenplay but are actually having a semi-philosophical discussion. Paul Dano, though not as distracting as he sometimes can be, seems around only for a pointed discussion on the usefulness of exploring horror or desire, when it's at last revealed what role in an upcoming German film he's preparing for at the hotel. These vague asides from those in Fred's periphery, paired with Sorrentino's particular styles, is also reminiscent of that bit of melancholy running through something like The Grand Budapest Hotel or the vintage American film Separate Tables, where the constant influx and transition of returning patrons each passing season is as much a chance to enjoy happiness as it is to share sadness.
Reviewed on May 20 at the 2015 Cannes Film Festival – Main Competition. 118 Mins.
★★★½/☆☆☆☆☆