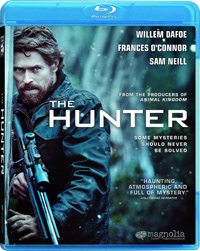 Sometimes great actors and promising material don't always add up to cinematic excellence, and unfortunately this is the case for the Willem Dafoe vehicle, The Hunter, director Daniel Nettheim's first feature in over a decade. Based on the novel by Julia Leigh, writer/director of the chilling Sleeping Beauty, Nettheim's film favors a naturalistic Survivorman aesthetic and empathetic sensibility over Leigh's subjective sterility, but while embracing a coarse lined with heartstrings, his big reveal lacks the pull necessary to make the film a real success.
The 2011 TIFF/2012 Rotterdam selected film features Dafoe as Martin, a hired mercenary posing as an embedded university biologist while actually a hired gun instructed to hunt down the fabled Tasmanian tiger, a species thought extinct, but also coveted by a biotech company named Red Leaf for their mysterious genetic properties. With help from a semi-sketchy local (Sam Neill), he takes up residence at a local family's lodge where he finds two wild children running amuck while their grief stricken mother dozes the days away in a pill induced hibernation. Their activist father has been missing for well over a year, either killed by local foresters upset with his politics or from the harsh wilderness he lived to protect. A trained killer, Martin is not one to fall for the pleasantries of needful family life, but these two kids, a vivacious young girl (Morgana Davies) and a silent little boy (Finn Woodlock), seduce him with their blind faith in life. Helping out of necessity, Martin finds himself forming relationships with the kids. With a little help, even their mother comes to appreciate his ever so thoughtful presence around the house, but all is not well when Red Leaf comes-a-calling to check in on the mission at hand.
It is here that our not so surprising story drifts astray. Dafoe skillfully lets the hardened Martin soften his solid exoskeleton, and when the heat is on to find the rare striped devil, his heart starts to settle in a tragic place, far from his original intentions. The problem with this conclusion – its a sudden, incongruous concession that feels very much like a narrative cop-out. After an existential crisis and tension filled climax, Martin's life is turned upside down in a poorly constructed reveal. Leading up to this sad culmination, Nettheim explores a number of interesting thematic avenues that remind us of our human failings in the loss of endangered species, and the tension filled dynamic between small town loggers and liberal out-of-towners, but it all feels inconsequential at the film's lackluster conclusion.
The Disc:
Magnolia has developed a reputation for putting together pretty solid packages for their Blu-ray releases. This release is no different, touting some meaty extras and an above average A/V presentation. The eye-popping, yet muted Tasmanian landscape is breathtaking in HD. There is an immense amount of detail in the wide array of foliage found in the film, and every wrinkle in Dafoe's weathered face can be seen with great clarity. The film has many dimly lit scenes, and black levels look nice and inky when necessary. Audio-wise, the DTS-HD 5.1 master track feels vibrant and alive. All the tension raising music sounds nice and full, and the ever present natural atmosphere brings us out into the wilderness along with Defoe.
Audio Commentary with director Daniel Nettheim and producer Vincent Sheehan
These two make for quite an entertaining pair to listen to. They speak on everything from personal interactions on set to technical shot details. Both of them have plenty of info on the production to that they want to share, none of which is extraneous filler. Definitely worth a listen.
Making The Hunter
At a half hour in length, this featurette delves into meaningful discussions on each of the major characters, the prep for acting and set design, as well as the thematic elements that are woven into the film. The director, actors, production designers, and many more were interviewed for the piece.
Deleted Scenes
With about 7 minutes of scraped footage, these scenes served to fill out character detail, none of which seems all that important. It's not surprising to see they've been cut. Some of the footage still have time code intact, with varying aspect ratios. Each of them also have an optional audio commentary track.
Theatrical Trailer
Leading viewers to believe the film is a biting thriller of sorts (which it is not), it's a very pretty, boisterous little trailer that packs in every moment of intensity possible. It works, but it's misleading.
Final Thoughts:
Though it may sound otherwise, Nettheim's film is certainly not a complete failure. He and cinematographer Robert Humphreys have captured some truly stunning visuals. Working with natural lighting, sometimes harsh weather conditions, and the very wild Tasmanian landscape, they've done a magnificent job showing the natural beauty of Tasmania with a cool subtlety that compliments the story well. Within that story, a very real connection between Dafoe and the kids develop, which helps make the tail believable, but also works against the fact that he is supposed to be a cold-hearted, trained mercenary in it purely for the money. With all the pieces in play, it's worth a watch for the visuals alone if nothing else, but you may or may not care to see how the narrative tries to wrap up.
Film Review
Disc Review