French writer and director Benoît Jacquot gives an intimate look at the last days of monarchy during the beginning of the French Revolution. A young woman's eagerness to please the Queen gets her in danger when she's assigned a secret mission that could get her killed. Jacquot wisely avoids what's already known by focusing on the intimate details of the last days of Versailles where Marie Antoinette is involved in a love triangle with two other women. It's a beautiful and intimate period drama with a contemporary feel for authenticity. The solid cast includes Léa Seydoux as the naive reader to Diane Kruger's Marie Antoinette. The supporting cast includes Virginie Ledoyen, Xavier Beauvois and Noémie Lvovsky. "Farewell, My Queen" (Les adieux à la reine) opened the San Francisco International Film Festival (SFIFF55) where I sat down with the filmmaker. Cohen Media Group open the film in theaters tomorrow.
Yama Rahimi: Did you always wanted to make a film about the time period, the French Revolution or was it because of the book by Chantal Thomas?
Benoît Jacquot: In fact it was because of the book. My job is to make movies, not to evoke certain period in French history. I make movies whether it's contemporary or a film about the cave men.
Rahimi: I see you made a lot of literary adaptations. What do you think is the biggest problem with literary adaptations, specially this book?
Jacquot: The only problem that there could be is to be too faithful to the book. In order to make a good film whether the book is good or not to take the essence of it and translate it to the screen.
Rahimi: Is the book on which the film is based about the first days of the revolution?
Jacquot: Yes.
Rahimi: What are the biggest changes that you made between the book and the film?
Jacquot: There are two big changes from book to the film. The first one is that the book is retrospective and the story is told in flashbacks which I didn't want. The second one is the age of the main character, Sidonie Laborde who's in the book fifty years old and in the film she's twenty years old.
Rahimi: What do you want the audience to take away from the film and about Marie Antoinette?
Jacquot: What interested me was the panic situation when powerful people are in a place waiting for things to happen psychologically. The panic in a sinking boat. As far as Marie Antoinette is concerned, I wanted to take a well known character but present her in a new perspective which has not been seen before.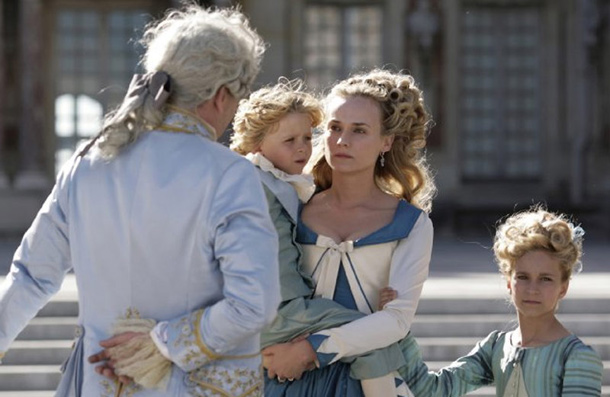 Rahimi: How difficult was the casting?
Jacquot: Not difficult at all. When I write, very often or almost always I have certain actors/actresses in mind.
Rahimi: So you had Léa Seydoux and Diane Kruger in mind?
Jacquot: Léa Seydoux yes and Diane Kruger maybe not alone but with another actress together. However I had Léa Seydoux in mind before I started writing.
Rahimi: Your films always featured strong female characters and you have worked with several actresses multiple times, specially Isabelle Huppert and Virginie Ledoyen. What's your attraction to female characters?
Jacquot: I love women. So I try to make films about what I don't know because I'm a man.
Rahimi: Which of your films is your favorite?
Jacquot: Always the last one. Maybe the last two
Rahimi: What films or filmmakers inspired you to become a filmmaker?
Jacquot: (Kenji) Mizoguchi is for me the greatest. "Les Contes de la lune vague après la pluie" (Ugetsu) is my favorite film of his.
Rahimi: What's next for you?
Jacquot: My last three films were period films, I'm looking to make a contemporary film next which I'm writing script for.