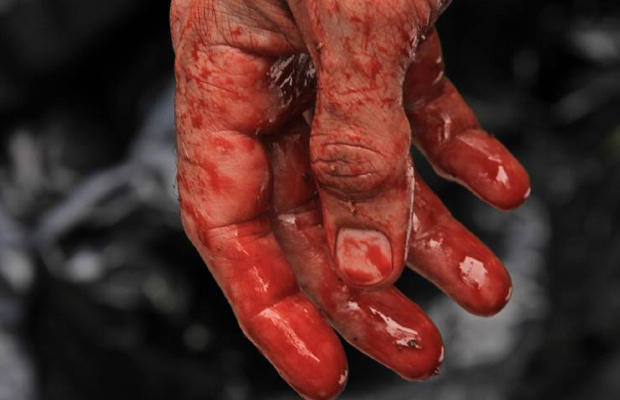 It claimed its cult-like status before it was released in theaters,  and was the talk of the fest much like Reservoir Dogs and Clerks were before them. Found footage The Blair Witch Project not only redefined the genre, but it quickly became part of cinematic and festival history. And speaking of legends, Eduardo Sanchez decided to follow a mythic one for his latest endeavor. Following the trails of sasquatch (and influenced by 1972′s The Legend of Boggy Creek), this has zero to do with the touring monster truck of the same name. The filmmaker was recently back at the fest for his contribution to S-VHS (V/H/S 2) and recent promo art from the AFM means the shot in April Exists looks ready to go.
Gist: Scripted by Jamie Nash,  this is about a group of friends who venture into the remote Texas woods for a party weekend find themselves stalked by Bigfoot.
Production Co./Producers: Haxan Films' Robin Cowie (Lovely Molly), Court Five's Jane Fleming, Andy Jenkins and Mark Ordesky
Prediction: In what is a highly competitive year for Park City at Midnight slots, this stands a good chance at being included if programmers are bent on introducing strictly new filmmakers. Buzz should be tremendous.
U.S. Distributor: Rights Available
More 2014 Sundance Film Festival Predictions
Eric Lavallée is the founder, editor-in-chief and film critic at IONCINEMA.com (founded in 2000). Eric splits his time between his home base in Montreal, NYC, and is a regular at Sundance, Cannes and TIFF. He has a BFA in Film Studies at the Mel Hoppenheim School of Cinema. In 2013 he served as a Narrative Competition Jury Member at the SXSW Film Festival. Top Films From Contemporary Film Auteurs: Almodóvar (Talk to Her), Coen Bros. (Fargo), Dardennes (La Promesse), Haneke (Caché), Hsiao-Hsien (Three Times), Kar-wai (In the Mood for Love), Kiarostami (Taste of Cherry), Lynch (Mulholland Dr.), Tarantino (Pulp Fiction), Van Sant (My Own Private Idaho), von Trier (Breaking the Waves)
You may also like...
Trieste Kelly Dunn
"I focused on feeling wronged and that something was taken from her, and that taking it from someone else who deserved it felt heroic and right, despite it being wrong and irrational." Read more

Review

Interviews

In Theaters

18 Apr

11 Apr

04 Apr

02 Apr

28 Mar

21 Mar

14 Mar

07 Mar

28 Feb

Masthead

Facebook