2014 Sundance Film Festival Predictions: Joe Swanberg's Happy Christmas
By Eric Lavallee on November 19, 2013
@ioncinema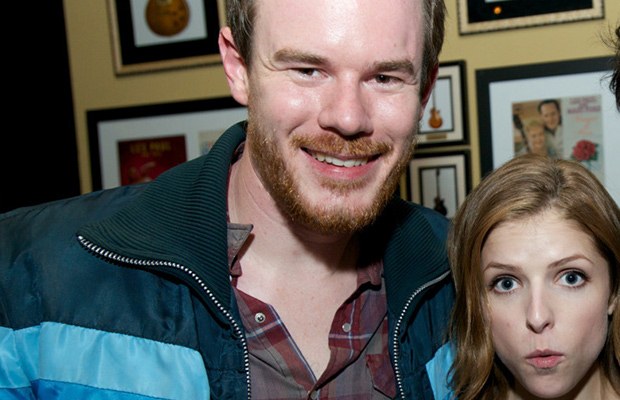 While Baumbach and Payne got conformable shooting in B&W (see Frances Ha, Nebraska), Joe Swanberg convinced swag-collecting thesps Anna Kendrick to reteam with him again and added Melanie Lynskey, Lena Dunham and Mark Webber to test out 16mm format for a holiday comedy titled Happy Christmas. in Chicago in the non-wintery month of May. Belonging to the likes of Francois Ozon, Woody Allen and Michael Winterbottom in his year in/year out output, Swanberg was only recently included in the Sundance family with 2011′s Uncle Kent and 2012′s V/H/S, and yet despite SXSW officially being the Swanberg home (Drinking Buddies was there last March) I'm thinking this hot potato of a film could easily find itself in Park City and Austin, and count as Cinematographer Ben Richardson's return to the fest where he broke out with his work in Beasts of the Southern Wild.
Gist: This is about a young couple (played by Lynskey and Swanberg) whose lives are interrupted by the arrival of an unwelcome house guest, a sister (Anna Kendrick) who moves into their basement.
Production Co./Producers: Joe Swanberg
Prediction: The quality of the format means this could bounce from Premieres to NEXT section. A SXSW showing is almost assured.
U.S. Distributor: Rights Available
More 2014 Sundance Film Festival Predictions
Eric Lavallée is the founder, editor-in-chief and film critic at IONCINEMA.com (founded in 2000). Eric splits his time between his home base in Montreal, NYC, and is a regular at Sundance, Cannes and TIFF. He has a BFA in Film Studies at the Mel Hoppenheim School of Cinema. In 2013 he served as a Narrative Competition Jury Member at the SXSW Film Festival. Top Films From Contemporary Film Auteurs: Almodóvar (Talk to Her), Coen Bros. (Fargo), Dardennes (La Promesse), Haneke (Caché), Hsiao-Hsien (Three Times), Kar-wai (In the Mood for Love), Kiarostami (Taste of Cherry), Lynch (Mulholland Dr.), Tarantino (Pulp Fiction), Van Sant (My Own Private Idaho), von Trier (Breaking the Waves)
You may also like...
Trieste Kelly Dunn
"I focused on feeling wronged and that something was taken from her, and that taking it from someone else who deserved it felt heroic and right, despite it being wrong and irrational." Read more

Review

Interviews

In Theaters

18 Apr

11 Apr

04 Apr

02 Apr

28 Mar

21 Mar

14 Mar

07 Mar

28 Feb

Masthead

Facebook