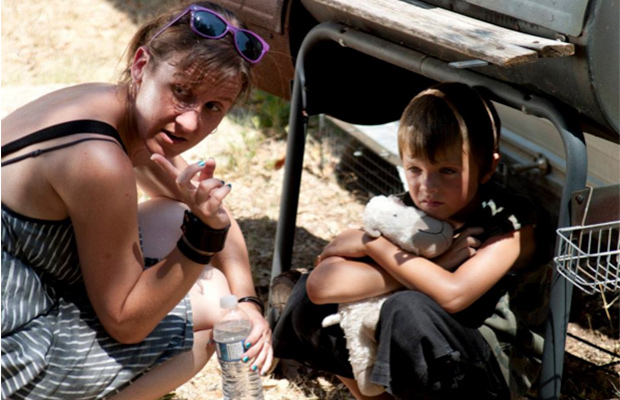 I don't think Drake Doremus will be at Sundance this year. Here's hoping that Kat Candler makes a "repeat" into a three-peat. Director of highly praised Sundance shorts Hellion (2012) (see pic above) and Black Metal (2013), Candler might belong to an exclusive club of folks. The same year that the short got invited to Park City, her producer Kelly Williams become an invited 2012 Sundance creative producing lab fellow with the feature length project of the same title (see trailer to get an idea of what it might turn out like). Flash forward to 2014, and Hellion might be that feature length Sundance preemed film that has roots as a Sundance accepted short film. In late August the trades spit out the news that Aaron Paul and Juliette Lewis climbed on board the drama – so it'll be tight to get this before the deadline. Short Term 12 cinematographer Brett Pawlak shot the film.
Gist: Based on the short film, this is set in small-town Texas, when thirteen-year old Jacob's delinquent behavior gets his brother taken away, he'll go to extreme, destructive lengths to bring him home. Jonny Mars, who appeared in the short, also co-stars along with Josh Wiggins and Deke Garner.
Production Co./Producers: Kelly Williams and Jonathan Duffy (Pit Stop). Janice Beard, Tanner Beard, Suzanne Weinert, Jeff Nichols and Sarah Green are exec producers.
Prediction: Birth in the U.S. Dramatic Competition is a sensible bet with SXSW next in line. 2015 might be the long-term option.
U.S. Distributor: Rights Available

More 2014 Sundance Film Festival Predictions
Eric Lavallée is the founder, editor-in-chief and film critic at IONCINEMA.com (founded in 2000). Eric splits his time between his home base in Montreal, NYC, and is a regular at Sundance, Cannes and TIFF. He has a BFA in Film Studies at the Mel Hoppenheim School of Cinema. In 2013 he served as a Narrative Competition Jury Member at the SXSW Film Festival. Top Films From Contemporary Film Auteurs: Almodóvar (Talk to Her), Coen Bros. (Fargo), Dardennes (La Promesse), Haneke (Caché), Hsiao-Hsien (Three Times), Kar-wai (In the Mood for Love), Kiarostami (Taste of Cherry), Lynch (Mulholland Dr.), Tarantino (Pulp Fiction), Van Sant (My Own Private Idaho), von Trier (Breaking the Waves)
You may also like...
Trieste Kelly Dunn
"I focused on feeling wronged and that something was taken from her, and that taking it from someone else who deserved it felt heroic and right, despite it being wrong and irrational." Read more

Review

Interviews

In Theaters

18 Apr

11 Apr

04 Apr

02 Apr

28 Mar

21 Mar

14 Mar

07 Mar

28 Feb

21 Feb

Masthead

Facebook