People Talking Without Speaking: Mendonca Filho's Ensemble a Pleasant Din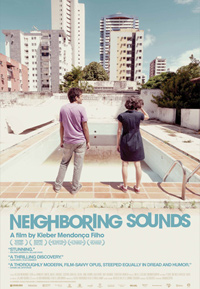 There's something extremely engrossing about Kleber Mendonca Filho's episodic feature debut, Neighboring Sounds, a film that uses the lives of a group of people from one neighborhood in Recife, Brazil as a microcosm reflecting class disparities, that, in turn, echo a greater societal rift about how and what they're keeping themselves safe from. Certainly, there are a lot of stories to tell, and while Filho, also a critic and writer, has limited his intersecting slices, there still may be a touch too much going on, with time unwisely spent on tangents that could have been spent on his more visceral angles.
During a rash of car burglaries in an upscale neighborhood of Recife, we meet several of the citizens, all currently enmeshed in their own lives and annoyed more than afraid at the current state of affairs as a car burglar steals their CD players. There's Beatriz (Maeve Jinkings), a bored, pot-smoking housewife, masturbating with her vibrating clothes dryer; there's the rich playboy Joao (Gustavo Jahn), who is grandson of Francisco (W.J. Solha), the wealthiest member of the neighborhood, owning most of the properties. Francisco has another grandson, Dinho (Yuri Holanda), a miscreant responsible, it seems, for a majority of the burglaries, but because of who his grandfather is, he is able to avoid consequence. When Joao's latest girlfriend has her CD player stolen when she stays the night, Joao confronts his wayward cousin. Meanwhile, a group of three men claiming to provide neighborhood security services, led by the smooth talking Clodoaldo (Irandhir Santos), convince the ailing neighborhood that their services will correct any and all of these problems for a small fee from all the residents. Though, slowly, it's revealed that they may have ulterior motives.
There's certainly enough intrigue in Neighborhood Sounds to string you along to figure out what ominous motivations seem to be going on underneath the surface, but far too often, there's a non sequitur scene that adds nothing and goes nowhere. But at its heart, the film is about class differences, and a middle class that can now afford to isolate themselves from the outside world. Except, maybe the outside isn't what they need to be isolated from.
It's clear that the main motif in Neighborhood Sounds is the gullible (and capitalist) trapping of being guarded, of what it means to be protected and to be able to afford protection. The film is filled with examples of rebellion and dismissal of guardian figures, such as the jittery housewife Beatriz plotting to drug the neighbor's nosy guard dog, and an apartment complex association callously decides the fate of a once dependable front desk employee without care for his welfare (not to mention a clear disdain for the blue collar workers that service the neighborhood). But the film makes a real point of proving that the higher up on the food chain you are, the more the notion of protection from unpleasant elements in life is taken for granted (not to mention how futile this protection might be in the first place).
Francisco, the neighborhood big-wig, condescendingly tells the new security team that they will not be interfering with his delinquent grandson, Dinho, even though he is the main culprit vandalizing local property. Francisco is a man that feels himself to be above the sacred and profane, noisily clomping down the street in the dead of night, gliding by a prominent warning sign for sharks on the beach while he goes in for a dip. Warning signs don't apply to him, as he believes himself to be untouchable. Mendonca Filho gives us just a hint of what may lie in store for this arrogant prick by the film's end. One could argue that Neighboring Sounds fizzles out right as it's getting interesting, though it makes good on it's amalgamation of sounds by blending two short but vicious moments of alternate violence. However, this isn't a film about the baseness of humanity, but rather the urbane lack of common sense that seems to come with privilege and the rhythms of banality.
Reviewed on June 24 at the 2012 Los Angeles Film Festival – International Showcase.
124 Min