2023 NYFF: Haigh, Hamaguchi, Lanthimos, Triet, Glazer and Annie Baker in Main Slate
We were scratching our heads on where films such as Andrew Haigh's (retitled) All of Us Strangers and the under-the-radar A24 film by Annie Baker (that will likely hit Telluride) might surface and well we now have those answers. The 2023 New York Film Festival lassoed the best of Cannes (the Palme d'Or, Grand Prix and Jury Prize winners and (Sundance for that matter in Raven Jackson's All Dirt Roads Taste of Salt) for their Main Slate programme. and while we haven't gone through all the titles to see what are the North American grabs there is some definite auteur cinema dating back to Berlin and recent Locarno and upcoming Venice edition.
Searchlight made sure everyone was aware of Haigh's new title and that this is gunning for awards season with a December 22nd drop. This tells the tale of one night in his empty tower block in contemporary London, Adam (Andrew Scott) has a chance encounter with his neighbor Harry (Paul Mescal) that punctures the rhythms of his everyday life. As Adam and Harry get closer, Adam is pulled back to his childhood home where it appears his long-dead parents (Claire Foy and Jamie Bell) are both living and look the same age as the day they died 30 years before. Another curiosity title is indeed from Baker — an American playwright who won the 2014 Pulitzer Prize – her debut feature centers around pre-teen Lacy, her mother Janet, and the three people who come into their lives over one summer in 1991. Julianne Nicholson stars in this project. Here is the Main Slate line-up.
May December – Dir. Todd Haynes (Opening Night)
Priscilla – Dir. Sofia Coppola (Centerpiece)
Ferrari – Dir. Michael Mann (Closing Night)
About Dry Grasses – Dir. Nuri Bilge Ceylan
All Dirt Roads Taste of Salt – Dir. Raven Jackson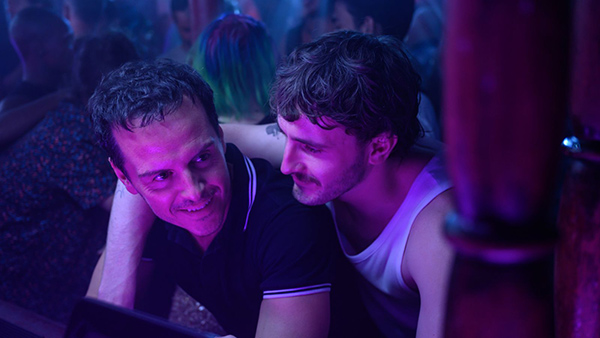 All of Us Strangers – Dir. Andrew Haigh
Anatomy of a Fall – Dir. Justine Triet
The Beast – Dir. Bertrand Bonello
La Chimera – Dir. Alice Rohrwacher
Close Your Eyes – Dir. Víctor Erice
The Delinquents – Dir. Rodrigo Moreno
Do Not Expect Too Much from the End of the World – Dir. Radu Jude
Eureka – Dir. Lisandro Alonso
Evil Does Not Exist – Dir. Ryûsuke Hamaguchi
Fallen Leaves – Dir. Aki Kaurismäki
Green Border – Dir. Agnieszka Holland
Here – Dir. Bas Devos
In Our Day – Dir. Hong Sangsoo
In Water – Dir. Hong Sangsoo
Janet Planet – Dir. Annie Baker
Kidnapped – Dir. Marco Bellocchio
Last Summer – Dir. Catherine Breillat
Music – Dir. Angela Schanelec
Orlando, My Political Biography – Dir. Paul B. Preciado
Perfect Days – Dir. Wim Wenders
Pictures of Ghosts – Dir. Kleber Mendonça Filho
Poor Things – Dir. Yorgos Lanthimos,
La Práctica – Dir. Martín Rejtman
The Settlers – Dir. Felipe Gálvez
The Shadowless Tower – Dir. Zhang Lu
Youth (Spring) – Dir. Wang Bing
The Zone of Interest – Dir. Jonathan Glazer