The Jewish Exorcist: Bornedal Dips Back into English Language for Derivative Genre Effort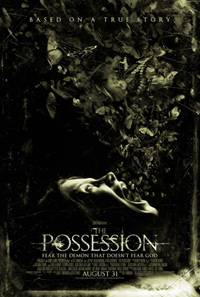 Danish master Ole Bornedal already has a finicky history with the US film industry, having the distinction of directing the remake of his own successful first film, Nightwatch (1994) to disappointing effect in 1997. Since then, he has made several unique titles in his native language, including the excellent 2007 film, Just Another Love Story. After a 2009 Straw Dogs-ish effort, Deliver Us From Evil, Bornedal announced plans for a couple English speaking projects, the first being a collaboration with Sam Raimi as producer, which ended up being The Possession. Unfortunately, Bornedal's final product is derivative, predictable and unforgivably mediocre, despite a concerted effort that heroically strong-arms us into going along with it until devolving quickly into utter ridiculousness.
Opening with the now yawn inducing and cynically expected title cards announcing the "true" nature of this story that documents a horrific experience that lasted 29 days for one unlucky but otherwise affluent family, we meet the recently divorced Clyde (Jeffrey Dean Morgan) and Stephanie (Kyra Sedgwick) trying to keep life as normal as possible for their two young girls, teenager Hannah (Madison Davenport), and their precocious preadolescent, Em (Natasha Calis). Clyde, who has just bought a new house in the 'middle of nowhere' New York suburbia, is a successful basketball coach and may soon have the opportunity for success in his profession by taking a job in North Carolina. Stephanie already has a new beau, Brett (Grant Show), much to the chagrin of Em. But when Clyde takes the girls to an innocent yard sale, Em asks him to buy a mysterious looking antique box with Hebrew writing carved on the outside. Little does he know that he purchases his daughter a Dibbuk box, an ancient Jewish custom in which a Dibbuk (or displaced spirit in limbo, or demon, etc) is placed inside a box, cursed to stay for all eternity. Or until someone, some innocent young vulnerable human opens the box and lets it out to possess his or her body. And so, young Em is our victim, attracting hordes of moths, eating enough for two and speaking in a husky voice, being nasty to mom's new boyfriend, violently dispatching her concerned teacher, and always insistent upon having said box around her at all times. What's a dad to do besides visit a Jewish Theology professor at his school before jetting off to find help in the Jewish community, where he gains assistance from Tzadok (Matisyahou)? After witnessing demonic disturbances in her daughter via X-ray, mom hops quickly on board with the exorcism idea, and thus, the evil Dibbuk inside their child must face off with Tzadok.
Rest assured, one can safely assume that what ended up being The Possession is probably not what Ole Bornedal had in mind. True, even in its opening framework, there's nothing truly distinct to this tale, though it might think using Jewish theology is right nifty and original. However, Bornedal somehow manages to set up an engrossing first fourth of the film, showing us plenty of desolate trees in blustery skies, developing a foreboding and brooding Autumn. There's an overused crescendo of a score by Anton Sanko that first enhances and then completely tries to dictate a mood to us, but there's something distinctly vintage about Bornedal's film that at least manages to recall some of the original classic narratives it borrows from shamelessly. Perhaps this is also in large part due to Jeffrey Dean Morgan's worthy attempt at making something viable with his paper thin character, something no other actor in this venture is able to do. As awkward and out of place as Sedgwick feels here, Grant Show (of "Melrose Place" fame) somehow manages to stop his few scenes completely dead with some wooden posturing. And try as she may, Natalia Calis' demonic transformation feels more titter worthy than ominous.
But mostly it's those slight flares of artistic flair that pop up in The Possession that truly make this a sad affair, like during the ridiculous exorcism where Jeffrey Dean Morgan chases his daughter into a dark morgue, with only the light of his cell phone to pierce a darkness lit mainly by a grotesque red light. Moments like this make you realize the excellent feature that could have been made had this been filmed in Bornedal's native language, or without all the meddling that seems to have gone on with the end product. What insane fun could have been had here—who can't appreciate the presence of Matisyahou as the exorcist? Originally titled Dibbuk Box, it was re-titled in between several delays to its theatrical release. Shorn and dumped into our theaters as The Possession, an inexcusably vague title change, it is now only one more dead-behind-the-eyes genre effort, a butchered PG-13 horror film lobotomized so that it can appeal to and be understood by the broadest audience possible—who can only be people that like to pay money to see films not to be scared and not to be entertained. Let's hope that Bornedal's plans for a collaboration with Dean Koontz won't be handled the same way.