Urban Fortress: Foy's Debut Aggravated Mix of Thrills and Awkward Social Commentary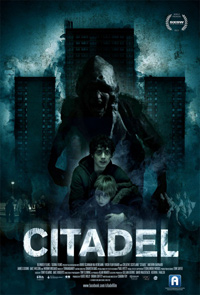 Creepy kids are in again, it seems, a motif making the rounds in several new releases this year alone, including Sinister, and then a flaccid remake of Spanish evil kid classic, Who Could Kill a Child?, the needless Mexican rip-off, Come Out and Play. And now we get an urban, Irish angle with Ciaran Foy's moody debut, Citadel, a nicely packaged product, though one that shouldn't be examined too closely.
We're thrust into a nightmarish world almost immediately, briefly watching Tommy (Aneurin Barnard) and his pregnant girlfriend Joanne (Amy Shiels) as they prepare to move out of their condemned high rise. She waits for him as he brings some belongings outside, but on his way back up the elevator, the door gets stuck, and he witness a group of hooded children brutally beat his wife into unconsciousness. By the time he gets to her, it's too late, and he discovers a large hypodermic needle stuck into her belly. Rushing to the hospital, they're able to save the baby, but Joanne remains in a coma. Moving ahead nine months later, Tommy cares for baby Emma on his own, developing an ever worsening case of agoraphobia. Joanne gets taken off life support, and Marie (Wunmi Mosaku), one of the nurses that had been caring for Joanna, befriends the jumpy Tommy, who insists the children that attacked his girlfriend are coming back for Emma. It doesn't help that the half crazed local priest (James Cosmo) insists that the children are really some kind of demonic mutant force, and that they are attracted to fear, sensing humans that give off Cortisol. The priest cares for a young blind boy named Danny (Jake Wilson), who the hooded hordes don't see because he doesn't give off any traces of this. While Marie stands as a voice of reason, insisting these are simply poor, disenfranchised children, the scales are soon tipped in the priest's favor and when baby Emma becomes endangered, Tommy agrees to help the priest in his scheme to get rid of these blighted kids for good.
The sky a constant, steely grayish blue, Foy builds a masterful foreboding in the first half of the film. As we struggle to comprehend if these killer kids are natural or supernatural, a sort of social commentary angle starts to develop, though this is quickly submerged when Foy diverges and dehumanizes the children, never quite explaining who or what they're really after. There's certainly an interesting commentary about fear and victimhood that's worthy of note, but it's difficult to overlook the (perhaps inadvertent) conservative rhetoric of wiping out the disenfranchised that one can read into the film. By the time we reach the muted climax, there's little to be excited about, once Tommy finally gets the ball rolling on taking care of business, the hooded hordes looking the adolescent version of Cronenberg's classic The Brood (1979).
There's an overt sense of abandonment and isolation that doesn't quite seem realistic, as well. Foy has employed a very limited cast, and one wonders if much of this could be happening in Tommy's head, demonizing the children so that it's easier to kill them. With a bus running once a day, and a hospital that's more understaffed than the one in Halloween II (1981), this seems like some strange, alternate universe. Foy's cast is game, Barnard's hollowed out wreck nicely antagonized by the always entertaining James Cosmo, but there's a sense that Citadel might have been a concept not as fleshed out as it should have been, it's intent as muted as its bleak palette.