Features
2014 Sundance "Trading Cards" Series: #11. Katie Stern (Listen Up Philip)
Lavallee: The underrated/under the radar Francine was your first fiction feature as a producer. I'd like to know what lessons carried over from making a miniscule film and how did the project come to you?
Stern: Francine was a true labor of love. I met Brian M. Cassidy and Melanie Shatzky through Washington Square Films (where we represent them as commercial directors) and we instantly became friends. When they told me about the idea for the film, I was immediately intrigued. The world they described (and ultimately, created) was unlike anything I had ever seen before and that was too exciting to pass up. I wanted to be involved right away and when the amazing Melissa Leo approached us to be in the film, it was icing on the cake.
Lavallee: Could you detail the type of snowball effects that occurs when a casting call is made and you get a baseball team's worth of talent eager to sign up? Could you equate how much it was based on the merits of the screenplay vs. Perry's previous as a filmmaker.
Stern: We were very fortunate to assemble such an astoundingly talented cast, each of whom truly heightens the film. I think they initially reacted to the strength of the writing – which is so unique and beautiful and funny – and after deeper discussions with Alex, it became clear that he had an exact and uncompromising vision of what the movie would be. And that was really exciting for everyone.
Click on the card below!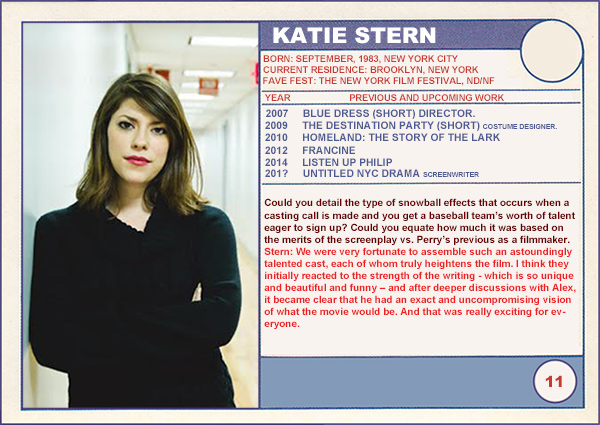 [related]2014 Sundance Trading Card Series[/related]