Features
2014 Sundance "Trading Cards" Series: #13. Chris Ohlson (Kumiko, The Treasure Hunter)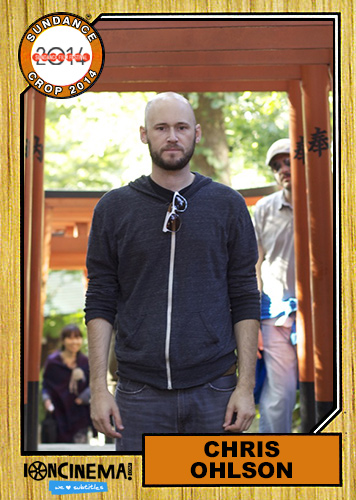 Eric Lavallee: Name me three of your favorite "2013 discoveries"…
Chris Ohlson: The Polaroid photography of Bastian Kalous… I'm haunted by it. Matterhorn: A Novel of the Vietnam War… takes my breath away for over 600+ pages. Swimming at Night… great for the head & heart.
Lavallee: Sight unseen, the Coen brothers' Fargo is part of the narrative structure could you discuss how the Zellners creatively used that film within their own without swallowing a huge chunk of the budget. Ohlson: Well, the movie-within-the-movie is one very small part of a much larger narrative structure. It's a jumping off point, to a certain degree, but the movie-used-within-the-movie is really just a small plot mechanism. This is so much more about Kumiko, as a young woman on a quest… we loved the idea of a contemporary quest across the globe for a mythical fortune and that's how our greater narrative structure works.
Lavallee: We heart the chosen title for the film. Could you discuss how it came about?
Ohlson: The title has long been attached to the script… What I always loved about it is — it tells you everything you need to know. It's great, it's economical, and it's descriptive all at the same time. It's our main character's name and its what she does… she hunts treasure. It's declarative and straight forward, and in my opinion, memorable as hell.
Lavallee: This is the Zellners third feature film trip to Sundance and they've landed in three separate sections. We're wondering if you could describe what you like best about their working dynamic and the style and tone they employ and why programmers appear to not know how to categorize them.
Ohlson: Great question… The Zellners working dynamic comes from such a pure and true place. They're both artists, thru and thru. They're always questioning how they can better portray or capture a moment… how to better tell their story. I think their style and tone are dictated by the material (which they almost always write) and they stay true to what they believe. They make sacrifices, sure, but only doing so, so that they are able to make the movie in their heads. I feel for programmers, not necessarily knowing what 'section' to put the Zellners work in — but I also feel like, if you get a Zellner Bros film in your hands (as a programmer) you know it's going to be something very special and you're just going to have to find a place for it.
Click on the card below!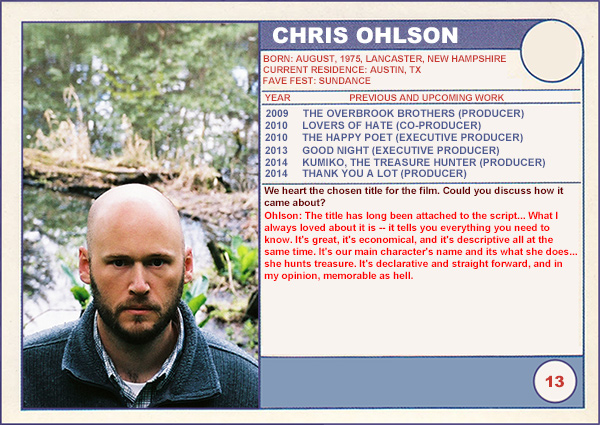 [related]2014 Sundance Trading Card Series[/related]