Features
2014 Sundance "Trading Cards" Series: #14. Paul Eenhoorn (Land Ho!)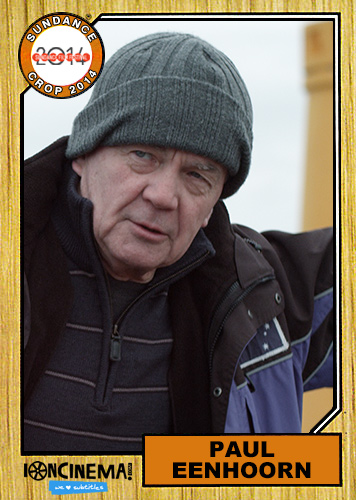 Eric Lavallee: Name me three of your favorite "2013 discoveries"…
Paul Eenhoorn: Frank Sinatra and his absolute command of his craft. My Vauxhall Velox from my teenage years now a classic motor vehicle. My total admiration for Cameron Diaz. 2013 Still love Castle on TV. The paintings of Ricco DiStefano, Frances Ha, a great Indie. Iceland. Australia. Headline. Seahawks win Super Bowl. More 2014 I guess.
Lavallee: Exactly one year to the date you "broke" out in the same section with This Is Martin Bonner. Where in the timeline does Land Ho! fit in the scheme of things? Aaron worked with Chad before but did either filmmakers come across this perf and booked you then?
Eenhoorn: Land Ho was a fall shoot, the year went so fast, I spent a lot of time promoting This is Martin Bonner at film festivals so I really can't remember anything else about 2013. Aaron saw Martin Bonner and he and Martha had a film in mind is my recollection. They were impressed by my work.
Lavallee: In Land Ho! you play the "mild mannered" Colin. How much back-story were you working with and what kind of exploratory time did you have with the character, if any?
Eenhoorn: Honestly I don't do backstory, I don't do notes, I truly believe that the words lead to character, if you are faithful to them and work with the Directors (in this case) you will have it. The rest is what I have already learnt in life. I am going to shoot an action spy thriller this year so I am going to shed Mild Mannered for that I guess it's a Richard Burton role.
Click on the card below!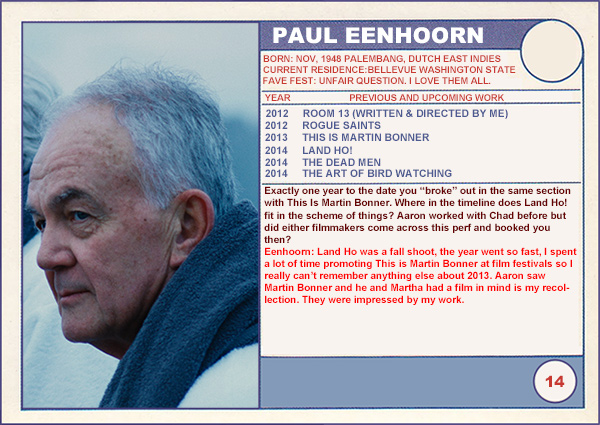 [related]2014 Sundance Trading Card Series[/related]