Features
2014 Sundance "Trading Cards" Series: #23. Kat Candler (Hellion)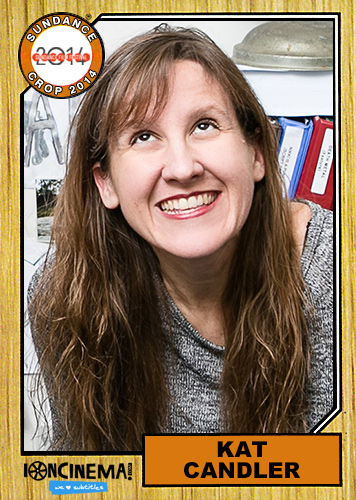 Eric Lavallee: Name me three of your favorite "2013 discoveries"…
Kat Candler: The Texas Motocross Community. Pilou Asbæk (Actor from A Hijacking). Thomas Vinterberg's The Hunt.
Lavallee: This is your third trip to Sundance in just as many years. At what point did you know that the short was indeed a basis for the feature, and what is it in the character set or the parental abandonment theme that lured you in for a second time?
Candler: I knew I wanted to make a feature immediately after wrapping our three-day shoot of the short. It was the summer of 2011 and I'd fallen head over heels in love with these characters and their world. I wanted to live with them longer and find out what happens next.
The feature narrative expanded from the mother's absence, what led to this family's downfall. The short made me reflect a lot on my relationship with my parents. They're incredible people who I love dearly, but I realize how fallible and human they are and all of their beautiful mistakes they made as parents trying to raise me and my brother. That took me into the character's I was creating. This single blue collar dad struggling with his hell-raising son just struck an emotional cord. Both Hollis and Jacob have such good hearts but consistently make such poor choices along the way. That's why I love them so much.
Lavallee: You worked with the wonderful Brett Pawlak from Short Term 12 fame, what aesthetic decisions did you make beforehand?
Candler: I'm a big Brett Pawlak fan. The guy's crazy talented, funny, adventurous, kind and a pretty epic dancer. He was a perfect partner in crime. A really important piece of shooting was giving the actors space to play. And working with a bunch of non-actor kids, it was nice to give them freedom and movement within a scene. We were also moving incredibly fast so the hand held worked for the intimacy of the story and the speed at which we were shooting.
Aesthetically, we talked a lot about the warmth of the world and that 70s feel. I'm a big sucker for flares. I sited movies like Over the Edge, Urban Cowboy, The Outsiders, Alice Doesn't Live Here Anymore …
Lavallee: I imagine you got tons of invaluable advice from your seasoned producing team, but we'd like to know what are the advantages of having a sharp filmmaker in Jeff Nichols within the mix?
Candler: Hands down, Jeff's one of my favorite storytellers working right now. With that said, we spent a lot of time on the script. That's where I ravaged his brain the most. And then in the post-production phase, in that moment when you're banging your head against the wall, he forced me and my editor, Alan Canant to step back and let the story breathe. For me it's about having someone who understands and respects story through and through. And then of course, he connected us to Lars Ulrich so we could use Metallica in the movie. That was a dream come true.
Click on the card below!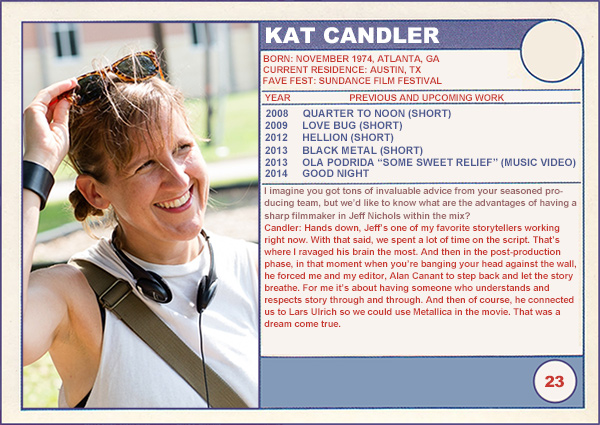 [related]2014 Sundance Trading Card Series[/related]