Features
2014 Sundance "Trading Cards" Series: #24. Mynette Louie (Land Ho!)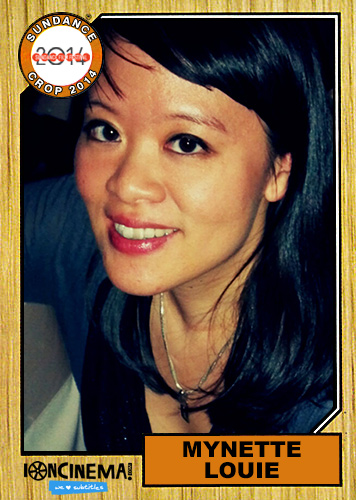 Eric Lavallee: Name me three of your favorite "2013 discoveries"…
Mynette Louie: 1. The Killing (AMC TV series) 2. "The Good, Racist People" (NY Times Op‐Ed). 3. Jee Young Lee's "Stage of Mind" art/photography exhibit.
Lavallee: With Land Ho! you've become one of the early adopters for what appears to be an artistic collab between U.S indie sphere and Scandi productions…best exemplified by your executive producer DGG is just fresh off just this with Prince Avalanche. Is there some tax breaks I'm not aware of, and what are the challenges of working outside the box sorta speak?
Louie: Yes, there's actually a 20% Icelandic tax credit as well as a VAT (value‐added tax) rebate. But those were just gravy‐‐the decision to shoot in Iceland was purely a creative one. Martha had had Iceland on her mind for a few years, and eventually decided that she wanted to make this film there with Aaron. But it's always a fun challenge to tackle something different and unfamiliar in filmmaking—in this case, shooting in a foreign country.
Lavallee: Land Ho! = 2 directors for the price of 1… What are the definite advantages of working with two non-sibling collaborators on a feature project? Do you think viewers will be able to distinguish two singular visions?
Louie: LAND HO! is a harmonious confluence of Martha and Aaron's styles and sensibilities. Practically speaking, having two of them divvy up the writing and directing work was hugely helpful given our breakneck schedule. We shot 2 days in Kentucky, 16 days in Iceland, and edited the film in 6 weeks. We did post‐production in New York for the tax credit, and neither Martha nor Aaron live in New York, so it was nice that they could tag team the color correction and sound mix so neither of them would have to be away from home for too long.
Lavallee: Tze Chun recently flexed his muscles working in the noir aesthetic/genre. We thought Cold Comes the Night was a strong sophomore effort. Could you briefly talk about the experiences that might have carried over from that venture.
Louie: This film was the first one in which I used squibs! Those were fun. There were a lot more stunts than I'm used to as well. But other than these surface differences, the fundamentals of making movies still applied—we still focused on ensuring that the characters, story, and dialogue were compelling. That's required no matter what the genre (unless of course you're making an experimental or uber‐arthouse film). I think it's slightly more challenging to maintain the integrity of these fundamentals when you have action and stunts since they're so technical and logistical and therefore potentially distracting, but when there is a talented director like Tze and great actors like Alice Eve, Bryan Cranston, and Logan Marshall‐Green involved, it's much easier to preserve that integrity.
Click on the card below!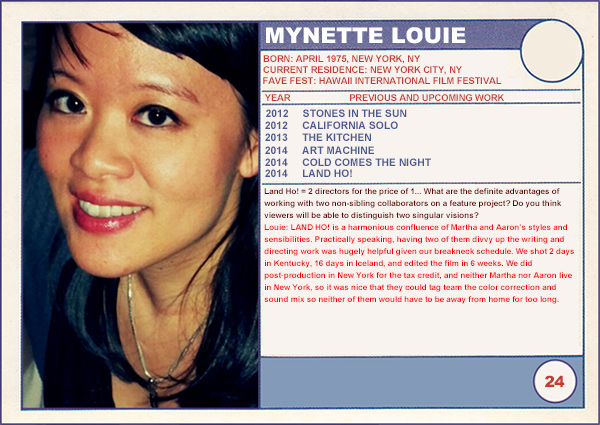 [related]2014 Sundance Trading Card Series[/related]