Features
2014 Sundance "Trading Cards" Series: #25. James M. Johnston (Listen Up Philip)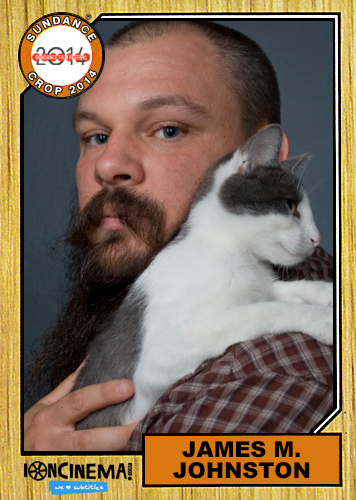 Eric Lavallee: Name me three of your favorite "2013 discoveries"…
Johnston: Tie: Alice Doesn't Live Here Anymore / After Hours by Martin Scorsese. Leading up to Wolf of Wall Street my wife and I decided to watch Scorsese's full canon. I was completely enthralled with Alice Doesn't Live Here Anymore and After Hours and lamented the fact I hadn't already seen them. I felt I had to watch them a couple of times just to make up for it. Belafonte by Harry Belafonte (album): When my father-in-law passed away my wife was given his record collection. This Belafonte record was part of it and I just couldn't stop listening to it. Especially "Take My Mother Home". His version of "Unchained Melody" is the best ever. Gilead by Marilynne Robinson (book). David and Toby suggested this book to me, both saying it's one of their favorites. I finally got around to reading it last year and it completely took over my life for a few weeks. I read it, highlighted it, and re-read it. Then I made my wife read it.
Lavallee: Your prod co. Sailor Bear officially broke out big last year with Pit Stop and ATBS being included at Sundance. Could you describe what the previous year has been like for you (Cannes, grant wins) and could you give us a window into the working relationship you share with Toby and David. What do they bring to the table that makes the difference?
Johnston: 2013 has been nothing short of amazing. It's almost impossible to explain in any reasonable manner. It happens so fast. This mysterious cocktail of hard work and good luck lead to something special. It's like a secret meeting happened and "they" drew names of people that will be helped into the next level and we got picked. You just can't ever tell if something your doing will be embraced. We were fortunate enough to make some things that were widely accepted as good work and we tried our best to rise to the occasion and be out there representing the work and meeting people and just trying to stay our same old self at the same time.
The working relationship with David and Toby is based on comfort and honesty. It's hard to describe exactly. We all know each other on a personal level and hang out all the time. We don't have to have long, detailed discussions. We all share a certain type of instinct and understanding about things. David has an intense and innate grasp on storytelling and structure. Toby has one of the greatest bullshit detectors ever and knows how to get right to the root of character motivations. If I can get an idea past these two I know I'm in good shape.
Lavallee: Listen Up Philip. How did you board the project and what would you say creatively were the strongest assets about the film on paper and about Perry's style with his previous films?
Johnston: I really loved The Color Wheel. The humor was right up my alley and I loved the DIY aesthetic of the film. We were out on the circuit with Pioneer and Knife while Alex was with The Color Wheel. We all ended up hanging out and since we're all vegan we spent a lot of time going out to eat together and talking about all the movies and food that we love.
Back towards the end of 2012 Alex mentioned that he had a new script and sent it over. At first just to get some thoughts/notes about it. But we all fell in love with it. We knew that after making ATBS we had some new connections we could put to good use and decided to come on board and help Alex get the film made. I don't typically go for films about shithead tortured artist. But Alex captured something truly unique with this script. It's very funny but also has a tragic awareness. What I really responded to was the fact that it shows these narcissistic, selfish character getting exactly what they deserve and the characters that are trying to be respectable human beings get to move forward and realize it is better without someone like the titular Philip in their life.
Click on the card below!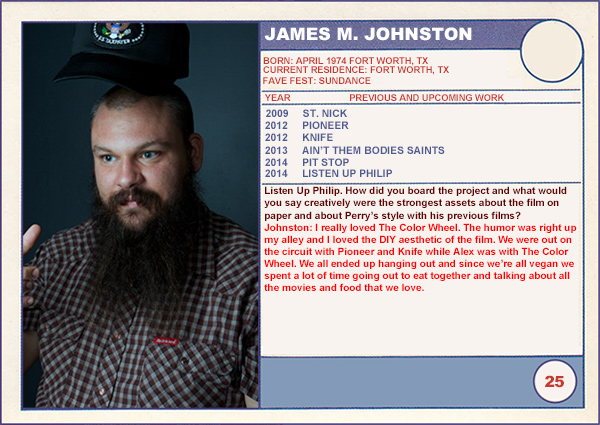 [related]2014 Sundance Trading Card Series[/related]