Features
2014 Sundance "Trading Cards" Series: #3. Martha Stephens (Land Ho!)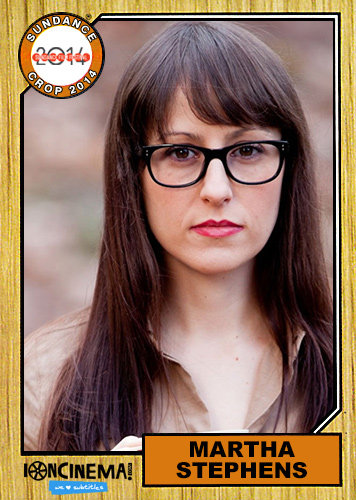 Eric Lavallee: Name me three of your favorite "2013 discoveries"…
Martha Stephens: 1. Lopapeysa aka The Icelandic Sweater – which is now a closet staple. 2. Tony Cingrani – rookie starting pitcher for the Reds. 3. Helvetia, "Little Switzerland," West Virginia
Lavallee: I asked Aaron Katz (co-filmmaker) about the working process from the script stages…how would you describe the collaboration during the filming phase? How did a pair of visions become a singular one?
Martha Stephens: Aaron and I were both up for experimenting and running with choices that weren't necessarily in line with our previous films. I think by doing that, neither of us felt compelled to argue for something specific to either of us. LAND HO! really became a new entity. We navigated the film together, taking turns working on different aspects everyday.
Lavallee: What kind of visual, aesthetic ideas/strategies did you have/employ for shoot?
The first aesthetic strategy we made in pre-production was to have two cameras. We really wanted the guys to riff off of one another and knew they'd occasionally be off the cuff, so we wanted to make sure we had coverage during those scenes. Much like the film itself, our camerawork and shot selections reflect the sort of hybrid nature of the film. On one hand, it's fairly naturalistic, with a sort of documentary filmmaking approach, and the other half of the film is very stylized with fun zoom shots and manicured dolly sequences.
Lavallee: Land Ho! might be an appropriate saying for a road­type movie. What's the back story on how you came up with the film's title?
Stephens: We knew we wanted to use an idiom or an endearing old-timey phrase. After months of brainstorming, LAND HO! seemed just right. It was snappy and also had multiple meanings. One might say that it represents a moment of personal fulfillment or self-discovery after a long journey.
Click on the card below!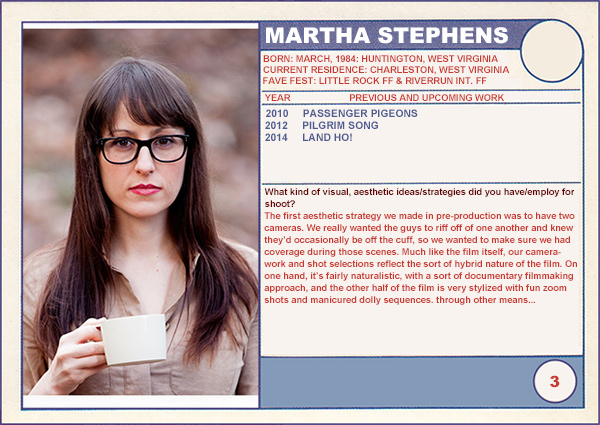 [related]2014 Sundance Trading Card Series[/related]