Tracking Shot: Reed Morano, Jim Cummings & Harmony Korine Shooting in November
"Tracking Shot" is a top of month featurette here on IONCINEMA.com that looks at the projects that are moments away from lensing. Normally, we launch this update at the top of the month, but we were bogged down year end write-ups. These are among the last batch of films being filmed or prepped before December's holiday season kicks in. September and October productions that closed up shop or are currently ongoing productions. Claire Denis' High Life and Barry Jenkins' If Beale Street Could Talk are top anticipated film items for 2018 that were October items, but here are a slew of films that we are keen on that are overlapped into October and or November: Stéphane Brizé's Un autre monde (with Vincent Lindon), Jamie Adams' Bittersweet Symphony (with Suki Waterhouse), Brittany Poulton and Daniel Savage's Them That Follow (with Olivia Colman), Carol Morley's Out Of Blue (with Jacki Weaver), Pippa Bianco's untitled debut based on her short Share (with Rhianne Barreto), Edward Zwick's Trial by Fire (with Emily Meade), Miles Joris-Peyrafitte's Dreamland (with Margot Robbie), Claudia Myers' Shadow Girl (Zosia Mamet), Tim Sutton's Donnybrook (with Jamie Bell), Chiwetel Ejiofor's The Boy Who Harnessed the Wind (he also stars), Koen Mortier's Angel (with Vincent Rottiers), Neil Jordan's The Widow (with Chloë Grace Moretz, Maika Monroe and Isabelle Huppert), Spike Lee's Black Klansman (with Adam Driver), Julius Onah's Luce (reteams Funny Games' Naomi Watts, Tim Roth), Eli Roth's The House with a Clock in its Walls (with Cate Blanchett), Michael Goi's Mary (with Gary Oldman), Martin Krejci's debut The True Adventures of Wolfboy (with Jaeden Lieberher), Joel Edgerton's Boy Erased (Lucas Hedges, Nicole Kidman, Edgerton, Russell Crowe and filmmaker Xavier Dolan), Laure de Clermont-Tonnerre's Mustang with Connie Britton and Matthias Schoenaerts, Geneviève Dulude DeCelles' Une colonie and Paolo Virzì's Magic Nights. Here are a dozen films going into production this month that are worth tracking this November:
By coincidence, in downtown Montreal, I ran into Armie Hammer who is working on Mimi Leder's On the Basis of Sex with Felicity Jones toplining, while Jonathan Levine was back in Montreal (and filming in my hood St-Henri – see my paparazzi foto) reteaming with Seth Rogen for Flarsky (Charlize Theron is also on board).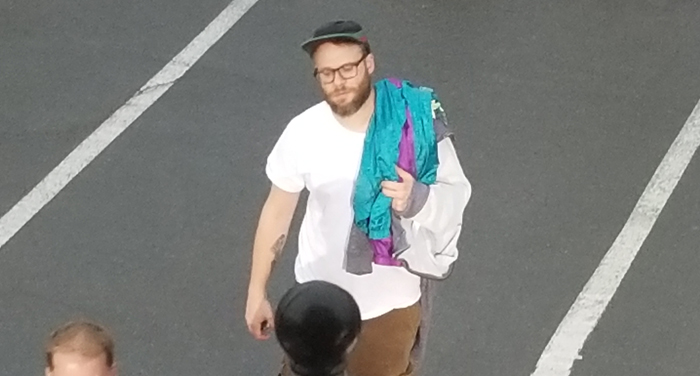 TOP THREE
Among the "high" lights that began lensing this month, we find Harmony Korine's The Beach Bum filming in Florida. In what might be a unique film-going experience (smell-o-vision might be brought back), this stoner-comedy sees Matthew McConaughey as Moondog, a poet, rebel and, yes, beach bum who lives life on his own terms. Apparently, the filmmaker already has theatres signed up for the full "experience". Bria Vinaite who was in Sean Baker's The Florida Project, was also signed up.
One of our most anticipated debut films for circa 2018, is the child of the Sundance winning short film. Writer, director, and star Jim Cummings just finished lensing on the lengthier version of Thunder Road. The successfully funded KickStarter project filmed in Austin.
We're not big on studio films, but every now and then there are pieces to a puzzle that get us revved up as is the case with this indie film stalwart who has been solid behind the camera for decades, and now embarks on her third feature. Filmmaker Reed Morano teams with dp Sean Bobbitt (his best work was Derek Cianfrance's The Place Beyond the Pines) for what a global espionage thriller with Blake Lively in La Femme Nikita-esque mode. The Rhythm Section will drop in 2019.
EUROPE
Todd Solondz embarks on his ninth feature film with a Penélope Cruz and Edgar Ramírez pairing. A Killer Films production, Love Child centers on a delusional 11-year-old boy who's obsessed with his mother and attempts to orchestrate an accident that nearly kills his abusive father. We haven't had an conclusive intel that this began filming, so we'll await trade news in the near future. The Belgian director Joachim Lafosse hits Morocco for his eighth feature, Keep Going. The adaptation of Laurent Mauvignier's novel stars Virginie Efira and Kacey Mottet-Klein. Eva Ionesco is finally returning behind the camera with Isabelle Huppert in two for her sophomore film. Une jeunesse dorée is a generational film set in the late 70s and sees a quartet clash. Far From Men director David Oelhoffen begins filming Close Enemies, a crime thriller (perhaps Audiard underworld like) with the pairing of Matthias Schoenaerts and Reda Kateb.
CANADA / QUEBEC / UNITED STATES
A trio of Quebecois helmers who've all had their earlier work showcased at Sundance, commenced filming this month. François Delisle (Ca$h Nexu$), Yan Giroux (Les Chaouins) starring Martin Dubreuil and Céline Bonnier and no relation, Félix et Meira's Maxime Giroux filmed went stateside to shoot a currently untitled film project produced by Sylvain Corbeil and Nancy Grant. Shooting in the B.C, Argentinian commercials director Juan Cabral's Two/One sci-fi tale stars Dominique McElligott, Beau Bridges, Zhu Zhu, Song Yang and Boyd Holbrook. Argentinian Pablo Trapero will direct Martina Gusmán, Bérénice Bejo, Edgar Ramírez in an intimate family drama turning on two sisters' reencounter and attempt at closure on a common troubled past. La Quietud will likely be headed to Cannes.
We're keeping our eyes on include Damien Chazelle's fourth feature film, and second pairing with Ryan Gosling on First Man, while Sebastien Lelio will get to work with Julianne Moore on not a remake, but a reassortment of his own film, Gloria. Julianne Moore takes over reigns from Paulina García. Long in the works Tuscaloosa, an indie drama based on the novel of the same name by W. Glasgow Phillips, with Devon Bostick and directed by Philip Harder. Circumstance helmer Maryam Keshavarz is behind the camera for her second narrative film item called Vulture Club with Susan Sarandon. Finally, Rosson Crow will direct her debut Utopia Road with Garrett Hedlund, Rebecca Hall and Anjelica Huston.
The Beach Bum
Director: Harmony Korine
Writers: Harmony Korine
Cast: Matthew McConaughey, Isla Fisher, Chad Mountain, Ricky Diaz.
Producers: Charles-Marie Anthonioz, Mourad Belkeddar, Steve Golin, John Lesher, Nicolas Lhermitte
Filming in Miami.
Close Enemies
Director: David Oelhoffen
Writers: David Oelhoffen
Cast: Matthias Schoenaerts and Reda Kateb
Producers: Marc Du Pontavice
Filming in Paris.
First Man
Director: Damien Chazelle
Writers: Josh Singer
Cast: Ryan Gosling, Jon Bernthal, Claire Foy, Pablo Schreiber, Jason Clarke, Patrick Fugit, Cory Michael Smith, Corey Stoll, Kyle Chandler, Brian d'Arcy James, Lukas Haas.
Producers: Marty Bowen, Damien Chazelle, Wyck Godfrey, Ryan Gosling.
Filming in Atlanta.
Gloria
Director: Sebastien Lelio
Writers: Sebastien Lelio
Cast: Julianne Moore
Producers: Juan de Dios Larraín and Pablo Larrain.
Filming in Los Angeles.
Keep Going
Director: Joachim Lafosse
Writers: Joachim Lafosse
Cast: Virginie Efira, Kacey Mottet-Klein
Producers: TBD.
Filming in Morocco.
Love Child
Director: Todd Solondz
Writers: Todd Solondz
Cast: Penélope Cruz, Edgar Ramírez
Producers: David Hinojosa, Frank Murray, Christine Vachon.
La Quietud
Director: Pablo Trapero
Writers: Pablo Trapero
Cast: Martina Gusmán, Bérénice Bejo, Edgar Ramírez, Graciela Borges, Joaquín Furriel
Producers: Melita Toscan du Plantier, Marie-Jeanne Pascal
Filming in Buenos Aires, Argentina.
The Rhythm Section
Director: Reed Morano
Writers: Mark Burnell
Cast: Blake Lively, Jude Law, Daniel Mays
Producers: Barbara Broccoli, Michael G. Wilson
Filming in Dublin, Ireland.
Thunder Road
Director: Jim Cummings
Writers: Jim Cummings
Cast: Jim Cummings
Producers: Ben Wiessner, Natalie Metzger.
Filming in Austin, Texas.
Two/One
Director: Juan Cabral
Writers: TBD.
Cast: Dominique McElligott, Beau Bridges, Zhu Zhu, Song Yang, Boyd Holbrook.
Producers: Flora Fernandez Marengo, Chris Clark, Dave Valleau
Filming in Vancouver.
Tuscaloosa
Director: Philip Harder
Writers: Philip Harder
Cast: Devon Bostick, Natalia Dyer, Tate Donovan, Marchant Davis
Producers: Brian Etting, Scott Franklin, and Patrick Riley
Filming in Alabama.
Une jeunesse dorée
Director: Eva Ionesco
Writers: Eva Ionesco and Simon Liberati
Cast: Isabelle Huppert, Melvil Poupaud, Galatéa Bellugi and Lukas Ionesco
Producers: Marie-Jeanne Pascal and Mélissa Toscan du Plantier.
Filming in France.
Utopia Road
Director: Rosson Crow
Writers: Karolina Waclawiak and Rosson Crow
Cast: Garrett Hedlund, Rebecca Hall and Anjelica Huston.
Producers: Cassian Elwes.
Filming in Louisiana.
Vulture Club
Director: Maryam Keshavarz
Writers: Maryam Keshavarz, Jonathan Mastro
Cast: Susan Sarandon.
Producers: Neal Dodson, Anna Gerb, J.C. Chandor.
Filming in NYC.