Interviews
2015 Sundance Trading Card Series: #40. David Call (James White)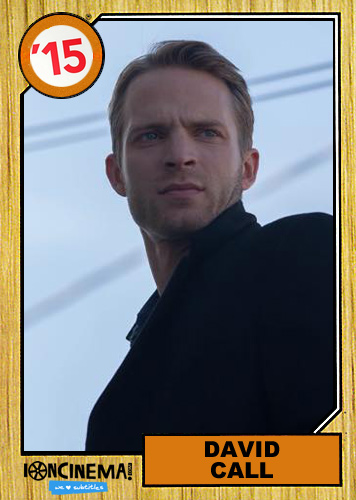 Eric Lavallee: Name me three of your favorite "2014 discoveries" …
David Call: Australian cinema has been big for me this year. I discovered Wake In Fright, which blew my mind, finally saw the incredible Walkabout and Breaker Morant, rediscovered Mad Max and absolutely loved The Rover, The Babadook and The Snowtown Murders. Those Aussies make some badass films.
2.) Podcasts, specifically Brian Koppelman's and Marc Maron's, amongst others. It is so educational and inspiring to listen to brilliant artists, scientists and other people have long, in-depth conversations about what they do and how they do it. It's like taking a class every time I press play on my iPod.
3). San Francisco. I was lucky enough to be able to spend 6 weeks there this fall shooting my new film Americana. It was always a city I loved, but this time I was really able to absorb it, the people, history and culture. It's a magical, one of a kind place. The rampant gentrification and tech money takeover however, is heartbreaking. Go enjoy it while you can.
Lavallee: Your character is part of the fabric of James White's world. Could you detail the rapport (in terms of shared conflicts, varying interests, ideals) between the two.
Call: I would say Elliot represents the escape from James' world, his anxieties and worries. He is the only character in the film who exists outside of NYC and all of James' problems. He is emblematic of the spirit of carefree adventure that James has while in Mexico.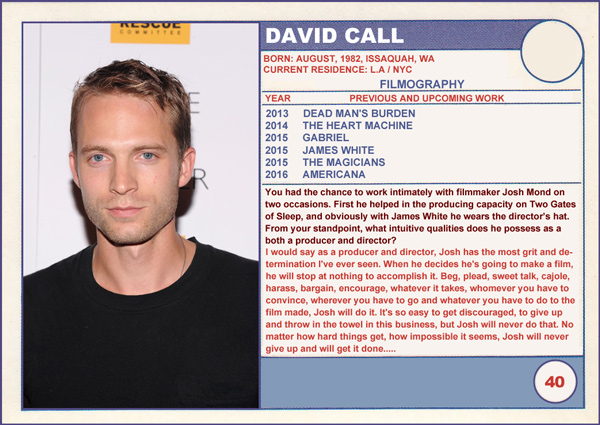 Lavallee: You had the chance to work intimately with filmmaker Josh Mond on two occasions. First he helped in the producing capacity on Two Gates of Sleep, and obviously with James White he wears the director's hat. From your standpoint, what intuitive qualities does he possess as a both a producer and director?
Call: I would say as a producer and director, Josh has the most grit and determination I've ever seen. When he decides he's going to make a film, he will stop at nothing to accomplish it. Beg, plead, sweet talk, cajole, harass, bargain, encourage, whatever it takes, whomever you have to convince, wherever you have to go and whatever you have to do to the film made, Josh will do it. It's so easy to get discouraged, to give up and throw in the towel in this business, but Josh will never do that. No matter how hard things get, how impossible it seems, Josh will never give up and will get it done. And he does it all with one of the biggest hearts I know. It's incredibly inspiring to work with someone like that, it brings out your best. I can't think of anyone I'd rather be on a set with than Josh and hopefully I will have the privilege of being on many more to come.