Interviews
2015 Sundance Trading Card Series: #39. Makenzie Leigh (James White)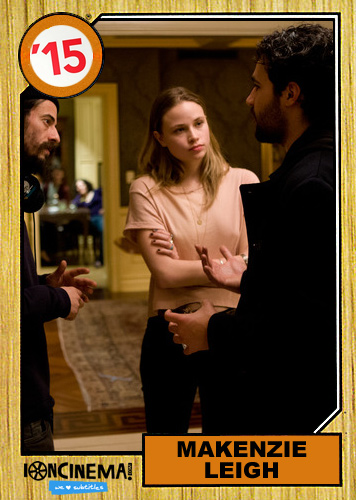 Eric Lavallee: Name me three of your favorite "2014 discoveries" …
Makenzie Leigh: Couldn't pick three, apologies. Album: All Thing Must Pass, George Harrison.
Song: Revolt of the Dyke Brigade, Star Rover. Film: Child's Pose, Calin Peter Netzer. Book: Twilight, Stefan Zweig. TV Series: Slings & Arrows. Painter: Titus Kaphar. Video: Green Porno
Lavallee: I'd like for you to give us an overview of your character's POV and her rapport/the dynamic she has with the central character of James White.
Leigh: Hmm. I would say she is afraid: of life and its adult responsibilities, of saying the wrong thing, of being found out. I think she is always presenting a visage, not just to the world, but to herself as well. She has ideas about the type of man she wants to date, the world she wants to live in, the people she wants to be around, but she emphasizes the exterior image too much. I think, by the end of the film, she starts to work out maybe not who she is, but who she isn't.
Eric Lavallee: I was wondering how the character was developed/fleshed out, and what techniques did Josh Mond employ in imbuing your performance and thus allowing you to get into the spirit of the character?
Leigh: I think my favorite scene to film was this "getting to know you" conversation Jayne has with Chris's character (James White). Josh stopped the our first take and sort of pulled me aside to say stop bullshitting, these are two people trying to find the meat in each other…. to me, that is representative of how Josh operates as a filmmaker, writer, and person.