Interviews
Interview: Derek Cianfrance (The Place Beyond the Pines)
Two young fathers find themselves pinned down by the antagonistic forces that define their choices and ultimately shape and foreshadow the future. In The Place Beyond the Pines, writer/director Derek Cianfrance's ambitious third feature, there is a common thread full of moral ambiguities regardless of which side of the law his characters dwell in. The epic drama about fathers and sons sees Ryan Gosling and Bradley Cooper lead a stellar supporting cast of Dane DeHaan, Ray Liotta, Eva Mendes, Ben Mendelsohn, Harris Yulin, Rose Byrne, Bruce Greenwood and Emory Cohen, and the pairing portray complex, layered characters. The film had its premiere at the 2012 edition of the Toronto Int Film Festival, and Focus Features will release the saga in theaters this Friday, March 29th. I sat down with Derek during his whirlwind press tour for the film.
Yama Rahimi: "Epic" and "Saga" are a pair of descriptive words that have been used to describe your film – was wondering how you perceive films from the 70's today compared to right now?
Derek Cianfrance: When I was growing up in Colorado with a VHS player, all my favorite films were from the 70's which was a great period for American Cinema. A great age of experimentation and authorship from filmmakers, so many iconic moments like they were making films that weren't pre-approved which pure expressions. Like most filmmakers, that's an age we aspire to and get back to. I think we live in a great time in American Cinema right now, where there are a lot of interesting filmmakers that make challenging films. I feel very fortunate to be able to make movies right now. Making my dreams come true with them. My dreams and nightmares.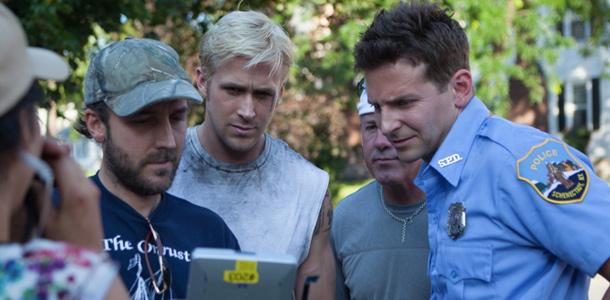 Rahimi: So if "Blue Valentine" was born out of nightmares and separation anxiety growing up, with a heavy exploration about "innocence" and "legacy" was PBTP born out of you having become a parent?
Cianfrance: Yes. In 2007, my wife was pregnant with our second son and I was thinking a lot about legacy and all the things I was born with and will pass on to him. I was thinking that I wanted it to be clean and didn't wanted to soil him with my sins. There's great moment in the film where Ryan's character Luke picks up the baby for the first time and Ryan being the actor that he is (which was wasn't in the script) wipes his hands on his pants to clean them off before he picks up the baby. That's the essence of the movie. The responsibility that you have as a parent to try not to repeat past sins but at the same time I was thinking about ancestry, the fact that we are here at all was that our ancestors had to be brutal and ruthless for us to survive. Do you know what I mean?
Rahimi: …The survival of the fittest.
Cianfrance: Right. The survival of the fittest. My kid is reading about the dinosaurs and asks why they were so scary. That's because the meanest, the baddest and the most ferocious would live and the weakest would not. That's why the dinosaurs were monsters. Now we live in domesticated society where we use knives and forks and keep our elbows of the table and wash our dishes but it wasn't always like that. I still think there are reverberations of that and I wanted to make a movie about that.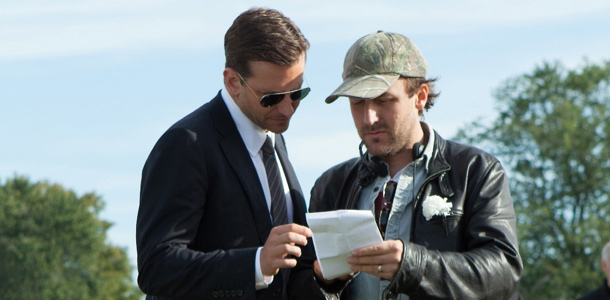 Rahimi: Known for your collaborations working with talent, same producing team, and the process with tech crew, but I'd like to know more about the screenwriting process. Could you discuss the writing process with Darius and Ben — who specializes in what?
Cianfrance: I met Ben Coccio in 2007 and we shared the same agent at the time and I was fan of his film "Zero Day." I had this idea for this movie about legacy, the triptych story and I met with him and told him about it at The Donut Pub in New York City and he just kind of run with it. I found his favorite movie was "Goodfellas" as was mine. Not a 1970 movie but a 1990 movie.
Rahimi: …still a Scorsese movie.
Cianfrance: We decided on three things that day. That we set in Schenectady where he's from and my wife's from. We decided to three stories in linear fashion and we wouldn't cut or inter cut them in a blender. That we would write a role for Ray Liotta. So he went on to write and I went on to make "Blue Valentine." He would turn in new drafts every few months and I would give him notes and we would work on it. After "Blue Valentine" we spend a lot of time writing together. Eventually about twenty weeks before we started shooting, my friend Darius whose kids go to the same school as mine and he's also a filmmaker and made a film called "Loot" about WWII soldiers who are haunted by their past. He has a real handle on the father and son dynamic. I spent so much time with Darius and we cracked into another element of "Pines." I wrote the last ten drafts with Darius. Same thing happened on "Blue," I started writing with Joey Curtis then eventually wrote with Cami Delavigne. I like working with different writers.
Rahimi: We could discuss at length every character but could you take us into psyche or creation of Robin Van Der Zee played by Ben Mendelsohn?
Cianfrance: As he was written, he was a spider that snares Luke (Ryan Gosling) in a web of deceit with a big junkyard dog like a Rottweiler but Ben wanted a different take on him. He didn't want a Rottweiler and in the office where we were making the film, everybody had small dogs which shake and pee all the time. Ben thought it was more interesting to have one of those little dogs. Then he thought that Luke was the best thing that passed his doors in twenty years so he was enamored with this character and kind of loved him and make more a love story than this evil spider snaring him. He sees this character and he's a buddy for him and Robin has done these things and Luke and him are cut from the same cloth and he recognized that. When we shot it, we really thought we were making a love story between these two guys.
Rahimi: You had this amazing cast. How easy or difficult was to get the cast, specially with different actors in each segment where the burden lies on one actor at a time?
Cianfrance: The structure of the film is incredibly ambitious and challenging and doesn't happen often but although it happened on "Psycho" for instance which was quite an inspiration for me twenty years ago. The key to that is to cast actors that are flip side of a coin. I thought with Ryan and Bradley was reminding of Ryan and Michelle in "Blue Valentine," they were yin and yang that went together like salt and pepper. They balanced each other. I thought Ryan and Bradley had to be the flip side of the coin and the same happens with their kids. After "Blue Valentine" I had the good fortune to be able to have more meetings with more actors. I have to tell you the truth, I wasn't exactly excited to meet with Bradley when I heard I would meet him. I thought he was the guy from "The Hangover" movies. But the moment I met him, there was something about him that was unexpected. It was maybe the way he carried himself, there was a darkness to him that I didn't know and demons and secrets that I thought, "Wow" I could actually see him in a way that's different from "The Hangover." This a guy like me and I wrote the role for him after that. And the kids. I looked at 500 kids before I cast Dane (DeHaan) and Emory (Cohen). Then to work with Ray (Liotta) who was a hero of mine and to work Eva (Mendes) and Ben (Mendelsohn) was amazing. Then to work with Bruce Greenwood, Harris Yulin who's one of the great American actors and Rose Byrne was really really fortunate.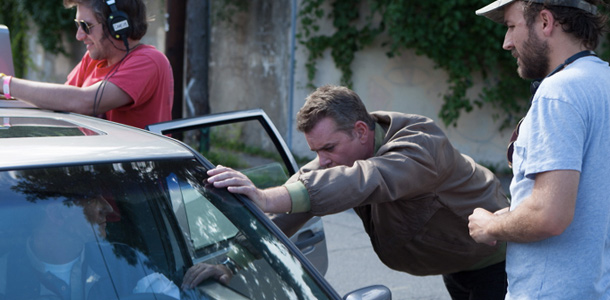 Rahimi: Do you have anything lined up for what's next for you?
Cianfrance: I wrote a series for HBO called "Muscle" which I hope goes through. I'm writing a couple of other original screenplays right now and I'm also reading scripts and trying to make the next step, a true step.
Focus Features releases The Place Beyond the Pines in theaters March 29th. Visit the film's/Derek's Tumbler page for some cool details such as the making of the film and the publicity tour.