Reviews
The Place Beyond the Pines | Review
The Pompatus of Fate: Cianfrance's Masterpiece an Ode to Ties that Bind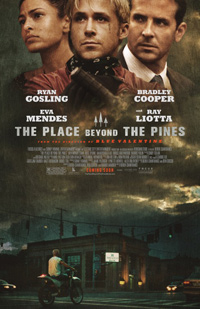 After his gloriously depressing 2010 sophomore film, Blue Valentine, a hellish drama revolving around one couple's marital strife, Derek Cianfrance somehow manages to top that excellent film with a gloriously staged masterpiece, The Place Beyond the Pines, that's got all the makings of Greek tragedy. Recalling the classic sagas from American auteurs in the 1970s, anywhere from Sidney Lumet to Coppola, Cianfrance has established himself as a bold, provocative American filmmaker, this latest a boiling, festering portrait of distant fathers and sons and the inextricable possibility of passing on the consequences of one's actions between generations.
A motorcycle stunt driver in a traveling carnival, Luke (Ryan Gosling) returns to Schenectady, New York to find that a fling with a waitress last year, Romina (Eva Mendes) has resulted in a son. However, Romina now lives with her mother in the home of her new beau, Kofi (Mahershala Ali), a situation that is aggravated by Luke's decision to quit the carnival so he can stick around and support Romina and his son, Jason. Eventually, his plan is to whisk them both away from Kofi. Without a particular skill set beyond his stunt driving, Luke struggles to live a reputable existence, until he finds work in an auto body shop run by a similarly shady rag-tag type named Robin Van Der Zee (Ben Mendelsohn).
After a brief period of employment, Robin admits to Luke that he used to rob banks, which he quit doing about twelve years ago. He suggests to Luke that it may be the only way to get ahead, and with his particular skill set, they'd make a great team. Soon, bank robbing seems to unleash a barely controllable rage that resides just under the surface of Luke's otherwise calm personage, and he finds himself unable to stop, which leads Cianfrance's film to an abrupt fissure where the focus of things changes considerably, and then goes on to do so once again, revealing a three part multi-generational saga of crime, redemption, and unconditional love.
There's a magnificent set-up to The Place Beyond the Pines which Cianfrance crafts from the very opening moments. A bottle blond Gosling struts shirtless, a tattooed miscreant, donning helmet and leather jacket to enter as the third stunt driver in an enclosed metal cage, his added presence to the mix the dangerous, thrilling bit of the equation. Two drivers avoiding collision is one thing, but how do the three of them do it? Obviously, it's a more complicated formula, and this tale of three clearly differentiated foci shows what happens when one odd detail causes all three to run amok. The odd detail here happens to be the birth of Luke's son which seems to cause a cosmic collision.
Though it's unfair to reveal too much about the richly generous narrative, The Place Beyond the Pines is also a gorgeously orchestrated piece of filmmaking down to every fine detail. Sean Bobbit, DP for Steve McQueen's films, along with titles for Neil Jordan and Michael Winterbottom, creates a magnificent sweeping vista out of upstate New York, giving us a richly defined flavor for the distinctive locale, which is matched perfectly from Cianfrance's choice of soundtrack. While Cianfrance utilizes Arvo Part like the Dardenne's used Beethoven in The Kid With a Bike, it's a new score from Mike Patton that really creeps up delectably, like some omniscient narrator to foretell the sealed fate of our well written characters. There's a scene of fantastically realized dread involving the Bradley Cooper character and Ray Liotta. You'll be on the edge of your seat.
And then there's the impressive cast Cianfrance acquired, including his returning muse Ryan Gosling. There's not one false note to be had from the superb players, with a surprisingly good turn from Eva Mendes (and between this title and Holy Motors let's hope that the beautiful actress continues her streak with daring auteurs) and what may be Bradley Cooper's best performance yet. Yet it's some of the more supporting players that stand out, like another chameleonic performance from Ben Mendelsohn, and two strong turns from Dane DeHaan and Emory Cohen in the final segment. Cohen, if you caught his performance in 2012's Four (for the sake of comparison), is definitely a name to watch for, as he couldn't have turned in two more distinctly opposing performances between these two films. Cianfrance's title is taken from the translation of Schenectady, a Mohawk word which means "beyond the pine plains." With this masterpiece he's taken us to a place beyond the bounds of the mediocrity shackling many an American feature film and given us a title worth championing.