Interviews
Interview: László Nemes & Géza Röhrig (Son of Saul)
Jacques Audiard's Dheepan might have claimed Cannes most coveted prize, but the Palme d'Or moment belongs to Hungarian filmmaker László Nemes. Truly a groundbreaking masterpiece that takes the audience into the heart of the darkness of the Holocaust, his Grand Jury Prize winning feature debut immerses the viewer into a visceral, hellish nightmare. Nominated for and tipped as the heavy favorite in the Academy Award's Best Foreign film category, sturdy and stellar sound and camerawork aided by Géza Röhrig's praiseworthy performance, Nemes' Son of Saul is a wallop of a sensorial experience. Here is my brief sit down with the helmer and lead.
Yama Rahimi: How did this project came about?
László Nemes: I read these writings by the Sonderkommando members that were put in the ground before the rebellion that triggered the project. These writings were giving incredible insight into the here and now of the extermination. I wanted to find a way to give the audience a sense of being there, not from the outside but inside the camps.
Rahimi: It's remarkable that after all the films that covered the Holocaust, not many showed inside the camps.
Nemes: Most of the films showed the external point of view or survivor's point of view. We wanted to go to the heart of it. The rule was the death not survival.
Rahimi: Did you talk with any of survivors or witnesses or had any material to look at?
Nemes: We grew up with the stories and people. Nobody can communicate what the heart of the extermination was, only the dead. We relied a lot on the notes of the Sonderkommandos and some surviving members who were interviewed in books. We tried to ground the film on historical facts as much as possible.
Rahimi: I loved how it was shot from one singular point of view. How did you come to this decision?
Nemes: When I had this idea about making the film, at the time I didn't know how to do it. It took some years to experiment with the strategy and several short films with my cinematographer (Mátyás Erdély) and sound designer (Tamás Zányi) to able to find the right angle. I knew it had to be a narrow angle but I didn't know how or what exactly it would be.
Rahimi: How easy or difficult was to find Geza?
Nemes: Finding him was easy because I knew him but to cast him for the main character took some time. So it was a process.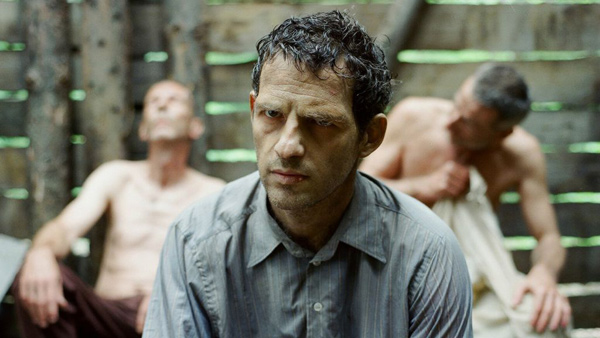 Rahimi: Geza, this was your first film, how difficult was it for you and what kind of preparation did you do considering you are in close up the entire time?
Géza Röhrig: I think this role would be difficult for any actor. You would have to approach in a radical new way. No previous trick or routine would carry you far but the challenge was the close up, the camera was thirty inches from me. On one hand I didn't want my face or Saul's face to become boring by just looking at all time for 100 min. On the other hand we didn't want to reveal too much and get too emotional. So there was this fine balance, a very delicate line that you have to walk on to keep the viewer interested.
Rahimi: What was the most difficult or challenging aspect of the production because of the constant motion?
Nemes: It was rehearsed a lot but it was also prepared a lot. We spent months designing the shots and practical organization of the shots with the team. Because we knew we wouldn't have enough time during the shooting. It was a long process but we had a great team to work with.
Rahimi: How long was the shoot?
Nemes: We had 28 shooting days.
Rahimi: Did you do multiple takes?
Nemes: We had multiple takes but it was limited but we prepared a lot. So it was more like 4 to 5 takes, not more than that. It just took time to rehearse because it was complicated shots. So ever shot and take had its own difficulty every day. We were on the edge constantly.
Rahimi: Tell me about you camera man and sound designer who beside Geza were crucial for your film to work?
Nemes: We knew each other because we worked on several short films together so we had a great working relationship. We had a cohesive group of talent in front and behind the camera. So I was with great company on this film. We knew it was a film unlike any other. We knew what kind result it would be. It was scary but also very motivating to design something that's never been done. We knew it was a prototype.
Rahimi: How difficult or easy was to find funding giving the subject matter?
Nemes: People were reluctant to fund this film because of it. So we had a hard time finding funds for this film in several countries. We found funding through the Hungarian Film Fund, so it's a State sponsored film.
Rahimi: How did you feel to be in the Official Competition at the Cannes Film Festival?
Nemes: It was overwhelming but also touching to have the cast and crew there to present the film to the audience there. It was spiritual to me to bring the film from the darkness to the light and reveal it there. It was also an afternoon screening, not a hyped slot in the evening.
Rahimi: Geza, do you want to continue acting or it was a one time deal?
Röhrig: I'm open if it's the right fit or right script. I don't think anything would be as good as Son of Saul but if giving the chance then sure.
Rahimi: What do you want the audience to take away from the film considering what's going on in the world and that Hungary is the news regarding the Refugee crisis in Europe?
Röhrig: I think the movie is an appeal to be vigilant. There have been many genocides since the Holocaust, Cambodia, Darfur, Bosnia, Rwanda. Also the Humaniterian crisis of the Syrian refugees that forced them to leave their countries. So the cruelties exist today and it's not a thing of the past. This film is just another reminder how fragile the civilization is facing nihilism. We are now fifteen years in the century and it doesn't seem promising and we don't seem to have any solutions. So this film shows what could happen if don't put our act together.
Rahimi: What films or directors inspired you to become a filmmaker?
Nemes: I watched a lot of American films as a kid in Hungary like Ben Hur and Indiana Jones. I was awed by those films that were visceral that remained with me.
Rahimi: How was working with Béla Tarr?
Nemes: It was my film school and preparation for becoming a filmmaker to be with someone who's knowledgeable of film making, working on team to make a film. To learn how to work on a difficult or ambitious scene. That's what I learned from Béla. The importance of preparation and casting. Those were valuable lessons.
Rahimi: Do you have another project?
Nemes: We have another project with my team in Hungary. It's about a young woman before the first World War begins. It's another immersive cinema, so we will see what happens.