IONCINEMA.com's IONCINEPHILE of the Month feature focuses on an emerging filmmaker from the world of cinema. Following Ryan Coogler (July) and Destin Daniel Cretton (August), this September we've added yet another exciting new American indie writer-director voice to our, sorta speak, depth chart. This one made waves with micro-budgeted feature debut at both the Sundance (view our coverage) and SXSW (Chicken & Egg female narrative directing award winner) Film Festivals. Picked up by distrib label Oscilloscope Laboratories, Hannah Fidell's A Teacher recently hit VOD and will be released theatrically September 6th. Hannah details her early memories associated with cinephilia and how recent masterworks might have influenced her own stylistic choices and as part of our profile, we ask the filmmaker to include their personal top ten. Here's our profile on Hannah and make sure to check out her current Top Ten Films of All Time list.
Eric Lavallee: During your childhood…what films were important to you?
Hannah Fidell: The first film that I remember thinking "how did they make this??" was Brian De Palma's Mission Impossible. I think I dragged my parents to the theater at least four times. That said, my family never really went to the movies that often (I have no idea how I convinced them to take me to see Mission Impossible…) but my mom has incredible taste in films…which she kept hidden from me until college when I started thinking seriously about film. For birthdays and other gift giving holidays around that time she gave me copies of Midnight Cowboy, Five Easy Pieces and The Graduate (her all time favorite film) just to name a few. But as a kid, I remember watching the 1988 BBC version of The Lion, The Witch, and The Wardrobe over and over again on VHS. Having grown up in a conservative Jewish household, I find it funny that my parents allowed me to watch this series as obsessively as I did for so long. I also LOVED the 1985 TV movie version of Alice in Wonderland which contains one of the best ensemble casts of all time: Sammy Davis Jr., Ringo Starr, Carol Channing, John Stamos, and Shelley Winters.
Lavallee: During your formative years what films and filmmakers inspired you?
Fidell: Well, to be honest I still feel like I'm in my formative years…but certainly De Palma played a giant influence on me with Scarface and Mission Impossible. There was a time in college where I watched Scarface nearly every other day. I came of age with Clueless and Titanic. My girlfriends and I make a point to watch both of those films as often as possible. And I say this in all honesty: in my opinion, Clueless is a perfect film. During my sophomore and junior years of college, I went through a very depressive period (depression is something I've struggled with my whole life) and it was around this time that I started watching a movie or two per day because I didn't want to leave my house…it was escapism for sure, but it was more than that – it turned out to be the greatest teaching tool I've ever had. This was right when Netflix first began – so I was able to just work my way through my queue. This was also during the height of The Sopranos and Six Feet Under, and I was lucky enough to learn about long form narrative construction and character development from the best dramatic shows that have ever been on television.
Lavallee: At what juncture in your personal timeline did you know you wanted to be a filmmaker?
Fidell: During college I was too scared to make films…too scared to make something that looked like shit. Too scared that I was going to fail. Trust me, I know how idiotic this sounds. I figured that film theory/academia would be the next best thing to making the art itself. But it all changed when I was working at the front desk of a commercial production company in 2008/9 just as the economy collapsed and I was told that I could lose my job any day. In my desperation/during a quarter life crisis, I figured that now was the time to just go out and make a film.
I had seen a few films that really inspired me to do this: Joe Swanberg's Nights and Weekends/Hannah Takes The Stairs, Kris Swanberg's It Was Great But I Was Ready To Come Home, and The Duplass Bros' The Puffy Chair. That first film I made, which I did in a very mumblecore-like way, taught me just how talented these other filmmakers really are: it is incredibly difficult to make a good film with your friends for no money. I certainly couldn't pull it off. But it was this failure that forced me to come to terms with my dream of being a filmmaker: do I REALLY want to do this? If so, I've got to give it my all and keep trying…as long as I give it my best. And I made the short film The Gathering Squall which was an adaptation of a Joyce Carol Oates story. It got into SXSW and from there everything really changed.
Featured Film:
Lavallee: The subject heading of your film could be plucked from a common newspaper headline, but her you avoid sensationalism and passing judgement, you don't take a moral high-ground position. I'd like for you to first detail your writing process (character motivations to dialogue), what was the genesis and your choice to highlight female psyche in rapport to the misuse and use of empowerment.
Fidell: I knew that the only way to get the audience to accept that the protagonist actually wanted to sleep with her student, would be to make sure that the camera didn't pass judgement on her. We are always in her head, either by the way that we shot the film (becoming more and more close up and shaky as the film progresses) or by the way we used the score to help build up her intended emotions in each scene. But really, this film is about a woman not able to stop herself from doing something she knows she shouldn't. And I've certainly been there…so who am I to judge?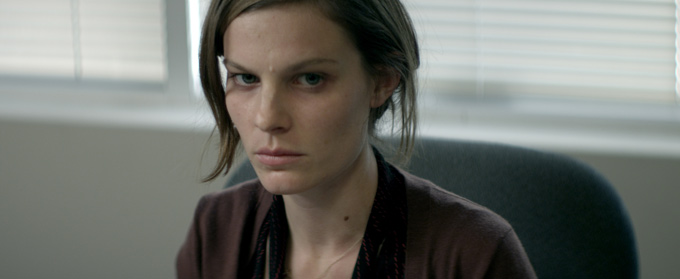 Lavallee: This is your second film with Lindsay Burdge. Did you have her mind during the writing process and if so, what characteristics did you include and how did you prep for her performance?
Fidell: I absolutely had her in mind for this film when I was writing it and she was attached to the project basically from day one. We hadn't spent much time together for a few years so while I was writing we took a trip to Marfa, TX together and stayed in a trailer, in the middle of winter mind you, in this weird town that has about 200 full time residents just getting to know each other again. We drank a lot of hot chocolate and beer, ate a lot of pizza, and talked about our ex boyfriends. It came down to trust: does she trust me to guide her performance? Which, thankfully, she did. Going to Marfa certainly helped create a bond that we hadn't had before. Six hour car rides will do that to a person.
Lavallee: What ideas did you have for the style of the film? What inspirations (other films, location, paintings etc…) did you draw upon for the look/style, aesthetics of the film?
Fidell: I think our main inspiration for the way that the film was supposed to look was Carlos Reygadas's Silent Light. But we also watched Antonio Campos's Afterschool (which was the deciding factor in using anamorphic lenses actually) and of course The Piano Teacher. I collect a lot of images from the internet in my spare time, so I was able to give the whole production team (camera, wardrobe, production design) references for each scene in terms of either the look, the lighting or the way the shot was framed.
Lavallee: Sundance debut. Distribution deal with an innovative label followed by a win at SXSW. Now a VOD and then theatrical release. I could make a case study that A Teacher is the kind of indie success story you want to emulate. Are there any myths that you debunked during that process – what advice would you give to filmmaker hopefuls about the festival journey and about the new distribution paradigm and social media presence?
Fidell: Oh man, this is tough. I knew nothing before we went into Sundance. The most interesting thing I've learned is that for a film of A Teacher's size, having any sort of theatrical release is really just a novelty. Any money that the film makes will be from VOD sales. I guess I KNEW this before, but just didn't want to hear it. But now I'm all for this – the more people that can see the film the better! I guess the real important lesson I learned is just to be prepared to keep your day job.
Lavallee: Can you discuss the collaborative process you had with composer Brian McOmber…
Fidell: Brian and I had worked together before and so we knew how each other thinks…I am not musically inclined so I had to develop my own sort of vocabulary for telling Brian what I thought of the music he sent me. Sounds were "too metallic" or "too wobbly". We only got together once, at the Dr. Dog studio in Philadelphia to work together in person. Brian is like an older brother, we argue, make fun of each other, and goof off but because I think he really respected the film and didn't look at it as "just another job" he really did his best. And it shows.
Lavallee: Can you discuss the collaborative process you had with sound mixer and designer Pete Horner…
Fidell: Pete is a mixer at Skywalker Sound, so I traveled to the gorgeous Skywalker Ranch to sit in a dark room with Pete for 8 hours a day for about 9 days. Pete is unlike anyone I've ever known…just the most kind and intelligent human being and he took care of me while I was freaking out about finishing and submitting to Sundance. He also showed me around Merin County: took me on hikes and just forced me to get outside of myself and the film which was just about the best thing anyone could have ever done. And then we'd go back into the dark mixing room and dig in – I just saw The World's End, which is super sound design heavy – and it made me realize that Pete's philosophy on our film of 'less is more' was a smart decision.
Lavallee: Can you discuss the collaborative process you had with cinematographer Andrew Palermo…
Fidell: Andrew can read my mind. I'm lucky to be around so many people who can do that (Brian McOmber, Pete Horner can both do it to a certain extent…) but Andrew, he really knows what I want. We have the same aesthetic sense and compliment one another well, he doesn't get upset if I suggest some crazy camera move and I don't care if he gives me suggestions for performance related stuff. I gave him a list of movies to watch, and a big zip file with images I found on the internet to reference for certain scenes. But really, he understands that, just for me, I don't rehearse beforehand. I'll do a run through with the actors and talk it out, blocking the scene right before we're about to shoot it – so he (and his camera) come second to the actors. We never had the actors hit marks. They were allowed to play out the scene as it made sense in the actual space. Of course this meant it was unpredictable for Andrew, but he has such a good eye that it was never an issue.