Dylan Kai Dempsey's Top 10 Theatrical Releases of 2018
Another year of Oscars. Another year of whitewashed, predominantly-male nominations; another year of passionate love/hate from film fans. And another year of small victories! With the Oscars closing out the year that was, here are ten of my favorites—plus 14 Honorable Mentions—all films that I hope you get to see. N.B. One crowd-pleaser got the boot to my Honorable Mentions category because of disturbing social context. Despite award-worthy performances, Green Book has too many 'white savior' issues. Whether or not you agree, or simply plead willful ignorance, context is a big factor when viewing / reviewing a film—so when you do you see this otherwise enjoyable road-romp, know that there's more to this adaptation than meets the eye. AND while you're at it, check out Roger Ross Williams VR documentary Traveling While Black, about the real Green Book.
#10. If Beale Street Could Talk – ★★★★/☆☆☆☆☆

Barry Jenkin's third feature (yesterday's Best Feature Indie Spirits winner) — adapted from James Baldwin's novel of the same name—is a stunning collaboration between author and filmmaker. The Moonlight-director takes Baldwin's evocative, almost-musical—and still painfully relevant—prose and fuses it with his filmic soul. The result is a lush romance punctured by systemic injustices and heartfelt performances. Sharon (Regina King), Fonny (Stephan James), Danny (Brian Tyree Henry) and Tish (Kiki Layne) are each remarkable in their own right. With their help, every artistic decision speaks volumes: a wistful touch through a glass wall; fingers curled together on a freezing night; a newborn baby pulled from a watery cocoon; wisps of smoke pierced by sunlight; a tender kiss on a grey sidewalk. Much like Baldwin, Jenkins imbues darkness with light, despair with hope.
#9. Spider-Man: Into the Spider-Verse – ★★★★/☆☆☆☆☆

You never knew you needed another Spiderman movie, let alone an animated one; nevertheless, Spider-Man: Into the Spider-Verse wound up as the best animated and (arguably) best superhero movie of the year. Adapted from Marvel's 2014 parallel universe storyline, Spiderverse created the largest trailer-to-screening excitement differential in recent memory—perhaps because it doesn't take itself as seriously as most of its peers. It's inventive, it's trippy, it's full of vibrant color and characters; it exudes creative charm and exuberance. And, best of all, it adds inclusion to the conversation: upending the outdated era that spawned superheroes like Spiderman—this movie suggests that anyone can wear the mask, not just buff white dudes with alliterated names.
#8. Eighth Grade – ★★★★/☆☆☆☆☆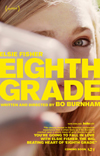 Eighth Grade is literally eighth grade (and literally eighth on my list). Writer/Director Bo Burnham's respect for his 'source material' is impressive: like a medium channeling spirits, he gives us spot-on prepubescent drivel (and truth). Kayla's rambling YouTube monologues have improvised energy, but—as the 27-year-old filmmaker is quick to admit—they are in fact a conduit for his own inner eighth-grader. Another large part of the film's credibility comes from the specificity of Elsie Fisher's excellent performance as Kayla: the attention she gives to online posturing; the visible dopamine rush when she sends the perfect Snapchat. Even her more stylized moments ring true: a pool party plays like a horror movie, but feels like cinéma vérité. Each time I watch this film, the more it feels like required viewing for everyone still in the process of growing up—i.e., everyone.
#7. Free Solo – ★★★★/☆☆☆☆☆

This is the documentary about the dude who tries to scale El Capitan—Yosemite National Park's most fearsome cliff-face—sans ropes or support. Elizabeth Chai Vasarhelyi and Jimmy Chin's Free Solo is more than just an adrenalizing, palm-sweating extreme-sports movie (it's that too); it's a fascinating character study. We learn that our audacious climbing hero, Alex Honnold, chooses this impossibly terrifying mission—at least in part—to assuage emotional doubts from his childhood. Confronting Honnold's past is even scarier than El Capitan, but Free Solo doesn't try to analyze his emotional baggage. Instead, they let their story tell itself in Alex's own bro-ey, self-effacing way. This film is a testament to the sheer force of human willpower: you'll leave the theater supercharged, ready to achieve godly feats of your own.
#6. Burning – ★★★★/☆☆☆☆☆

Based on a 1992 short story by Haruki Murakami, Burning captures the author's hypnotic tone while establishing an enigmatic charisma all its own. Veteran South-Korean filmmaker Lee Chang-dong spins an epic mystery that revolves around desire—personified in the form of an uneasy love triangle between Jongsu (Ah-in Yoo), Haemi (Jong-seo Jun) and Ben (Steven Yeun). Their performances are completely engrossing; the film is long, but I could watch these three characters for two more hours. Burning lives up to its title's every meaning. Moody, meditative, and meandering—but entirely deliberate—Lee Chang-Dong casts an unshakeable spell, a mood that stays with you, even after you've left your seat.
#5. Mission Impossible: Fallout – ★★★★/☆☆☆☆☆

Mission Impossible: Fallout has now joined the pantheon of action-classics. Chris McQuarrie's latest installment in the franchise is the best action movie in years, period. Tom Cruise, as Ethan Hunt, has truly ripened with age: 56 years-old, still sinewy and still jumping off shit. His world-weariness and fallibility make him less a superhero, more a mortal andrenaline-junkie with a deathwish—a fictional Alex Honnold. Fiction and nonfiction blur when you realize that the movie itself hinged upon the same insane risks and exhaustive foresight that go into the fictional character's schemes. Despite a plot so complicated that untangling it is a stunt in itself, Fallout works as sheer entertainment: taut pacing, ironic twists, a marvellously foreboding score by Lorne Balfe, plus character-inspired stunt-sequences that are nothing short of iconic.
#4. What They Had – ★★★★½/☆☆☆☆☆

At first glance, this tragicomic Alzheimer's story by first-time director Elizabeth Chomko may seem simple, almost predictable; but as you penetrate the layers, you find finely rendered sensitivity. It's also empowering, and full of hope—not just for those affected by Alzheimer's, but for anyone with a family. The mother Ruth (Blythe Danner) has Alzheimer's; her son Nick (Michael Shannon) and daughter Bridget (Hillary Swank, who also produced) both want to send their mom to a home; their father Burt (Robert Forster) rejects the idea, and will break before he bends. A near-perfect mix of misfortune and humor, What They Had delivers one emotional blow after another, then shakes off the hurt and laughs in between. Never sappy, it confronts fear with tongue-in-cheek resilience, right up until its quietly satisfying conclusion … almost certain to be a tearjerker for anyone who invests in this drama.
#3. Minding the Gap – ★★★★½/☆☆☆☆☆

Bing Liu's documentary Minding the Gap contains more entertainment—and more authenticity—than most narrative features achieve in their very best moments. First-time director, DP, co-star and co-editor Liu explores the down-and-out world he shares with his two best friends in Rockford, Illinois: all three have tumultuous family lives; all three survive by skateboarding. In sum, this is vérité, with artistic intentions: an intuitive mix of motion and emotion. Most impressive of all, Liu bridges the gap between detached documentarian and conscientious friend. His experience becomes a healing process, both for him and his friends, and for us: a rare tour-de-force where we actually get to inhabit the filmmaker's conscience.
#2. The Rider – ★★★★½/☆☆☆☆☆

Chloe Zhao's The Rider is a quiet, sensitive exploration of manhood, a genre-bending film that occupies a space more profound than most works of fiction. After suffering a near-fatal head injury, real-life horse-trainer and rodeo-king Brady (Brady Jandreau) considers his identity – or lack thereof – in the face of a reality where he may never ride again. Jandreau's story is told in a hauntingly effective form of 'docu-fiction;' he astounds with an understated projection of his vulnerable inner psyche. We're the outsiders drawn in, entrusted with stories that feel both far away, and immediately tangible. A deeply-moving, impressionistic, yet refreshingly authentic film.
#1. Roma – ★★★★½/☆☆☆☆☆

Alfonso Cuarón's Roma is a masterpiece of immersive storytelling: a moving cultural time capsule that captures humanity's shared experience … with loneliness at the top of the list. Even in black & white, Roma is full of color; adapted from Cuarón's childhood memories, and exquisitely shot by Cuarón himself, his film is carefully textured with sound, atmosphere, body language. At once intimate and universal, this film is about class and race: Fellini-esque landscapes fill Roma's frames—washed out, muddy, impoverished milieus—but it's the rich family's driveway that's filled with dog excrement. An interesting opportunity for Netflix viewers to witness their own bougie lifestyles from the outside-in. Per Cuarón and Roma, life is transient, but empathy matters and affection endures. The best we can do is follow the current together, flowing, listening to the rhythms along the way.
Honorable Mentions: BlacKKKlansman, Black Panther, Blindspotting, Bodied, Cold War, Crazy Rich Asians, Game Night, Green Book, Hereditary, Mid 90's, Searching, Shoplifters, A Star is Born, Tyrel