5. Amour – Dir. Michael Haneke (Austria)
Winner of the Palme D'or at the 2012 Cannes Film Festival, the second for auteur Michael Haneke, much mention has been made about this being Haneke's warmest, most human film. I agree that the film is quite moving, giving us two cinematic legends at their late career best, Emmanuelle Riva and Jean-Louis Trintignant (who came out of retirement to do the film), and a moving supporting performance from Haneke favorite, Isabelle Huppert. However, I don't really agree with classifying this as a warm or even human picture. Haneke's glacially cold gaze doesn't warm up at all here, simply showing us a final act of kindness born just as much out of pragmatic selfishness as it could be out of love. This is an unflinching look at the cruelty of life and nature, and those desperately looking for evidence of Haneke losing his cruel streak need look no further than what he's showing us with Trintignant and that damned pigeon to see that he's as dark as ever.
4. Starlet – Dir. Sean Baker (US)
One of the most surprisingly moving films this year was the latest independent feature from Sean Baker, which is basically a character study that details the friendship between a young porn star, Jane (Dree Hemingway, yes, of Mariel, in a breakout performance) and an elderly, lonely old woman named Sadie (Besedka Johnson). Really, the less you know, the better, but Baker's beautifully shot drama, featuring a gently moving soundtrack, including Manual's 'Keep Coming Back,' is a sun bleached affirmation to the power of cinema.
3. Barbara – Dir. Christian Petzold (Germany)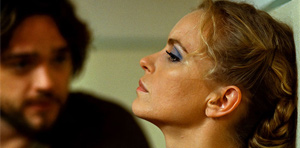 Petzold, who had me at Yella in 2007, once again employs muse Nina Hoss for a quietly moving character study, this time in East Berlin. While I believe him to be one of the best directors currently working, this quietly subdued drama soon coils itself into the makings of a paranoid thriller, the roiling wind and the boisterous sea mirroring the constant unrest of Dr. Barbara's inner turmoil. And who doesn't just love those beautifully framed shots of Hoss in those quietly dark moments of the hospital rooms, the light highlighting her stern, beautiful face with the backdrop of the magenta curtains?
2. Django Unchained – Dir. Quentin Tarantino (US)
While I'm not sure this takes my all time favorite spot in Tarantino's filmography (only time will tell), and despite all the fussies, like Spike Lee refusing to watch it, or critics calling the plot to save Broomhilda convoluted (to each his own), this is one highly entertaining, and even sprawling endeavor. This is signature Tarantino, here combustibly exploring America's original sin—slavery, and as race issues are still not only volatile and divisive (not to mention uncomfortably handled in most mainstream platforms, with most white folks tending to prize declawed and defused fodder like The Help and Driving Miss Daisy), it's safe to say that, whatever your hang-ups, Tarantino brings it to the foreground. Jamie Foxx is surprisingly effective in the lead role, but it is Christoph Walz and (two extremely entertaining supporting turns from Samuel L. Jackson and Leonardo DiCaprio) that make this so damn good. True, Kerry Washington is a bit more damsel-in-distressy than our usual Tarantino ladies, but she's an unquestionably beautiful object of affection here.
1. Holy Motors – Dir. Leos Carax (France)
Oh, Leos Carax, my mad, mad, insanely brilliant man, where have you been? We were treated to a segment in the 2008 triptych, Tokyo! but his last feature was the tempered 1999 film, Pola X, an adaptation of a Herman Melville novel (the X representing the number of drafts the script went through). That long absence has been broken with a film that somehow outdoes every batshit crazy film that he's done before, creating one of the most beautifully odd odes to cinema and the human experience I've yet to see. Carax casts perennial player Denis Lavant in an acrobatic performance as Monsieur Oscar, a mysterious man who dons many masks and several identities for reasons unknown to us and maybe even him. He's driven around in his limo by the still fabulous looking Edith Scob (who's worked with some of the most thrilling directors ever to commit image to celluloid, like Franju and Zulawski), and let the cinematic references begin. Words cannot describe the beautiful madness of Holy Motors. At the Cinefamily Silent Theater in Los Angeles, the unprecedented success of the screening invited an impromptu Carax restrospective—seeing Motors on the big screen in the same week as something like his 1986 film, Mauvais Sang had to be one of the most exciting weeks I had in the theater this year.