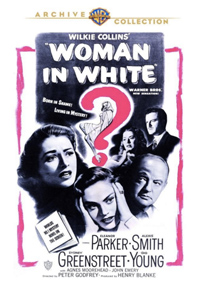 Though it's generally an assumed reference to silent film star Lon Chaney when his nickname "the man of a thousand faces" is uttered, the same cannot be said for his counterpart known as "the woman of a thousand faces," a nickname granted American actress Eleanor Parker. Scooped up in a Warner Bros. contract at the tender age of 17 in 1941, Parker was groomed for stardom throughout the decade, breaking out in the 1950s with three Best Actress Academy Award nominations. A comely blonde best remembered today for her starring role in the grandmother of women's prison films, Caged! (1950), or a supporting turn in 1965's The Sound of Music, she had leading star qualities paired with a character actor's talents for disappearing into performance. Unfortunately, many of her most sensational moments were eclipsed by other similar vehicles either of the same period of by more grandly exploitational items since. In the continuous stream of treasures released by Warner Bros. Archive, two of Parker's obscure items from her most prolific period have been made available, both based on novels by notable literary figures likewise forgotten in the fumes of pulpy byproducts their original voices originated. These include Peter Godfrey's somewhat tweaked version of Wilkie Collins' classic mystery novel Woman in White (1948) and a campy B-grade rendition of Shirley Jackson's multiple personality disorder novel The Bird's Nest, hatched as Lizzie by actor/director Hugo Haas in 1957—between the two titles, Ms. Parker dons five alternate personas.
Today, Peter Godfrey is perhaps best remembered for his charming Christmas classic Christmas in Connecticut (1945) starring Barbara Stanwyck (who would also headline two B-side noirs by Godfrey in 1947). In between these, he filmed what was then considered a lavish production of Wilkie Collins' 1859 novel, Woman in White, a sprawling mystery littered with curious characters, a work which provided a template (as an intertitle gladly informs us) of the genre's contemporary foundations. It was neither the first nor last production of this particular novel, though the material was better served by the several television mini-series since. Still, this condensed version is quite generous in its over-the-top moments, with Parker doing double duty as a vulnerable heiress and her mentally unstable first cousin. But she's often upstaged by a gaudy supporting cast of superb supporting players.
Trudging through the moonlit woods as he makes his way to an English estate where he has accepted a position as a drawing instructor, handsome artist Walter Hartright (Gig Young) runs into a distressed young woman named Ann Catherick (Eleanor Parker) dressed all in white. Their uncomfortable discourse is interrupted by a carriage with two men looking for her, one of them the formidable Count Fosco (Sydney Greenstreet), but Hartright claims he hasn't glimpsed such a woman. Upon arriving at his destination, he's greeted warmly by Marion Holcombe (Alexis Smith), a beautiful but poor distant cousin to the wealthy woman he's been hired to teach, Laura Fairlie (Eleanor Parker). Upon meeting his student, he's convinced she's the same woman he met in the woods, and his curiosity soon turns into romantic entanglement, much to Marion's disappointment. Meanwhile, it seems something strange and something sleazy is afoot with the brazen Count Fosco and Laura's grating, hypochondriac brother, Frederick Fairlie (John Abbott), both perturbed by Hartright's reports of the enigmatic woman in white, while they suspiciously vocalize their intention of having Laura marry the smarmy Sir Percival Glyde (John Emery).
At least as far as Godfrey's version goes, Woman in White plays sort of like the circus version of Charlotte Bronte, stuffed to the gills with emotional resentment, brooding intrigue, and secret relationships. Between Sydney Greenstreet and an utterly hilarious John Abbott as Laura's fey, sickly brother (who bosses around his personal assistant with crass abandon, a man required to tend to the master's 'every' need), it's hard for anyone else to command attention here, but a late appearance from Agnes Moorhead manages what Gig Young's cold romance with Smith and Parker cannot. With a grating dependence on omniscient narration from Young to wrap things up, and some peculiar editing from Clarence Kolster (which sort of smells like studio tampering, which makes sense since the film took two years to reach theatrical release), it's clear this is a rather compromised version of Collins' famous novel. Max Steiner provides a resolute score while DP Carl E. Guthrie makes the most out of rather cramped, repetitively conceived interiors, where this convoluted, wacky saga unfolds.
Though she's influenced a legion of genre writers, it's disappointing to realize many are unfamiliar with the delectable works of Shirley Jackson, best known for The Haunting of Hill House, adapted into an excellent film version by Robert Wise in 1963 (and a not so great one in 1999 by Jan De Bont), and her short story "The Lottery," also made into several subpar film versions. Actor turned director Hugo Haas, who financed his own B-grad noirs (including 1951's Pickup, starring Beverly Michaels), does something of a hatchet job with Jackson's sensational pop psychology subject matter from one of her lesser celebrated novels, The Bird's Nest. Eleanor Parker stars as the titular character, a woman with three distinct multiple personalities. Strangely, Haas was not only the first director adapt Jackson, but his version, titled Lizzie, was released the same year as Nunnally Johnson's The Three Faces of Eve, which starred Joanne Woodward as a woman who also suffers from three multiple personalities. But Woodward won an Oscar while Parker's equally entertaining (if questionably more campy) film fell into obscurity.
Parker stars as the sullen and sickly Elizabeth, whose mental troubles seem evident to her irritated co-workers at a museum where she performs administrative functions. Someone named Lizzie keeps sending her aggressive, threatening letters, and these instances seems connected to her terrible headaches and lack of sleep. She lives with her Aunt Morgan (Joan Blondell), an affable alcoholic, who believes Elizabeth's troubles are residual effects of a tragedy involving her wayward mother. A friendly neighbor (director Hugo Haas) suggests Elizabeth seek the assistance of a psychiatrist (Richard Boone) who immediately discovers the young woman has a floozy alter ego named Lizzie, as well as meek, child-like innocent named Beth. Together they must unlock Elizabeth's mental 'roadblock' so these facets of her personality may reunite into one.
As was the case with many popular vintage depictions of multiple personality disorder (now known as Dissociative Identity Disorder), the affliction is often presented in tawdry, overblown portraitures, whereby resolution (i.e., a cure) was determined by examining the victim as if they were a puzzle or riddle. Lizzie, so titled for the character's 'bad' personality, often seems insulting in its dated depiction, but Parker's performance is comparable to the more revered item starring Woodward. Of course, it's most entertaining when foul-mouthed hussy Lizzie appears, a personification of mild mannered Elizabeth's id. Her banter with the mildly but hopelessly exaggerated alcoholic aunt played by Joan Blondell creates some priceless moments of unexpected comedy. "How dare you talk about bourbon that way," hollers Blondell at her woebegone waif of a niece, who responds to her denigration by intimating her aunt is merely a dumpy, drunk whore. Later, Blondell gets her vengeance. "What's the matter with you? You look like a slut." A glowering, lipstick smeared Parker snarls on the staircase, "Look like? I am!" Unbalanced she may be, but Lizzie refreshingly refuses to be a 1950s slut shamed hausfrau.
Disc Reviews:
As per usual, both titles are made-to-order discs from Warner Bros. Archive. Woman in White arrives in 1.37:1, while Lizzie is presented in 1.85:1, without any sort of additional frills or modification. Picture quality of both titles is serviceable.
Final Thoughts:
If you've had the pleasure of seeing Eleanor Parker in her lauded signature performance, Caged! (for which she scored her first Oscar nod and the Volpi cup for Best Actress at the Venice Film Festival), then you'll appreciate these two distinct, and quite entertaining examples of her diversity.
Lizzie
Film Review: ★★/☆☆☆☆☆
Disc Review: ★★½/☆☆☆☆☆
Woman in White
Film: ★★★/☆☆☆☆☆
Disc: ★★½/☆☆☆☆☆