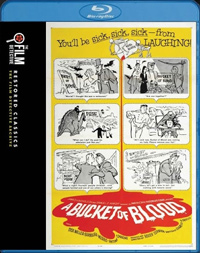 Though producer Roger Corman's contributions to independent cinema are arguably unparalleled, the enduring quality of his directorial efforts is another story. By the end of the 1950s, Corman had directed about two dozen of his own films in roughly five years, many of these derivative genre efforts rivaling the quality of Ed Wood. But 1959 found Corman trying to switch things up a bit, and he delivered two of his more flavorful works. Besides unleashing the Susan Cabot headliner The Wasp Woman (which remains a fun, eccentric commentary on feminine standards of beauty), Corman would skewer the pretentiousness of self-important artists and the hypocrisy of what defines art in A Bucket of Blood, a much more salacious title than the material warrants. Written by Charles B. Griffith, (who would go uncredited next to Corman on his The Little Shop of Horrors a year later), the film is an early lead role for genre character staple Dick Miller (Gremlins; The Terminator).
At the Greenwich Village coffee house The Yellow Door, waiter Walter Paisley (Miller) eagerly attends to the needs of the creative clientele gathering there on a nightly basis, with patrons sharing various works of art, from spoken word, to folk song, to illustrious paintings. Nerdy and oblivious to the vacuous pretense of many of the attending starving artists, he desires nothing more than to be admired similarly. When he accidentally kills his landlady's cat while struggling to craft his own creative sculpture, he has the idea to cover up the incident by encasing the corpse in plaster. And voila! Walter is an instant success thanks to his highly detailed cat sculpture (replete with the knife he stabbed it with). While the café owner quickly discovers Walter's secret, he plays along even as Walter begins, umm, taking bigger targets for his detailed sculptures.
We've seen art fraud as the dramatic catalyst in a number of ways, the starving artist or sycophantic hack desperate for fame and glory sublimating rational thought or moral integrity for the adoration of the multitude. Even over the past several years, these themes have provided fodder for a variety of directors, such as Tim Burton's biopic of painter Margaret Keane, wrongly robbed of acknowledgment in Big Eyes (2014), or the photographer played by Bradley Cooper in Ryuhei Kitamura's psychotic The Midnight Meat Train (2008). John Travolta's art forger in the aptly titled but horridly derivative The Forger (2014) is another genre effort broadly administering mankind's obsession with obtaining desired works. But Corman's exact scenario is being recycled to this day, with recent indie horror film Deep Dark (2015), concerning a failed sculptor who finds unique inspiration from a mysterious hole in the wall of his apartment building, capitalizing on similarly grisly results.
Miller is quite adept as the pathetic wannabe wrongly idolizing a group of irritating posers who feed off the vacuous energy of the bar's easily impressed patrons. Of course Corman and Griffith are expecting us to laugh at these characters and their vile treatment of Walter Paisley. We almost are moved to cheer for the unfortunate demise of a blonde model late in the film when she doubts Walter's ability and lobs a ball of clay at him in the artist's café, demanding he instantly create something in front of witnesses. The eventual sculptures are innovatively grotesque, though the cheapness of the production rather limits the possibilities of Griffith's scenario, because there's little to deduce once Walter's reluctant admirers discover his devious secret.
The supporting players are mostly 'types,' with standouts being Julian Burton as the obnoxious resident poet who deigns his free verse can only be authentic in the moment and therefore never committed to the page, and Miller's lukewarm love interest played by a kindly Barboura Morris (who had a supporting role the same year in Corman's The Wasp Woman).
Disc Review:
The Film Detective Archive presents Corman's film in 1.85:1 aspect ratio for a nicely restored version of the neglected B-title. DoP Jacques Marquette, who would work on a variety of television shows and notable exploitation and genre titles (such as Irving Rapper's The Christine Jorgensen Story, 1970 and Dan Curtis' Burnt Offerings, 1976) manages to make the limited locations and underwhelming set designs less obviously frugal, particularly during the film's secretive glances at the macabre sculptures.
Final Thoughts:
Better than your average Corman production (at least from his 1950s period) and with chewy social commentary adding a bit of extra depth, A Bucket of Blood is an enjoyably fast paced genre effort to be enjoyed by fans of "The Twilight Zone" or "Tales from the Crypt."
Film Review: ★★½/☆☆☆☆☆
Disc Review: ★★★/☆☆☆☆☆