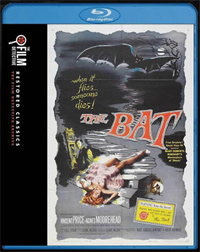 The Film Detective Archives refurbishes the forgotten 1959 film version of The Bat, an adaptation of a play by Depression era mystery writer Mary Roberts Rhinehart (co-written with Avery Hopwood in 1920), a woman referred to as the American Agatha Christie. A previous film version was made in 1926 by Roland West, followed by a 1930 sequel. Concerning a criminal who dresses in a bat costume and terrorizes people while committing crimes, Rhinehart's character was the basis for American comic book artist Bob Kane's creation of Batman. Thus, it's an intriguing 'origin' property for several reasons. This particular version, which stands as the last official directorial credit of writer and B-film director Crane Wilbur, is also rather entertaining thanks to its two headlining stars, the inimitable Vincent Price and a rare leading role for the superb character actress, Agnes Moorehead.
Murder mystery writer Cornelia van Gorder (Moorehead) rents an isolated mansion for the summer along with her assistant Lizzie (Lenita Lane). But in the nearby town, a killer known as "The Bat" has been killing and burglarizing again, which scares the staff Cornelia hired into leaving their posts. Meanwhile, when a bank manager is accused of stealing a large sum of money and his boss is mysteriously killed in a forest fire the same day, Cornelia becomes interested in the case. She may have gotten the attention of the nefarious Bat, however, necessitating the presence of Lieutenant Andy Anderson (Gavin Gordon), and the town doctor (Vincent Price), a man who always seems to be lurking nearby.
Moorhead's most prolific cinematic period was the 1940s where she was nominated three times for Best Supporting Actress (a last nomination would be in 1964 for Hush Hush, Sweet Charlotte, nabbing her a second Golden Globe), which makes the context of this 1959 title more significant (another film she appeared in the same year was a lurid exploration of race relations as a bigoted mother in Night of the Quarter Moon, remembered as a camp classic featuring a second generation Barrymore and Chaplin among the cast).
Here she's a likeable, sassy mystery writer holed up in an appropriately eerie mansion. Wilbur's screenplay favors the banter shared between Moorehead's writer and her incredibly dutiful assistant Lizzie, played by Lenita Lane. We get the impression they're supposedly two witty spinsters, but Lizzie's insistently incorrect grammar brings a different dimension to the relationship since it makes us wonder why a famous writer of novels would tolerate such a blatant disregard for the proper use of language. Sapphic relations don't seem to be anywhere on Wilbur's mind, but it's a 'curious' Boston marriage sort of set-up.
Fans of Price will find him entertaining, though this is one of the countless variations of his particular brand of snide villainy, conveniently assisted by forest fires and dubiously appointed authority figures. Considering the obviousness of the low budget, the title scores points for including the use of real bats in Price's devious secret lab (unfortunately, the ones being flung into Moorehead's mansion don't looks so real).
Overall, The Bat is generally a pleasurably mystery cheapie, though with a narrative that seems to cut corners and conveniently withhold information for its pat resolution. Wilbur, known for writing some famous genre titles, like the noir He Walked By Night (1948) as well as Andre De Toth's version of House of Wax (1953), doesn't really do much to update Rhinehart's original play. But the title does feature some notable supporting actors, including an adult Darla Hood in her last cinematic appearance, known as a child star in the "Our Gang" comedies, and a serviceable Gavin Gordon as the lieutenant (known best for his role as Lord Byron in Whale's Bride of Frankenstein, 1935).
Disc Review:
The Film Detective does a nice job with this restored transfer, as the title previously existed on low-quality versions with the usual afflictions of prints languished by entering the public domain. Presented on 1.85:1, picture and sound quality are both satisfactory, and the release is without any special features.
Final Thoughts:
The Bat is silly fun, but will perhaps mostly be enjoyed by those who prefer Agnes Moorehead when she gets the amount of screen time she deserves.
Film Review: ★★½/☆☆☆☆☆
Disc Review: ★★★/☆☆☆☆☆