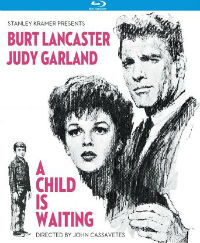 Though it's a famously compromised vision, to be sure, director John Cassavetes' third film, A Child is Waiting, represents an important cinematic juncture. Meant to highlight society's cruelty exacted upon handicapped children via behind-the-scenes details of a new cutting edge school run by an objective physician, the film's noble ambitions were unfortunately marred by creative forces in disagreement.
After the fallout of his experiences with studio filmmaking, Cassavetes wouldn't return until 1968 with the landmark Faces, and thus begin building a filmography earning him the moniker 'father of independent cinema.' And yet, there's a scarred, dignified beauty about this troubled motion picture, perhaps as easily identifiable as the warring schools of thought amongst its main protagonists in the film.
A box office failure, it received a cool critical reception, disowned by its director after he was fired in post-production by producer Stanley Kramer. It's unavoidable not to see Kramer's blunted sentiment stamped on the eventual final product, but remnants of Cassavetes' innovation remain intact. Though Cassavetes would later argue the differences between his intentions vs. Kramer's, the designs of both men rest uneasily within these frames, even as its ending would tend to favor the perspective of educating handicapped or disabled children in schools specially modified for them.
Jean Hansen (Judy Garland) is a Juilliard trained musician searching for meaning, which she thinks she will find working at a Down's syndrome institution run by Dr. Matthew Clark (Burt Lancaster). He allows her to become a staff member despite her lack of expertise in the area, and she quickly becomes attached to a lonely child named Reuben (Bruce Ritchey), abandoned by his parents (Gena Rowlands, Steven Hill) after being diagnosed with a mental disorder. But Jean quickly becomes aggravated by Clark's stiff, often cold approach to dealing with the children, exacerbated when he has Jean and Reuben separated.
With many of the children portrayed by actual mentally challenged kids, A Child is Waiting exudes an unprecedented aura of authenticity, and the film does its best to portray them sensibly and with great integrity. It would presumably have been an excellent testament to Cassavetes' talents with improvisation, but his experimental ideas were apparently at odds with Kramer's preferred classical methods, and a cast and crew accustomed to a certain way of making cinema. Still, some of its best moments are accomplished between adult actors simply interacting with the children, where we move beyond more obvious bits of dialogue concerning the subject matter. Lancaster is particularly good, an objective, even sterile presence as a man challenging the status quo by treating handicapped humans as capable beings. Garland is a cipher for the audience, the bleeding heart looking to find her own personal fulfillment through helping those in need. It's a matter-of-fact and still quite relevant disposition, and Garland, whose personal turmoil was constant tabloid fodder of the period, is quite emotionally effective. A sequence where she quietly and firmly confronts the young boy she's grown fond of is subtle and superb. Also, Cassavetes features one of the more enjoyably sincere children's Thanksgiving plays put to celluloid.
Notably, this was the first union of Cassavetes with actress and wife Gena Rowlands, as the mother of the young Reuben, an early erratic role for the blonde star (Lawrence Tierney appears in one scene as Rowlands' new beau, as well). Juanita Moore, who'd been recently Oscar nominated for Imitation of Life (1959) appears briefly in an uncredited role as a mother of a student (to remember these were the roles Hollywood offered to the talented performer following such a distinction is a disgrace, but in retrospect also a great distraction).
Screenwriter Abby Mann, who penned Kramer's notable Judgment at Nuremberg (which revived Garland's career with a Supporting Actress Oscar nod), wrote several noble monologues peppered throughout, none delivered more believably than by Lancaster, ever the powerful orator—and these moments tend to shoulder the brunt of Kramer's intentions. Cassavetes, who wished the film to portray handicapped children as having the ability to function anywhere, with the adults' understanding of them the actual handicap, did not labor in vain—even as it ends with a new inductee to Dr. Clark's school, we are somehow left with a bitter aftertaste that perhaps the world has yet to catch up with those intended concepts (forcefully vocalized in a standoff between Paul Stewart and Steven Hill).
Disc Review:
Oscar winner Joseph LaShelle (Laura, 1944) lenses Cassavetes film, and there are striking remnants intact, although sometimes sequences appear to be a string of extreme close-ups on the pained expressions of its actors (with quite a bit of time spent on Garland's distinct eye make-up). It's evident the crew behind the scenes balked at whatever Cassavetes was trying to do, as evidenced by editor Gene E. Fowler's support of Kramer's vision. The result is a very square endeavor, only enhanced by the authenticity of its performances. Film historian Tom Charity is on hand for audio commentary, but this Kino Lorber Studio Classics release is otherwise without extra features, presented in 1.66:1 and newly remastered in HD.
Final Thoughts:
Judy Garland would only appear in one more film, Ronald Neame's I Could Go on Singing, which premiered only a couple months after the Cassavetes film. Her presence lends this a sort of tragic, unintentional finality. A worthwhile, emotionally generous film, fans of Kramer perhaps appreciate this more than the usual Cassavetes crew, but it's uncustomarily blunt for a social issue drama from the early 1960s.
Film Review: ★★★/☆☆☆☆☆
Disc Review: ★★★/☆☆☆☆☆