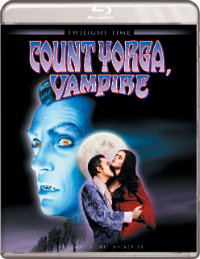 Before grindhouse director Bob Kelljan turned exclusively to television by the late 1970s, he had accidentally carved out a small triptych of derivative American vampire flicks, beginning with his first solo effort, 1970's Count Yorga, Vampire. The actor turned director initially starred in his first co-directed effort, the incest drama Flesh of My Flesh (1969), but the success of his Dracula rip-off would carry on to a 1971 sequel before assuming duties for the Blaxploitation sequel Scream Blacula Scream (1973). Initially conceived as a soft-core porno, Kelljan eventually crafted this into a sort of Bram Stoker parody, although not everyone involved in the production seemed to be aware of this.
With his coffin arriving on a boat, Count Yorga (Robert Quarry) is relocated to modern day Los Angeles where he poses as a medium, holding swank séances at parties conceived by bored suburbanites. He's invited to Donna's (Donna Anders) home to put her in touch with the spirit of her dead mother, but the event ends strangely—perhaps because Yorga was actually mom's boyfriend several weeks prior to her mysterious death. Donna's boyfriend Michael (producer Michael Macready) isn't too keen about the decadent gentleman, especially after Yorga hypnotizes Donna following a hysterical episode. Taking his leave, party members Erica (Judith Lang) and Paul (Michael Murphy) offer to give Yorga a ride home. They meet his deformed manservant (Edward Walsh) and promptly get their vehicle stuck in the mud of the Count's considerable driveway. Spending the night in their car, they wake up without remembering a thing…except Erica now has two puncture wounds in her neck. Seeking medical advice from Dr. Jim Hayes (Roger Perry), the physician discovers strange compounds in her blood and deduces she's been gnawed by a vampire. With the help of Michael, the physician accosts Count Yorga.
There's little to appreciate about Kelljan's toothy copycat narrative beyond a likeable and elegant Robert Quarry (who returned for sequel duties a year later). His sometimes droll script, which does contain several highlights, such as Judith Lang gnawing on the entrails of a limp kitty cat (which was apparently canned lasagna dumped onto the sedated animal), often feels tired and unintentionally hammy. Beginning with Perry's physician fondling Lang's pronounced vampire bite, the mid-section of the film seems devoted entirely to exposition of the familiar legend. Likewise, Yorga's hypnotizing of luscious young females also recalls Stoker's initial text, but none of the supporting players, including a young Michael Murphy, have much to do beyond serving as victims or heroes, with the latter served up woodenly by Macready and Perry.
Disc Review:
Twilight Time resurrects this classic title in packaging greater than it seems to merit. Presented in 1.85:1, the three thousand limited edition print does look superb (and includes an isolated score track), particularly due to this period of early 70s Los Angeles. As the extras indicate, the title's core cult audience has not abandoned it completely, and optional audio commentary with film historians David Del Valle and Tim Sullivan is available.
My Dinner with Yorga – The Robert Quarry Rue Morgue Interview:
David Del Valle and Tim Sullivan reproduce an audio interview with Robert Quarry in this thirteen minute feature.
Fangirl Radio Tribute to Robert Quarry:
Fangirl Radio presents an episode of their radio show as tribute to Robert Quarry. Fan and friend Tim Sullivan is on hand once more for this forty-five feature.
Still Galleries:
Two still galleries are included, one from MGM Archives and the other from Tim Sullivan's private archives.
Final Thoughts:
Character actor Quarry became a frequent co-star alongside names such as Vincent Price and Peter Cushing following his fame from the drive-in popularity of Count Yorga. Though he's not as well known a quantity as either of those stars, his performance in the film is a sturdy footnote.
Film Review: ★★/☆☆☆☆☆
Disc Review: ★★★½/☆☆☆☆☆