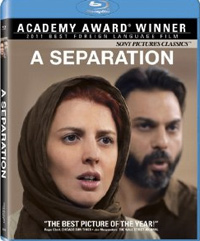 Writer and director Asghar Farhadi had a couple award winning films to his name prior to 2011, but nothing of the notoriety that came with the release of his critically lauded examination of marital disintegration, A Separation. With his newest, he managed to rake in top prizes worldwide, from the Berlin Golden Bear to the Best Foreign Picture prize at this year's Oscars. What makes the film so widely regarded is within this seemingly simple Iranian drama something like a facile murder mystery begins to unfold, and a surprisingly expansive moral complexity is slowly unveiled. Like a cinematic illusion, the key to Farhadi's finely composed puzzle is in what he holds back from the audience, but to his credit, he doesn't just rely on the payoff for narrative satisfaction.
Beginning with a confrontational office divorce, Simin (Leila Hatami) wants to leave the country on a soon to expire visa, but her husband Nader (Peyman Moadi) feels it's his responsibility to care for his Alzheimer's ridden father (Ali-Asghar Shahbazi) until the end. Simin wants their daughter, Termeh (Sarina Farhadi, Asghar's own daughter), to have a life of fresh opportunities, but the intelligent young girl herself just wants her parents to stay together. When Simin chooses to leave Nader to stay at her parent's house to test the familiar response, he is forced to find a house keeper to take care of his father while he and his daughter fulfill their responsibilities to work and school during the day. What none of them expected was for the newly hired caretaker, Razieh (Sareh Bayat), to have a clandestine pregnancy which would soon be lost after being forcefully removed from the house for placing Nader's father in bondage while leaving the house to run personal errands and potentially stealing cash.
After this tragic event, Nader is held responsible and taken into custody for murder, to which he fully contests. As the investigation poses questions regarding the events that actually occurred in Nader's home, everyone swears authenticity, but truthfulness and personal allegiances are called into question, and moral virtues are twisted in the name of what is right and just. Outside the investigation, Termeh becomes a tortured adolescent, enduring public embarrassment for her father's supposed crimes while being forced to commit to one parent or the other. No child deserves to bear the weight of their parents' divorce, say nothing of contemplating whether or not their parent is responsible for causing a miscarriage. At the base of these conundrums, the idea of judgment remains the backbone, and to what we choose to set our grounds of judgment upon. Farhadi has distanced himself, placing us upon the judge's stand, and it is up to us to decide who is right and wrong.
Through all of the dense decision making and subdued visual austerity, A Separation feels quite brisk, even with its two hour running time. Paced with intelligently layered plotting, Farhadi's hand has woven an intricate drama of personal intimacy and deep thematic depth that deserves all the attention it's received in the last year. He knows the devil is in the details, and by doling them out in calculated measure he has crafted one of the best films of last year.
The Disc:
Complimenting this outstanding film, Sony has put together a nice looking Blu-ray with a healthy serving of complimentary supplements. Lens by celebrated Iranian cinematographer Mahmoud Kalari, the film has a very naturalistic, almost documentary feel, and the transfer brings it to life with beautiful lived in clarity. The mostly grey color palette is shown with great detail and accurate depiction. Offering the film's original HD-DTS 3.0 audio track, dialogue and ambiance sound fine. There is no music or any real action, so there is nothing to push the track to excitement. The disc itself is packaged in a standard Blu-ray case.
Audio Commentary with Writer/Director Asghar Farhadi
Though explicitly states he doesn't want to comment on the film for fear of disabling the audience from making their own opinions, Farhadi does indeed disclose many thoughts on intended thematics and symbolic shot composition. Though there are lulls in conversation, he does give a wealth of knowledge about many production decisions and on set moments with the crew.
An Evening with Asghar Farhadi
This half hour Q&A with moderator Andrea Grossman sees Farhadi fielding questions about the personal origins of the film, how be balanced his judgment of his characters, what it was like to direct his daughter, and much more. It is an excellent, enlightening discussion.
Birth of a Director
About eight minutes, this is a brief discussion with the director about how he got into making films, and how his style has changed over the course of his career. There are brief shots from his previous films included.
Theatrical Trailer
With just enough plot and plenty of press quotes to draw you in, this is a very well made trailer that surely got people talking about the film prior to its release.
Final Thoughts:
Rarely are family dramas as thematically or structurally complex as A Separation. Pair that with the fact that it is very well acted and intelligently photographed, and you have an extraordinary film that managed to make it into the right hands, pushing it to deservedly international acclaim. If Asghar Farhadi wasn't on your radar previously, he is definitely now a filmmaker to watch. Recommending Sony's Blu-ray release is a no-brainer, but be assured, this incredible film will leave you thinking.