Reviews
For a Good Time, Call… | Review
Hold, Please: Travis' Debut an Anachronistic, Hilarious Laugh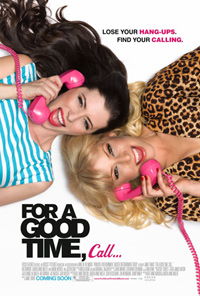 Penned by Katie Ann Naylon and star Lauren Miller, For a Good Time, Call… is a surprisingly adept and wantonly gleeful female buddy comedy, and the feature debut of director Jamie Travis. Tedious (and unnecessary) comparisons to Bridesmaids with women in raunchy scenarios will most likely be applied to this material, but Travis and company have assembled a breezy, sweet, and utterly winning comedic vehicle that moves so quick you'll be willing to overlook some of its clichés and nonsensical qualities.
We meet two young women suddenly finding themselves without means to support themselves in New York City. Lauren Powell (Lauren Miller) has just been unceremoniously dumped by her (extremely boring) boyfriend, Charlie (James Wolk). Meanwhile, Katie Steele's (Ari Graynor) enormous Gramercy Park apartment is no longer rent controlled, and without a quick roommate, she can't afford to pay the rent herself. Both these young ladies have a mutual friend, Jesse (Justin Long), who baits them into meeting, and we discover that the two share a mutual hatred for each other because of a rather memorable 'party foul' experience from their college days. But finding themselves in a sticky wicket, they relent on their bitter dispositions, at least enough to make it work. While they at first barely speak to each other, Lauren loses her job, and then discovers that her new roomie works for a phone sex hotline, and quickly surmises that Katie's being ripped off with her time. "Why not start your own phone sex hotline?" she suggests. A fabulous friendship is birthed as Lauren takes over running Katie's phone sex line, 1-900-MMM-HMMM, and it's not long before the successful duo starts looking to hire more employees and challenges Lauren to loosen up a bit with her sexuality. But when a publishing house headhunter (Nia Vardalos) calls to offer Lauren a dream job, Katie starts dating a regular caller (and reveals a secret about herself), and Lauren's conservative, rich parents (Mimi Rogers, Don McManus) arrive inconveniently, their business venture and their friendship is compromised. At a crossroads, what are two young successful phone sex operators to do?
As raunchy as it is surprisingly sweet, For a Good Time, Call… features some superior female characters for a romantic comedy, and one whose romantic inclinations are actually more about the bonds between girlfriends. In many respects, the premise, the writing, and the onscreen chemistry of Miller and Graynor recall 1980's comedies that often featured strong comedic roles for women. And certainly, the film's strongest element is the chemistry between Miller (married to Seth Rogen) and her co-star. In fact, For a Good Time, Call… features a star-making turn from the often underutilized Ari Graynor, often cast as a supporting, comedic player. Finally, she gets a saucy, lead role, and she dominates the screen, looking fabulous in vintage lingerie, her colorful wardrobe as warm and loud as her invasive personality. Her overdeveloped intonations somehow manage to seem sexy, funny, and eerily believable.
Though a mere 86 minutes, the film could even benefit from some slight trimming. Three superfluous cameo performances (Seth Rogen, Kevin Smith, and Ken Marino) are low brow moments that don't quite match the energy of Miller & Graynor. Likewise, Mimi Rogers, Dan McManus and Nia Vardalos have little to add (though Justin Long, as the charming gay best friend manages to milk his screen time for all its worth, though he's played very similar characterizations in other films). And while there may very well still be a market for phone sex lines, the delirious success Lauren and Katie experience hardly seems realistic. Yet realism is something that their charm gets you to quickly overlook. While examples of raunchy and sexual women in the comedic realm may finally be something we get to see on a regular basis, perhaps their fictional occupations and settings are still behind the times. Phone sex (unlike web cam sex, or prostitution, or strippers) allows them not only anonymity but avoids the taint associated with letting them be sexual creatures. Certainly, this is a more successful example of a 'girls talking dirty comedy' (see something like That's What She Said, 2012 for a shrill and dismal counterpoint) and there does happen to be a 2011 German film, A Very Hot Number (Eine Ganz Heisse Nummer) that features a startlingly similar scenario, but For a Good Time, Call… really does make for a good time at the movies.