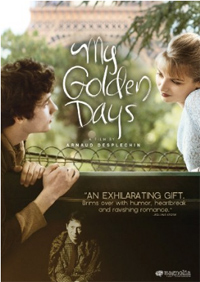 Arnaud Desplechin's eighth feature film, My Golden Days, a loose follow-up on characters from his 1996 filmMy Sex Life…Or How I Got Into an Argument ended up being something of a career high for the auteur, who has steadily been making films since 1991 and who has premiered a majority of his films at the Cannes Film Festival. After controversially being locked out of the 2015 Cannes Film Festival line-up, the film went on to win raves out of its premiere in the Directors' Fortnight (picking up the SACD prize), and received eleven Cesar nominations. Desplechin won his first Cesar for directing (his fourth time nominated for such a distinction). Stateside, the title netted over two-hundred thousand at the box office (not bad, considering his 2013 title Jimmy P. only took in thirty thousand), but it is was hardly the smash of his career high, A Christmas Tale (2008).
Returning muse Mathieu Amalric reprises his original character, but the bulk of the narrative focuses on his younger self in order to provide an origin story for the tempestuous romance from the previous film. As such, this is mostly a coming-of-age narrative, albeit dressed up in a classy vintage garb with the director's particularly Gallic, amused tone to spice up an otherwise familiar homage to faded, youthful ideals. With a golden hued aura wrapping a clutch of memories like polished jewels from an era long gone, there's a wistful, romantic nostalgia infecting the film, relayed with an enchanting fervor as equally capable of irritation thanks to its uncompromisingly conceited subjects of privilege.
Leaving behind a life abroad in the East, anthropologist Paul Dedalus (Amalric) leaves Tajikistan to return to his native France. But he's detained upon re-entry by a government official (Andre Dussollier), inquiring about a dead Australian man who claims the same French citizenship. And so, the weary traveler relates memories from his youth which explain how these circumstances came to be. Before and after Paul willfully gave his identity to a refugee in need during a late 1980s school trip to Minsk, he begins to recall his sometimes dysfunctional family life following the suicide of his mother, the unraveling of his father (Olivier Rabourdin) and the eventual on-and-off relationship he would have during his formative romantic years with Esther (Lou Roy-Lecollinet).
The French language title Trois Souvenirs De Ma Jeunesse is Three Memories from my Youth, and originally included the initial English title to be Our Arcadias, indicative of the pastoral paradise from Greek mythology. These instances don't necessitate having seen the earlier (and much longer) film to enjoy Desplechin's ode to joy here, but these chronological episodes from the youth of protagonist Paul Dedalus becomes the thrust of the film following adult Amalric's re-entry into France to take a government desk job. Mythological references seem to implicate Desplechin's purposeful monikers, with Dedalus sounding an awful lot like the Greek architect whose own designs created his undoing, such as those fateful wings he constructed for himself and son Icarus (here perhaps representative of the passport which Paul would give away, its bearer also reaching a demise first).
But just as Desplechin relays Paul's memories through rosy-tinted recollection, so does he cast the younger versions of these characters with distractingly handsome actors. Newcomers Quentin Dolmaire and Lou Roy-Lecollinet carry the weight of the film with startling ease, their bizarre and altogether realistically tumultuous attraction formulating an interest all the extra narrative dressing cannot. But neither of them seem quite right to be the youthful visual counterpart of actors Amalric or Emmanuelle Devos (who portrays Esther as an adult in My Sex Life).
The soft spoken and doll-faced Dolmaire especially seems ill-equipped to be the young man who would morph into Amalric, to the degree where one wonders if the film wouldn't have been better completely divorced from the baggage of Desplechin's earlier title. Roy-Lecollinet fares better, all cigarettes and lips, her heavy-lidded seductive gaze transfixing whether she's pouting for attention or needling her male suitors. She's a bored sex bomb along the lines of a kittenish Marilyn Monroe, and is perhaps one of Desplechin's best finds since he began casting Devos in his early works like La Vie Des Morts and La Sentinelle. Likewise, DP Irina Lubtchansky strikes a particularly amber tinted palette, employing vintage techniques (such as a prominent use of iris shots) lending the film a notably sentimental vibe.
However, there's also an inescapably narcissistic quality to My Golden Days, perhaps best evidenced by Paul's reaction to the televised fall of the Berlin wall. In dismay, he confesses "I feel as if my childhood's ending," perhaps in relation to the thrilling awakening of the espionage tinged school trip to Minsk, the episode which has jogged us through a rough sketch of his entire youth. And perhaps this is merely one of the film's subtle strengths, for Desplechin promises no universality to Paul or Esther or their shared romance, merely a portrait of human life moving through and around certain historical periods.
Winning the SACD Prize following its premiere in the Directors' Fortnight of the 2015 Cannes Film Festival (where its programming caused quite a bit of fury since Desplechin's sterling reputation usually finds him a shoe-in at the main competition), it also snagged the director his first Cesar (where it racked up seven nominations). Though this isn't as winningly offbeat as Desplechin's superb 2008 A Christmas Tale, it's still an enterprising portrait, a contemporary remembrance of things past.
Disc Review:
Why Magnolia chose to forego a Blu-ray release of the title is questionable, but picture and sound quality of this generally plain DVD release is adequate, presented in 2.35:1. Several special features don't quite make up for the otherwise lack of enthusiasm in the title's presentation.
A Conversation with Director Arnaud Desplechin:
Desplechin discusses his film in this fourteen minute segment, describing the film as being three short films, or fragments.
Casting Session – Paul & Esther:
A four minute audition sequence features Lou Roy-Lecollinet and Quentin Dolmaire.
Two Pauls and Three Esthers – Meeting the Actors from My Golden Days:
Roy-Lecollinet and Dolmaire confess to not being familiar with Arnaud's body of work prior to casting in this twelve minute feature where the actors talk about their characters and deliberation of 1994's My Sex Life…
Final Thoughts:
Glossy, and distractingly nostalgic, My Golden Days is Desplechin at his most pleasant and potentially least ambitious, but enjoyable nonetheless.
Film Review: ★★★½/☆☆☆☆☆
Disc Review: ★★½/☆☆☆☆☆