Tuesday Blus: Dwansong – Allan Dwan & Gloria Swanson X2 from the Roaring 20s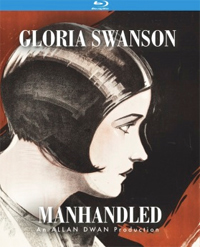 It's impossible to avoid mention of Gloria Swanson when ruminating on the early days of American cinema, a film and fashion icon who was a fixture of the early studio days and who received critical and financial success which straddled the silent/talkie divide (albeit short-lived). Contemporary audiences revel in her late staged calling card playing the reclusive and unhinged silent film star Norma Desmond in Billy Wilder's 1950 classic Sunset Boulevard, a project which resurrected her career and represents a near perfect perversion of life imitating art imitating life. But Swanson was also one of the first women to be nominated for an Oscar at the very first Academy Awards ceremony in 1929, when the industry (and the country) was undergoing drastic changes and just learning how to self-promote. Her independently produced labor of love Miss Sadie Thompson (Swanson battled the Hays Code to get it made) would make her (along with Louise Dresser for A Ship Comes In) to be the first two actresses to lose the Oscar—but Swanson would be nominated in the same category the following year for her first talkie, The Trespasser.
But before her appearances in Oscar history, Swanson was a cash cow at the box office, and her earliest and most memorable successes during the teens and twenties were under the direction of Cecil B. DeMille. But the actress would have several directors she'd collaborate with frequently, including Sam Wood, and then, Allan Dwan, a Canadian born import, a director who made over one-hundred-and-twenty titles, most of which have fallen into obscurity (he would move on from silent cinema to make a number of war films, period pieces, and some superb film noir, such as the deliciously pulpy Slightly Scarlet, 1956). Dwan directed Swanson in eight silent films, from 1923's Zaza to 1930's What a Widow!.
In the 1924 comedy Manhandled, Swanson stars as Tessie, a department store clerk at Thorndyke's who is tired of being ignored by her distracted boyfriend Jimmy (Tom Moore), busy inventing an apparatus for automobiles he believes will make them rich. Spunky and outspoken, her attitude at work gets the attention of the storeowner's son Arthur Housman), who invites her to a party, where she ends up being the center of attention thanks to her impersonations. Offered a job impersonating a Russian countess, Tessie is soon caught up in a bizarre cavalcade of suitors. When Jimmie finally becomes wise to Tessie's new libertine extracurricular activities, he accuses her of being just like those manhandled goods at the department store. Desperately, she tries to repair their tenuous connection.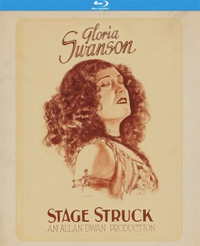 1925's Stage Struck finds Swanson as a frazzled waitress named Jennie Hagen working for a demanding German immigrant at his busy pancake house. But Jennie's in love with the cook Orme (Lawrence Gray), a handsome sort who flips pancakes in the open windows, attracting a gaggle of gals. The only trouble is Orme is obsessed with actresses, which sends Jennie into her own fantastical schemes of becoming an actress just so he'll pay attention to her.
Across both films, Swanson plays a poor, working class woman besotted with the idea of love, only to find it's been right in front of her all along. Both representations are a tad problematic, which is hardly a surprise considering the period. If Manhandled ends up seeming a bit more lascivious by nature, it's also quite frivolous and even forgettable (Swanson masquerading as a Russian impresario would have been delectable as a talkie). The more celebrated title is Stage Struck, which is also problematic and archaic. Swanson's Jennie Hagen doesn't so much want to be an actress because she desires it, but to attract the attention of a male suitor, a man she wants to ensnare so she can instead work for him in a pancake house…
Worse, during the grand romantic reveal, Orme confesses he loves actresses but would never marry one, expressing the unsaid sentiment of compartmentalized patriarchy, where men use women for different sorts of consumption. If Stage Struck rightly earns Swanson some comedic physicality comparisons to Chaplin, this is short lived for several gendered and racial sticking points. Offered a job to 'act' on a stage which ends up being a boxing ring where she must wear a cloth on her head and purposefully lose to the famous actress she's fighting, part of Swanson and co.'s audience are a traveling troupe of actors performing Uncle Tom's Cabin, which of course means plenty of uncomfortable black face. And so, Stage Struck ends as an unsightly reminder of contemporary problems, where liberal whites often contribute unintentionally to overriding sentiments or beliefs of white privilege and superiority in completely tone deaf and continually oblivious, supposedly innocuous ways.
Disc Review(s):
Kino Lorber presents both titles as part of their Studio Classics. Manhandled is mastered in 2K from 16mm film elements, and is the better preserved of the two titles. Stage Struck was mastered from 35mm film elements. Both are presented here in 1.33:1. An audio commentary track from film historian Gaylyn Studlar is on the Manhandled disc, with a piano score composed and performed by Makia Matsumura. On Stage Struck, film historian Frederic Lombardi, author of Allan Dwan and the Rise and Decline of the Hollywood Studios provides the commentary track, with piano composition and performance from Andrew Simpson.
Manhandled (1924): Film Review: ★★½/☆☆☆☆☆
Stage Struck (1925): Film Review: ★★★/☆☆☆☆☆