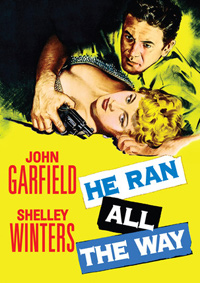 A prototype of what would come to be familiarly known as the home invasion thriller, 1951's He Ran All the Way is also an important artifact from the HUAC witch hunt during Joseph McCarthy's pillaging of the entertainment industry. Director John Berry would go uncredited for this and his next several features due to his reputation as a Communist sympathizer, eventually leading him to France for the remainder of the decade.
The film was based on a novel by a more famous blacklisted alumnus, Dalton Trumbo, writing under the pseudonym Sam Ross, also adapting the screenplay. Sadly, the film is also the last performance from 40's icon John Garfield, who died in 1952 from coronary thrombosis, his health woes credited to his blacklisting following his refusal to name names while testifying in front of HUAC, a tragedy co-star Shelley Winters vocalized bitterly for years to come. Though these intense tidbits add to the film's unique flavor, it's a rather simple narrative settling into a grueling chamber piece in its final act.
Nick Robey (Garfield) is a two bit hood living with his mother (a scurrilous Gladys George). In the midst of a pay roll robbery with his buddy, Robey kills a cop and finds himself on the run all alone. Dipping into a public swimming pool, he bumps into a lonely single girl, Peggy Dobbs (Winters). Escorting her home, he wheedles his way into her parents' apartment (Wallace Ford, Selena Royle) and proceeds to hold the family hostage until the coast is clear.
Both Garfield and Winters are quite compelling on screen here, particularly Garfield as a sweaty, overly hostile criminal desperate to elude the police. He has the presence of a surly, intense animal backed into a corner, his only reprieve a bit of sexual tension with Winters, here still towards the beginning of a career littered with instances of bad romance. Ironically, we're introduced to her in a public swimming pool here, running into the suitor who will eventually terrify her family. This was the same year Winters would star in (along with three other movies) a much more famous film, A Place in the Sun, scoring herself an Oscar nod as the viciously drowned girlfriend of Montgomery Clift.
As good as the two leads are, the problem with He Ran All the Way by today's standards is the lack of tension brought about by the frustrating events—nearly all the trapped family members have the opportunity to leave the apartment, for hours at a time even, and don't bother to fetch the police. Its final 'twist,' which finds Garfield in a resting spot that would perhaps have a greater impact a year after the fact, is also more pathetically illuminating than emotionally resonant, with Winters' poor Peggy Dobbs even more of a ninny than we'd already been led to believe.
Disc Review:
Kino Lorber remasters this notable gem from the early 50s in high definition, and with two time Oscar winning DoP James Wong Howe's (The Rose Tattoo; Hud) framing, this appears to be a more languidly realized noir offering, focusing more on the claustrophobic interior of living spaces. Even the early sequences involving Garfield's hiding out in the public swimming pool highlight an extreme lack of privacy in the post-WWII city. Considering the film's position in cinema history, once again, it would've been great to see some bonus feature trimming this nicely transferred remastering.
Final Thoughts:
He Ran All the Way is must see cinema for fans of Garfield or Winters, who would've made more of an intriguing pair with a heftier scenario. As such, it's a simplistic rendering we've seen re-tooled many times since, with a father/suitor face-off between Garfield and Wallace Ford greatly resembling something akin to the one between Mark Wahlberg and William Peterson in James Foley's 1996 guilty pleasure offering Fear (1996).
Film: ★★★/☆☆☆☆☆
Disc: ★★★/☆☆☆☆☆