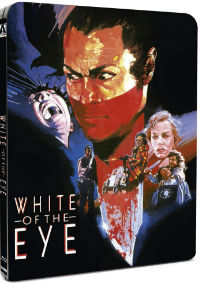 For the first time ever, Donald Cammell's obscure 1987 serial killer thriller White of the Eye is available on DVD and Blu-ray in the United States (the UK arm of Arrow Video brandished its own striking package of the title in early 2014). Director of only four features, including his iconic 1970 debut Performance (co-directed by Nicolas Roeg), Cammell's quartet of features were all labors of love, the filmmaker undergoing significant set backs on each project up until his death following 1995's Wild Side.
With seven to ten years in-between each outing, this feature marked the end of a decade long hiatus following 1977's adaptation of the Dean Koontz novel Demon Seed starring Julie Christie. Adapting from an obscure novel by brothers Laurence and Andrew Klavan (a notable writer of mystery thrillers) writing under the pseudonym Margaret Tracy, Cammell's wife and actress China Kong co-wrote the screenplay. With his experience directing music videos evident in the particularly striking opening sequence of brutal violence, the film is an exercise in pronounced style, a tone recalling the desert sonata of David Lynch's Wild at Heart (1990).
As a serial killer murders and dismembers lonely housewives as part of a gruesome Indian ritual around the rural areas of Arizona, Paul (David Keith) and Joan White (Cathy Moriarty) seem to be having their own overriding marital problems. Raising their young daughter Danielle (Danielle Smith), Joan begins to suspect her husband may have something to do with the rash of killings after a detective (Art Evans) keeps snooping around. Meanwhile, a reunion with her old beau (Alan Rosenberg) stirs up dead memories of the specific circumstances wherein Joan first became enamored with Paul.
This delightful new transfer marks the resurrection of a lost 80s cult classic. Actress Cathy Moriarty, who made her memorable screen debut in 1980's Raging Bull, would only appear in two more films that decade, including this film. Rumor has it Cammell's friend Marlon Brando reached out to the MPAA in a personal plea to have an initial X rating removed (Brando was also set to star in an upcoming project called Jericho alongside Moriarty for Cammell, which eventually fell through).
Though it was an arduous and fruitless process getting the film into theaters, Cammell's highly controlled stylistic choices make for a constantly unpredictable visual palette, a film so striking its matter-of-fact narrative seems on auto-pilot. This is one of DoP Larry McConkey' only non-documentary efforts as a cinematographer (he's a prolific camera operator), so credit for the film's unique flair seems thanks to editor Terry Rawlings (Alien; Blade Runner), especially the two and half minute opening kill which utilizes 55 shots.
The gruff and bemused Moriarty plays a jilted urban transplant, and we piece together a rather disjointed history as she leaves one lover for another, a transition which had a terrifying face-off she'd been completely unaware of. David Keith (Cammell seemed keen on money shots with the actor, as the camera seems to ogle his physique more than Moriarty's) is unassuming, even sweet as the continually tempted sound expert traveling around arid Arizona to install stereos and sound systems (Alberta Watson plays one of his several 'lonely hearts' lovers), and Cammell keeps us in a languid suspense as to who's actually committing these murders (a gruesome bathtub sequence where the off-screen killer forces the victim to observe her own death in a hand mirror is so aggressively violent we second guess the obvious).
Nick Mason of Pink Floyd supplies the film with a pronounced, evocative score while the relationship of Morse and Moriarty recalls a template of classic French suspense cinema, such as Chabrol's Le Boucher (1970), and its sexually inclined hunting ground not unlike the exploitative aquatic pleasure dome of Alain Guiraudie's Stranger By the Lake (2013).
Eyes are an important visual motif, constant close-ups of irises, pupils, and the expanse of whiteness around them, playing on the title's homage to an Apache legend, a phrase indicating the damage left upon observers of violence. The final, very strange show down, set to the elegant notes of Mahler's Second Symphony, is fantastically beautiful as it is offbeat.
Disc Review:
Shout Factory presents White of the Eye as a DVD/Blu-ray combo in 1.85:1 widescreen (in high-def on the Blu). The new transfer looks exquisite, especially compared to those old VHS prints floating around, with a particularly pronounced grain evident on the ominous flashback sequences peppered throughout. A handful of extra features are worth a look, including audio commentary from Cammell biographer Sam Umland.
Deleted Scenes w/Commentary:
Sam Umland provides commentary provides commentary over five minutes worth of deleted scenes (no production audio was obtained). The sequences involve John Diehl as Moriarty's boss at a thrift store. Umland thinks it is added dimension to Joan's character, something completely excised.
Into the White:
Cinematographer Larry McConkey is on hand for this eleven minute interview on the filming of the movie. Hired directly by Cammell, McConkey shares memories of Cammell's particularly chaotic methods, including hiring two cinematographers (the other being Alan Jones, who ended up being credited as lighting cameraman).
Into the Vortex:
Actor Alan Rosenberg is interviewed in this eighteen minute segment, who positions Cammell alongside Kubrick and Cronenberg as having the ability to terrify with camera movement and visual design.
Eye of the Detective:
Actor Art Evans shares his memories of working on the film in this fifteen minute segment, which he auditioned for around the time he snagged a role in Ruthless People. Another actor had been cast in White, but Cammell had the other actor paid off to get Evans on board.
Alternate Credit Sequence:
A two and a half minute alternate credit sequence is included.
Bleach Bypass Sequences:
A twelve minute feature includes how the high contrast was received for the flashback sequences, showing the scenes prior to the bleach bypass process.
Final Thoughts:
Effectively gruesome thanks to its portrait of an unassuming madman, White of the Eye is a testament to Cammell's particular skills as a unique auteur, and a recuperation of his work is a necessity.