The Crimson Kimono (1959) | Blu-ray Review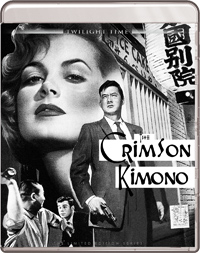 Samuel Fuller finished out the 1950s with the underappreciated noir The Crimson Kimono, a film which perhaps spins its wheels on an even bigger McGuffin than The Maltese Falcon (1941). Having spent the decade returning favors (1954's Hell and High Water) and formulating his particular brand of socially conscious genre films (in which he established some stellar, unconventional roles for Angie Dickinson in China Gate and Barbara Stanwyck in the western Forty Guns), 1959 saw the release of two Fuller films, including the German set Verboeten!, which has some narrative similarities with the Robert Zemeckis film Allied (2016). But under Columbia Pictures, Fuller was somehow able to get a grungy, racially charged noir set in Little Tokyo past the studio heavies, even though it was marketed as a tawdry exploitation flick on a double bill with Cliff Robertson headliner Battle of the Coral Sea.
Although The Crimson Kimono was critically well-received, the film was not a hit, and after directing Underworld U.S.A for Columbia in 1961 and then Merrill's Marauders for Warner Bros. in 1962, Fuller would embark on his famed independent features Shock Corridor (1963) and The Naked Kiss (1964), although the former also suffered from studio interference. Thematically speaking, Kimono plays like the glorious inverse of his 1955 film House of Bamboo, relocating from Tokyo to Los Angeles, switching from color to black and white, and funneling agency to a feminine perspective by allowing Victoria Shaw final choice of her romantic interest.
Opening with all the trappings of a sleazy exploitation joint, blonde stripper Sugar Torch (Gloria Pall) flings herself half naked in the streets of Little Tokyo after abandoning her act under gunfire. Shot down in the street, her plastic effigy gazes down from its perch on the marquee as she bleeds out. Detectives Joe Kojaku (James Shigeta) and Charlie Bancroft (Glenn Corbett) are assigned to the case, honing in on a portrait of Sugar Torch in which she is wearing the titular wardrobe. Her boss (Paul Dubov) confirms she was working on a risqué Japanese themed number, "an act she was gonna crack Vegas with."
Hunting down a karate master (George Yoshinaga) and a Korean wrestler (Fuji, who was actually a Japanese-American stuntman) who was helping with the act, the detectives also stumble onto the trail of Hansel (Neyle Morrow), who was mysteriously involved with Sugar Torch. With the assistance of Mac (an intriguing Anna Lee), a helpful alcoholic painter who fills Skid Row with her murals, Charlie is able to identify the painter of the picture as Chris (Victoria Shaw), a beautiful young woman he's instantly smitten with. But Chris has eyes for Joe, which complicates the men's relationship, having served together in the Korean War they now live together in a bachelor's pad. As Chris becomes an integral part of the case by creating a sketch of Hansel, the two men grapple with their attraction to her, leading Joe to be convinced Charlie is disgusted at the mere thought of her interest in a racial other.
The murder of the blonde stripper in the middle of Little Tokyo is merely the dress setting for a complex romantic entanglement which is well ahead of its time by 1959's standards. The same year Joseph L. Mankiewicz unveiled the complex, coded queer themes of Tennessee Williams' Suddenly, Last Summer, Fuller was doing bare-faced interracial romance, and nearly a decade before the daring Guess Who's Coming to Dinner? (1968) addressed the heterosexual comingling of white and black Americans. In fact, the murder of Sugar Torch is even more subversive as the dramatic catalyst, for it takes the murder of a white woman to spur an actual investigation in the Japanese sector of Los Angeles.
The film served as the debut for both Shigeta (who won a Golden Globe for Best Newcomer) and Corbett, while Shaw would star that same year in Don Siegel's Edge of Eternity. Although The Crimson Kimono may ultimately read as an ungainly mass of unfinished ideas, Fuller defies expectations of both noir and romance for a heavy dose of social realism as potent as it is obvious.
One of the film's defining moments is a Kendo standoff between Shigeta and Corbett, where the former loses all sense of composure and mercilessly beats his friend. The cultural implications of a Japanese-American losing control within his own rigidly defined sport is meant to speak for the anguish he cannot fully formulate with words. Their homosocial sparring is of a different sort than the hinted latent homosexuality between Robert Ryan and Robert Stack in the earlier House of Bamboo. A final sequence, in which the central mystery is easily resolved in another shootout on the streets of Little Tokyo during a festival finds masked onlookers observing tragedy unfold during a killer's pointed monologue about the dangerousness of assumption and projection.
Disc Review:
Twilight Time presents The Crimson Kimono in 1.85:1 High Definition with 1.0 English DTS-HD Master Audio as a Limited Edition release (3,000 units). Picture and sound quality are intact in this transfer, with DP Sam Leavitt (hot off his Oscar win for The Defiant Ones) churns Little Tokyo into an exotic nether region of Los Angeles where whites were uneasily beginning to mix with Asian Americans.
Sam Fuller – Storyteller:
This twenty-four minute feature finds a number of notable figures, including Curtis Hanson, Wim Wenders and Martin Scorsese discussing the works of Sam Fuller, as well as biographical information from Samantha Fuller.
Curtis Hanson – The Culture of The Crimson Kimono:
Director Curtis Hanson narrates this nine minute bit on Sam Fuller's particular aesthetic.
Final Thoughts:
Every bit as daring as Fuller's signature noir Pickup on South Street (1953), his The Crimson Kimono deserves recognition for also being, strangely enough, one of his more hopeful films.
Film Review: ★★★½/☆☆☆☆☆
Disc Review: ★★★½/☆☆☆☆☆