Criterion Collection: L'Argent | Blu-ray Review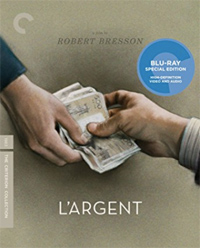 In more ways than one, L'Argent, the stunning final film of Robert Bresson, (anointed 'patron saint of cinema'), plays like an eerie prequel to the screaming agony of Michael Haneke's Funny Games (1997). Based on the first part of Leo Tolstoy's final novella, The False Note (aka The Forged Coupon), the ills of capitalism slough off the false veneer of contemporary French propriety when a counterfeit bill becomes the catalyst for a toxic ripple effect in the lives of several citizens.
Premiering at the 1983 Cannes Film Festival, Bresson took home the Best Director prize, shared with Andrei Tarkovsky for Nostalgia (a distinction he also nabbed for his first entry in Cannes with 1956's A Man Escaped). If money is what makes the world go round, it's simultaneously the root of all evil, a juxtaposition perfectly exemplified in Bresson's masterpiece, a Marxist tone poem if ever there was one.
When privileged schoolboy Norbert (Marc Earnest Forneau) is denied an allowance by his ambivalent parents despite owing a schoolmate money, he receives a counterfeit 500 franc note from his friend Martial (Bruno Lapeyre). Cashing it in for change when they buy an inexpensive frame at a photo shop, the distressed shop owners (Beatrice Tabourin, Didier Baussy) pass the bill (along with two others they'd recently acquired) to Yvon Targe (Christian Patey), an oil delivery man. Arrested for using the phony money at a restaurant, Yvon attempts to explain where he received the counterfeit bills, but the shop owners refuse to acknowledge Yvon and even convince their assistant Lucien (Vincent Risterucci) to testify against him in court after the oil worker is arrested for criminal activities which were spurred by the loss of his job over the money. As Yvon is sentenced to three years in prison, tragedy strikes his family, while Lucien uses the incident as a way to profit illegally from his employers. Eventually, both men meet again under different circumstances, while Yvon falls further away from humanity until a chance encounter with an affable housekeeper (Sylvie Van den Elsen), who unwisely allows the interloper lodging, ends tragically.
L'Argent isn't the first time Bresson adapted classic Russian literature with his defined ascetic approach, having morphed Dostoevsky's A Gentle Woman into a 1969 film which birthed the career of actress Dominique Sanda. In tradition with his twelve previous films, Bresson utilized non-professionals, with Christian Patey making his debut as the narrative's victim (Patey would only appear in two more films, Youssef Chaine's Adieu Bonaparte and Jorge Silva Melo's August).
If L'Argent looks and feels as if it could have existed in the same period as A Gentle Woman (which opens with a fantastically staged suicide, similarly reflecting life or the absence of it by through inanimate objects), it thematically plays like the blunt reflection of his 1959 title Pickpocket about a youth who resorts to petty crime in order to survive.
Patey gives an equally mournful and morose performance as the victim of white, middle class privilege. A working-class citizen who serves as the scapegoat for what started as a mindless prank, (which morphed tangentially into a political Robin Hood themed crusade, of which Yvon's plight also serves as collateral damage), L'Argent charts a course of virulent anti-social behavior nurtured and proliferated by the exact system meant to curb it. A dark portrait of the same mechanism which justifies the supply and demand process of a capitalistic economy, Bresson's clear-eyed portrait is also in keeping with his celebrated visual aesthetic. Yvon's descent into violence and murder all takes place outside of the frame. His disposal of a hotelier and his wife is sandwiched so effortlessly as a prelude to the film's final destructive act, it is only conveyed via a Lady Macbeth themed hand-washing sequence and the prim packing of bloodied clothes.
Bresson utilizes DPs Pasqualino De Santis and Emmanuel Machuel to style a L'Argent into a system of framed motifs. Windows and doors (perhaps most famously in the final shot), meant to signify change, are often shown in restricted, measured portions—not all objects are allowed the same route of passage or transformation. A poster ominously extolling "J'aime en noir" peeks precipitously into the frame, a statement which could invariably be applied to all the characters here, who either consciously or subconsciously migrate frequently to the dark side.
A culture defined by money, and the status symbols which can be obtained by it, is only obtainable when there are those who exist within its grasp, continually tantalized to obtain it, and so goaded to struggle for it despite a complicated social system which makes it nearly impossible to escape the class one is born into.
Disc Review:
Criterion at last adds Bresson's final masterpiece to the collection (the label now has over half of his filmography) with a newly restored 4K digital transfer. Presented in its original aspect ratio1.66:1, picture and sound quality are ravishing with this release (if L'Argent sometimes feels akin to Pialat, perhaps co-DP Machuel is partially responsible, who worked on 1991's Van Gogh).
1983 Cannes Press Conference:
Robert Bresson and cast are in attendance for this half hour press conference from the 1983 Cannes Film Festival.
L'Argent, A to Z:
Film scholar James Quandt wrote and narrated this new fifty-minute video essay exploring Bresson and how L'Argent is the pinnacle of the director's work.
Final Thoughts:
Bresson's icy stare shows a life sunken into despair and misanthropy, suggesting L'Argent is only funny in a rich man's world.
Film Review: ★★★★½/☆☆☆☆☆
Disc Review: ★★★★/☆☆☆☆☆