Disc Reviews
Criterion Collection: A Poem is a Naked Person | Blu-ray Review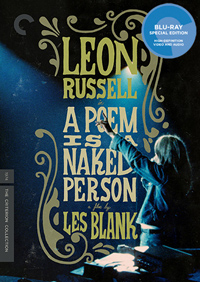 Criterion snags documentarian Les Blanks' heretofore lost title A Poem is a Naked Person for their collection, a portrait of singer-songwriter Leon Russell filmed between 1972 and 1974. Receiving a limited theatrical release courtesy of Janus Films for the very first time in July, 2015, the title soaked in just under a hundred thousand at the box office on its five screen, fifty-eight day run. The title's addition to Criterion is no surprise, considering the label's commitment to restoring the documentarian's work, including their early release of 1982's Burden of Dreams and their monolithic collection of his works (fourteen titles and eight shorts) in the box-set Les Blank: Always a Pleasure, released in 2014.
It's not difficult to see why Leon Russell declined to let the film be released, considering Blank, commissioned to make the feature stretching over a period of 1972 to 1974, didn't seem invested in making Russell the main draw of the material. In fact, Russell feels like a peripheral specter merely on hand to tie this peculiar portrait of dusty Oklahoma together. We get snippets of other musicians, several whose legacies haven't faded from the zeitgeist, like Willie Nelson or George Straight, but time has turned the tables since Blank's reputation as a documentarian has eclipsed Russell's music career. Here, Russell was at his zenith, and he cuts a striking figure, performing in his signature southern drawl to excited fans it would be difficult to imagine flocking around him in today's aesthetically obsessed culture.
Footage of recording sessions should most likely appeal to those well-versed in the milieu, though these sequences often feel like the extra features attached to something we assume has greater importance. Of more interest to the casual viewer are the striking peripheral sequences Blank captures. Interviewing an old couple who speak about as excitedly about Russell as they do with their new found fascination with long hair, Blank begins gathering snippets of interesting tidbits making up the landscape.
We witness a catfishing episode as well as a tractor pull. And then we get to see a boa constrictor snack on a little chicken while the image is used doubly as a metaphor for a pointed voice over. Perhaps most arresting of all is a man who literally chews up an actual drinking glass and between the violent crunching in his maw dedicates the act to the people of Oklahoma. It's these bits of banalities Blank manages to spin into an offbeat style of observation, and exactly what makes A Poem is a Naked Person seem innovative for audiences at last getting a peek. But those who are ignorant of Leon Russell may be better served to dabble around in his discography prior to seeing this in order to have a greater understanding or appreciation for the time and effort poured into this documentary neither its creator nor subject seem enthusiastic about.
Disc Review:
Criterion presents the documentary in a newly restored 2k digital transfer, which was supervised by Harrod Blank, son of the director (and the reason we're able to see this item in the first place). A newly compressed monaural soundtrack impresses in what can loosely be regarded as a music doc, and Criterion includes its juicy bonus features for extended viewing pleasure.
Russell and Harrod Blank:
Harrod Blank sits down to speak with Leon Russell in Nashville about the film's long journey from production to theatrical release in this twenty-six minute feature recorded by Criterion. Russell discusses his differences of opinion with Les Blank and their clash of ideas regarding 'stylve vs. substance' in the making of the documentary.
Les Blank:
A 2013 Q+A with Les Blank following a screening of the film at Pixar Animation Studios in Northern California took place shortly before his death. Nearly nine minutes worth of excerpts from that discussion are included here.
A Film's Forty Year Journey – The Making of A Poem is a Naked Person:
Criterion produced this 2015 documentary on the making of the film, featuring interviews with Harrod Blank, sound recordist and assistant editor Maureen Gosling, and Jim Franklin (the artist featured in the documentary). The near forty minute feature includes intimate family photographs and recollections of the making of the film.
Out in the Woods:
Sound recordist and assistant editor Maureen Gosling spent two years making the film with Les Blank. During Blank's construction of his own recording studio, Gosling lived at Grand Lake O'the Cherokees and shot her own Super 8 footage, and excerpts from the footage as well as letters Gosling wrote to her family are included in this thirteen minute segment.
Final Thoughts:
Had A Poem is a Naked Person been available prior to Criterion's earlier collection of Blanks' works, one would assume this Leon Russell portrait would've been lumped in there. Enthusiasts of the personalities documented from this particular period should find this easygoing snapshot illuminating, while others are bound to be disappointed by an item heralded as legendary due to its previous obscurity.
Film: ★★★/☆☆☆☆☆
Disc: ★★★★/☆☆☆☆☆